$2m Obaiya Arabian Classic Upgraded to
Listed Status for The Saudi Cup 2021
World's richest race for Purebred Arabians
reaches new milestone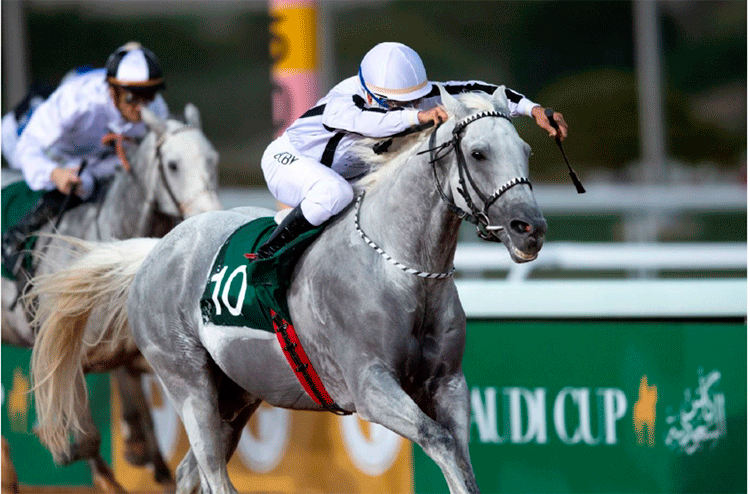 Jockey Roberto Perez riding the Mutlaq bin Mushref-trained Tallaab Al Khalediah to victory in the inaugural Obaiya Arabian Classic at The Saudi Cup on Saturday February 29, 2020 at
King Abdulaziz Racecourse
CREDIT: Jockey Club of Saudi Arabia/Doug De Felice
WATCH THE OBAYA ARABIAN CLASSIC 2020
For a full list of entries please click here: https://thesaudicup.com.sa/sc2021_entries.pdf
King Abdulaziz Racecourse, Riyadh, January 19, 2021: The USD$2m Obaiya Arabian Classic will be run with Listed status on Saudi Cup Day after receiving an upgrade from the International Federation of Arabian Horse Racing this week.
The 2000m dirt contest, which saw a prize money increase from $1.9m to $2m following its inaugural running, is the world's richest race for Purebred Arabians and is staged as part of a $30.5m eight-race card on Saudi Cup day, February 20, 2021.
It is the first Saudi Cup race to receive black type status and HRH Prince Bandar Bin Khalid Al Faisal, Chairman of the Jockey Club of Saudi Arabia, was hopeful it was a sign of things to come for the thoroughbred races on the card, including the $20m Saudi Cup.
"This is an incredibly exciting announcement for The Saudi Cup. We are delighted to have attained this achievement for the Obaiya Arabian Classic race in such a short time," he said.

"Our goal is to continually improve international racing in the Kingdom, attracting the best Purebred Arabian and thoroughbred horses in the world. Having Listed status for the Obaiya Arabian Classic in only its second year is a great first step towards realising our ambitions of having international Group races across the card and seeing Saudi Arabia promoted to a Part I racing country by the International Federation of Horseracing Authorities."
Entries for the 2021 Obaiya Arabian Classic were announced last week and are headlined by the Group 1-winning Messi (BEL), trained by Timo Keersmaekers in Belgium and last year's winner Tallaab Al Khalediah (KSA), trained locally by Mutlaq bin Mushref.
ABOUT THE SAUDI CUP

Organised by the Jockey Club of Saudi Arabia and run at the King Abdulaziz Racetrack in Riyadh, Saudi Arabia, The Saudi Cup is a two-day festival of international racing headlined by the USD$20m Saudi Cup – the world's most valuable race.

Established in 2020 with the second renewal set to be run on Saturday February 20, 2021, The Saudi Cup day card carries a total prize purse of $30.5m and features dirt and turf races for the highest calibre of racehorses in the world.

A full card of racing on the preceding Friday includes an International Jockeys Challenge which sees seven female and seven male jockeys compete as individuals as well as the $500,000 Saudi International Handicap for horses trained in IFHA-registered Part II and III racing countries.

The Saudi Cup is charged with raising awareness of horse racing in the country, encouraging participation among men and women. It also aims to promote Saudi Arabia at international level, acting as a marker for the Kingdom's transformational journey, encouraging tourism and investment.

Source: The Saudi Cup