AF Majalis wins Wathba Stallions Cup
again in Abu Dhabi
Tadhg O'Shea and AF Majalis finished 2020 and started 2021
by winning the Wathba Stallions Cup For Private Owners Only
in Abu Dhabi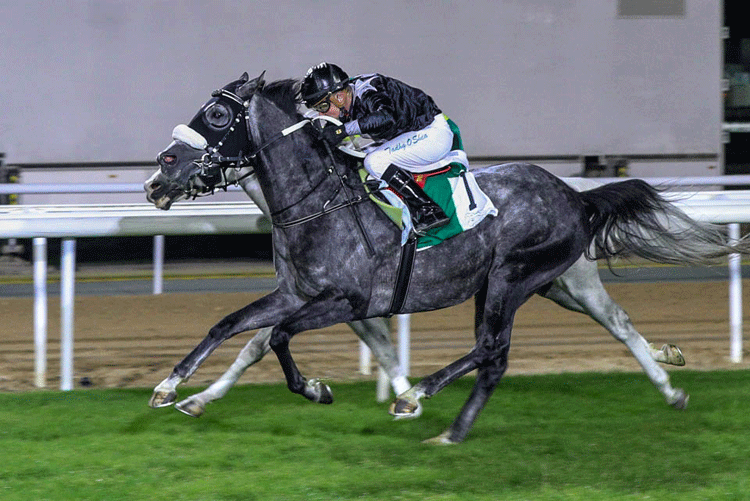 AF Majalis ridden by Tadhg O'Shea
On Sunday, January 10, six races were held at the Abu Dhabi Equestrian Club, and the Wathba Stallions Cup For Private Owners Only was the fifth and final of purebred Arabians. In the previous race for colts and geldings, Tadhg O'Shea who was never headed, riding AF Sumoud (AF Al Buraq x So In Love by Sample Copy) who was making it third time lucky for the jockey's main employer, Khalid Khalifa Al Nabooda and the owner's principal trainer, Ernst Oertel.
Connections were soon celebrating a course and distance double after the following 1200m handicap for Wathba Stallions Cup for Private Owners Only, albeit it in totally different fashion with Tadhg O'Shea producing the hat-trick seeking AF Majalis (AF Albahar x Khute by Djouras Tu) to lead in the final strides.
For the majority of the race it appeared Fabrice Veron was again to make every post a winning one aboard Jinjal (AF Albahar x  Fantasia CS by Bandjo De Falgas) , but O'Shea was never far away with his mount inching closer throughout the final 100m, eventually leading when it mattered.
A thrice raced maiden at the start of the season, the homebred 5-year-old entire has now won half of his six starts, adding this success to victories in a course and distance maiden and a 1600m Abu Dhabi handicap. He has only raced on turf.
O'Shea said: "That was a very good performance under a big weight and he is a good, progressive Purebred Arabian and a horse the team have always liked. To complete a hat-trick like that is never easy and he has shown a really good, battling, attitude over a trip probably short of his optimum."
Source and photos: Emirates Racing Authority