AF Majalis wins the last
Wathba Stallions Cup of 2020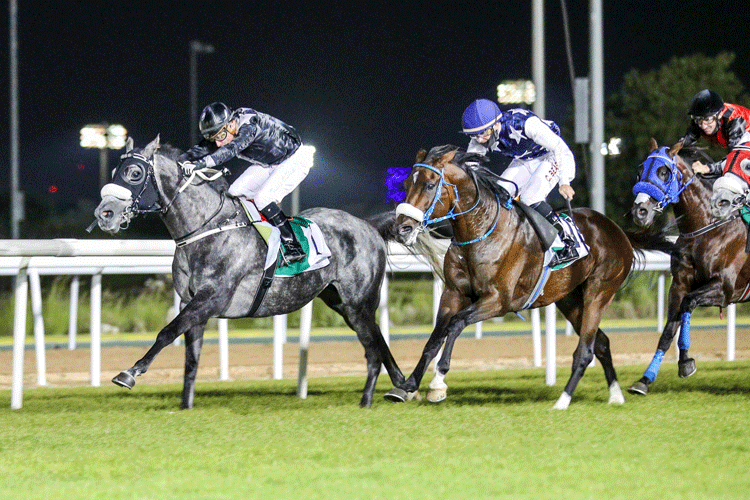 AF Majalis ridden by Tadhg O'Shea
Khalid Khalifa Al Nabooda won the last Wathba Stallions Cup for Private Owners Only of the 2020, in Abu Dhabi Equestrian Club, on Sunday 20 December, with AF Majalis (AF Albahar x Khute by Djouras Tu) ridden by Tadhg O'Shea.
For horses in private ownership, a 1600m handicap produced a gutsy performance from AF Majalis, another to make virtually all the running, this time with O'Shea successfully utilizing the positive tactics.
Riding in the silks of his main employer, UAE Champion Owner Khalid Khalifa Al Nabooda, O'Shea was hard at work on the homebred 4-year-old early in the straight, but found a very willing partner who answered his every call to make it consecutive course victories having landed a 1200m maiden here in the capital five weeks ago.
In this race Al Nabooda had six horses of his breeding competing: four of which he owned and bred and two as a breeder: AF Majalis, the winner, AF Makerah, AF Hakeem and AF Ashras; AF Alareeq and AF Almajhaz as breeder.
O'Shea said: "That was very pleasing because it was my last ride for both the owner and trainer in 2020, so it is the perfect way to sign off for them. He has had to dig deep there for me because AF Alareeq was trying his best to get past, but my fellow was determined not to let him."
"AF Majalis is a promising horse that I raised on my farm in France. I believe that as he is getting older he will be much stronger and much better. The second horse, which ran by another Owner; and the third I bred them in the UAE and thanks to Allah the breeding in the UAE is very good and promising and can compete with overseas horses", said Khalid Khalifa Al Nabooda.
Source: Emirates Racing Authority and Cidinha Franzão. Photos: ERA