The Arabian Racing Association of California (ARAC) welcomes the return of the Wathba Stallions Cup Race Series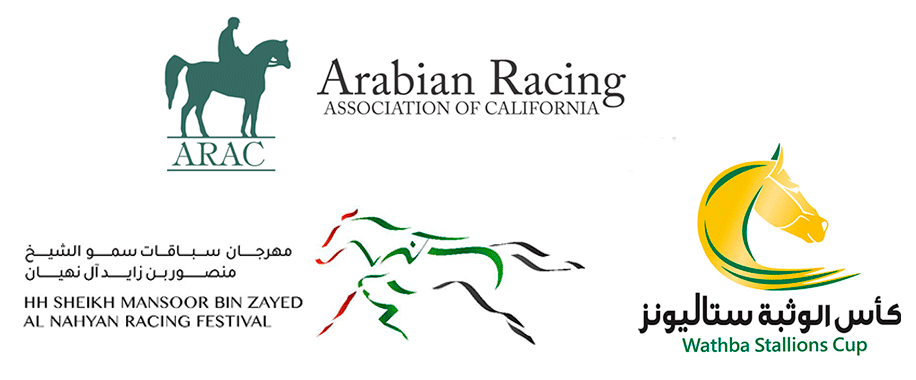 In 2021, the Festival will sponsor three races of the Wathba Stallions Cup series. An additional race, the HH Sheikha Fatima Bint Mubarak Cup,  a Listed race, will be run at the Los Alamitos race course on 18 September.
The California Wathba Stallions Cup races are run by nomination to entries that are maidens as of 1 May 2021.
Race Dates:
10 July in Pleasanton
14 August at Golden Gate Fields
16 October at Fresno
The first of the three races in the series will be run on Saturday, 10 July 2021, and will see seven starters with top racing pedigrees line up for the five and one half furlongs over the dirt oval at the historic Pleasanton race track.
Entered are three from trainer Terri Eaton including the aptly named, Scorched, by multiple group winner No Risk Al Maury out of multiple winner and 2018 Darley Champion Older Mare, Dream Pearl. Scorched won his first out just a week ago on this same track and distance and return with jockey David Martin.
Eaton will enter the filly Dreamm under Pablo Flores in her second start, full sister to Scorched and with the same energetic race lines.
Also from the Eaton barn is RB Hashtag by Nashwan Al Kahlidiah, ridden by Pedro Terrero in his second start.
AA Rich Whiskey, by TH Richie of the the Howard Rubin barn will be ridden by Cristobal Herrera. The five-year old placed second in a recent race at this track and distance.
Trainer Abel Borg will bring in Makarios RC by No Risk Al Maury with his first career start under jockey Leonel Camacho-Flores.
AA Pockit Rockit by Majd Al Arab under H Herrera will be making his seventh start for trainer Borg.
GF Moonshot by PA Marco ridden by Jose Torres and trained by Ken Danyluk has one start this season.
ARAC President, Dr. Cory Soltau said: "We are extremely happy to welcome back the HH Sheikh Mansoor Festival with the Wathba Stallion Cup series. Our sponsors give us the extra support that we need to keep our California races healthy."
Race date: 10 July 2021
Race time: 2:45 pm California
The Festival, begun in 2009, has been a steady sponsor of California Arabian racing since 2011.The California Wathba Stallions Cup races are run by nomination to entries that are maidens as of 1 May 2021.
The HH Sheikh Mansoor bin Zayed Al Nahyan Horse Racing Festival continues the vision to further international recognition to the Arabian race horse, breeders, owners and professionals in the world through sponsorship of races in different countries, promoting the ultimate athlete Arabian horse, and educating the general public while getting the next generation involved in racing Arabian horses.
The HH Sheikh Mansoor Bin Zayed Al Nahyan Horse Racing Festival is sustained by the Abu Dhabi Department of Culture & Tourism coordinated by Abu Dhabi Sports Council, Etisalat as the official sponsor, with National Feed as strategic partner, The National Archives as the official partner , Emirates Airline as the official carrier, sponsored by Al Massood Automobiles Nissan, Areej Alameerat, Omeir Travels Agency, YAS Sports TV., Viola Communications, Abu Dhabi Falconers Club, the UAE's General Women's Union, Emirates Arabian Horse Society & Abu Dhabi Equestrian Club.
Source: Arabian Racing Association of California/Pamela Burton