Afja'An wins Sheikh Zayed leg in Bro Park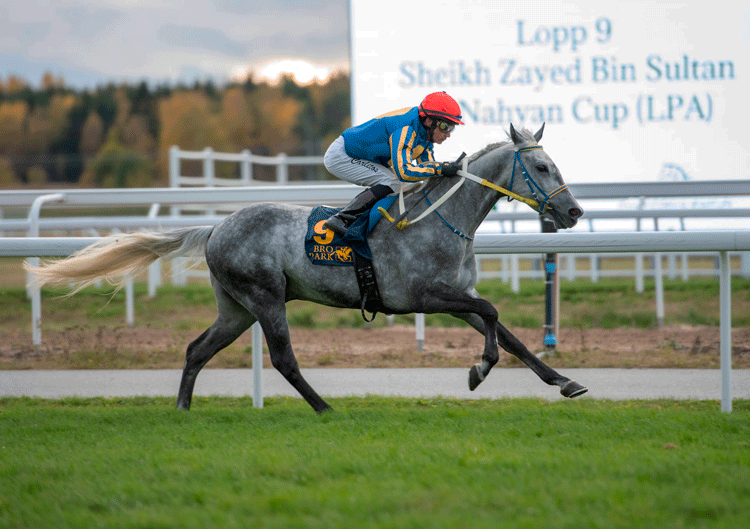 The Sheikh Zayed Bin Sultan Al Nahyan Cup (L/PA) 2020 attracted the best horses Scandinavia can offer. Eight of them not including the polish raider Atilla and topped by Maria Hagman's duo Ayman and Afja'An. The owner/trainer meant to win this 1750 meter turf event so graciously offered by HH's Racing Festival and just to make sure, she packed more ammunition.
Stallwart Jaldi Karo coming from a burst of good races and the new ex-pole Lazom Al Khalediah. He was slow at the kick, however, and Macallan wouldn't let Jaldi Karo set the pace again. Behind these Ayman was on the rail bunched up with Afja'an on the outside and Max Factor sandwiched between them.
Round the last bend Macallan was still in front, while Jaldi Karo got company from the three behind. Bunched up Ayman lost ground and at the same time Lazom al Khalediah was working his way up through the field with young Mohaymin following more sedately behind him. Into the straight Max Factor was fading, but Ajfa'An was upsides Macallan with Lazom Al Khalediah trying to get on terms.
At the distance it was all over in a couple of strides, when Carlos Lopez set sails on Afja'An and Macallan called it a day. For a while it looked like a double for Hagman as Lazom Khalediah stayed on, but he had to surrender second place to Mohaymin, who came with a late run, which brought him within a long length of Afja'An for the second time in a short while.
Ayman showed just enough of his class to be fourth followed by Jaldi Karo and making it a 1, 3, 4, 5 for the Hagman stables in the Sheikh Zayed bin Sultan Al Nahyan Cup at Bro Park, Sweden on October 18.
Well done. It was a fine race and we all hope to welcome it back at Gärdet on National Day 2021.
Text: Nils Rosenkjaer / Photo: Elina Björklund, SG