Al Judha Cup landed by H.H. Sheikh Mohammed Bin Khalifa Al Thani's Hameed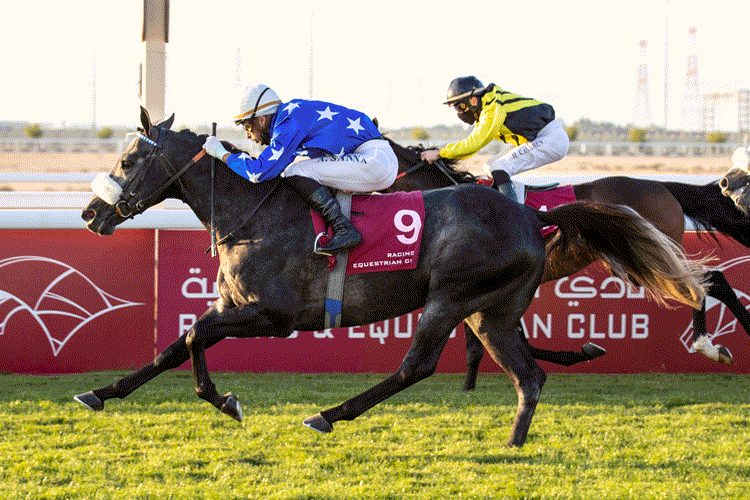 Hameed ridden by Alberto Sanna. Photo Juhaim/QREC
WATCH THE RACE
The Qatar Racing and Equestrian Club (QREC) organised the 10th race meeting in the 2021-22 season calendar of the Al Uqda Racecourse on Thursday, 22 January.

The six-race card day was run on turf and was wrapped up with the feature event, Al Judhay Cup, a 2100m Maiden for 4-6YOs Purebred Arabian. The Cup was landed by H.H. Sheikh Mohammed Bin Khalifa Al Thani's Hameed (FR, Amer x Arc De Ciel) who gave a perfect debut by winning a cup race on his first ever attempt on racecourses. Alberto Sanna recorded a double on the day as he steered the Rudy Nerbonne-trained 4YO colt to a half-length victory.
The Mohammed Khalifa T R Al-Sowaidi-owned and Hamad Al-Jehani-trained Posuelo Py (FR, AF AlBahar x La Ranna PY) finished second under Marco Casamento a length in front of the Umm Qarn-owned and Alban de Mieulle-trained MATRAZ (FR) (Tabarak), who was ridden by Ronan Thomas.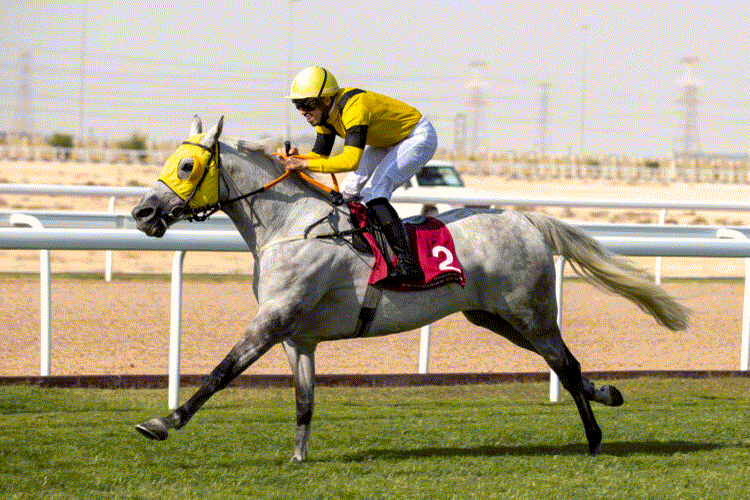 Jahfal ridden by Soufiane Saadi. Photo Juhaim/QREC
WATCH THE RACE
The Al Judhay Cup Day started with the Ibrahim Saeed Ibrahim Al Malki-owned and trained Jahfal (QA, Amer x Synaps) winning the 1400m Handicap (0-65) for 4YO+ Local Purebred Arabians by a length and a quarter under Soufiane Saadi.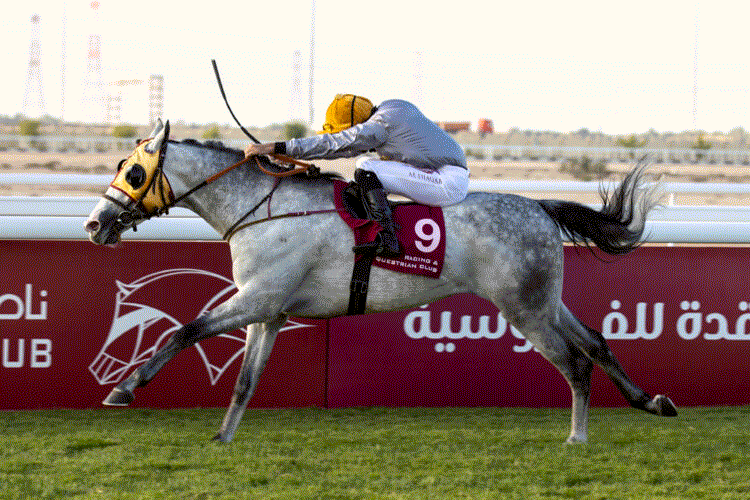 Algrain ridden by Faleh Bughanaim. Photo Juhaim/QREC
WATCH THE RACE
In the penultimate race, the Al Shaqab Racing-bred and owned Algrain (FR, Dahess x Bise Al Maury) completed a hat-trick on his eighth outing as he took the 2200m Handicap (0-95) for 4YO+ Purebred Arabians by half a length for trainer Eric Lemartinel with Faleh Bughanaim in the saddle.
Abdulla Rashid Al Kubaisi, QREC Racing Manager, crowned the winners after the final race of the day.
Source: Qatar Racing & Equestrian Club/Mohamed Saad