Al Azeeza wins for the second time in Belgium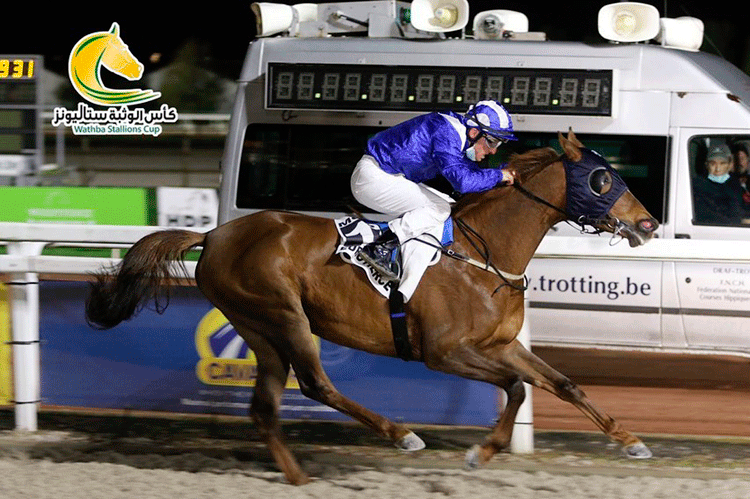 After winning the HH Sheikha Fatima Bint Mubarak Cup stage held on September 13 in Hippodrome Waregem, Al Azeeza (Munjiz x Ouassila Thabet) wins again, this time the Wathba Stallions Cup held on October 27 at Hippodrome Wallonie-Mons, Ghlin, Belgium.
The 1,500 meter race that was attended by six horses - 4yo and more - and was won by Al Azeeza (Munjiz x Ouassila Thabet) ridden by Stephen Hellyn under the colours of HH Sheikh Hamdan Bin Rashid Al Maktoum and trained by James Owen.
Second place went to El Zarka D.A. (AF Albahar x Schiva D.A.) very well conducted by Jurico Bogaerts, trained and owned by Johan Verstrepen.
Mysshwan de Piboul (Nashwan Al Khalidiah x Myss de Piboul) under the saddle of Gary Sanchez, trained by Mme Jean-François Bernard and owned by Marcel Mezy finished third.
James Owen was fresh from success in the Wathba Stallions Cup in Belgium, with the second victory of Al Azeeza for HH Sheikh Hamdan: "Al Azeeza did it well in the race. I'm pleased with how all the horses are running at the moment."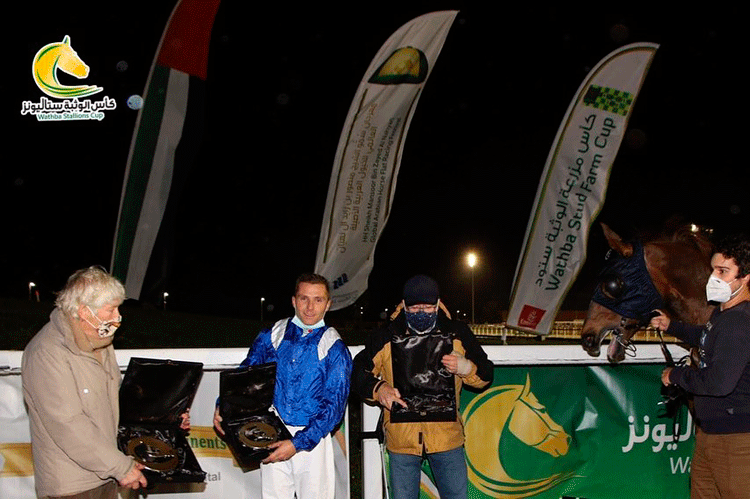 The HH Sheikh Mansoor Bin Zayed Al Nahyan Global Arabian Horse Flat Racing Festival is sustained by the Abu Dhabi Department of Culture & Tourism coordinated by Abu Dhabi Sports Council, with National Feed and Flour Production and Marketing Co. LLC as associate sponsors, The National Archives as the official partner , Emirates Airline as the official carrier, sponsored by Al Massood Automobiles Nissan, Areej Alameerat, Omeir Travels Agency, YAS Sports TV, Viola Communications, Abu Dhabi Falconers Club, the UAE's General Women's Union & Abu Dhabi Equestrian Club.
Text: Cidinha Franzão / Photo: Hippodrome Wallonie-Mons