Rodess Du Loup won for the first time in Qatar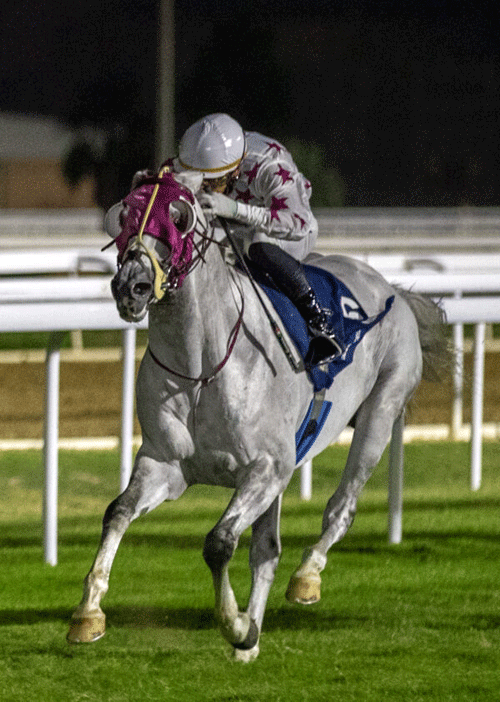 Rodess Du Loup ridden by Alberto Sanna
Al Jeryan Stud's Rodess Du Loup (Dahess x Aurore Du Loup) won for the first time since making a move to Qatar earlier this year. Having finished just outside the frame on a couple of occasions, Hadi Nasser Rashid Al Ramzani schooled 6yo finally entered the winner's enclosure at Al Rayyan Park, on December 11, after landing the Purebred Arabian Conditions (Far Bend). With Alberto Sanna guiding the horse for the first time in the 1850m run, Rodess Du Loup finished just behind Saleh Salem Al Marri ridden Askar, before the stewards reversed the decision citing interference to hand the former the victory by a length.
A switch to turf after promising results on dirt, including a win and a runner up finish, made no difference to the form of Umm Qarn's Abahat (Al Mamun Monlau x Al Anqa) as the 4yo notched second win of his career on Friday. Helmed by Ronan Thomas yet again in the Local Purebred Arabian Handicap (Far Bend) (85 & below), the Alban Elie Marie De Mieulle trained colt did well to hold on to his advantage on the home straight finishing a length and a quarter ahead of Tomas Lukasek ridden Ghali Al Athman.
Qatari rider Saleh Salem Al Marri rode his 12th winner of the season as when he guided Mekhezin Mubarak Al Mansouri's Ghalaad (No Risk Al Maury x Ghahramana) to the horse's second career victory. In the Purebred Arabian Claiming Race (Far Bend) (60-90), with the apprentice jockey in the saddle, the Mansoor Khali Al-Mansoori trained 7yo bounced back from two forgettable finishes this season to enter the winner's enclosure for the first time in a little more than three years. The duo beat Qatar bred Fazan by half a length.
Despite a few promising runs this season, Umm Qarn's Umm Bab (Al Mamun Monlau x Rahab) had missed out on a stroll through the winner's enclosure. That changed on Friday, as Alban Elie Marie De Mieulle trained colt bagged the Purebred Arabian Maiden Plate (Far Bend). Ronan Thomas was astride the 4yo once again and blistering run on the outside on the home stretch saw the colt coast to a cozy victory in the miler, ahead of Gassim Mohammad Ghazali trained duo — Tayeel and Fahd De Faust.
Source: Qatar Racing & Equestrian Club. Photos: QREC-Juhaim