Al Naama and Al Mustafiz win The Late Sheikh Jassim Bin Mohammed Al Thani Trophy and National Day Cup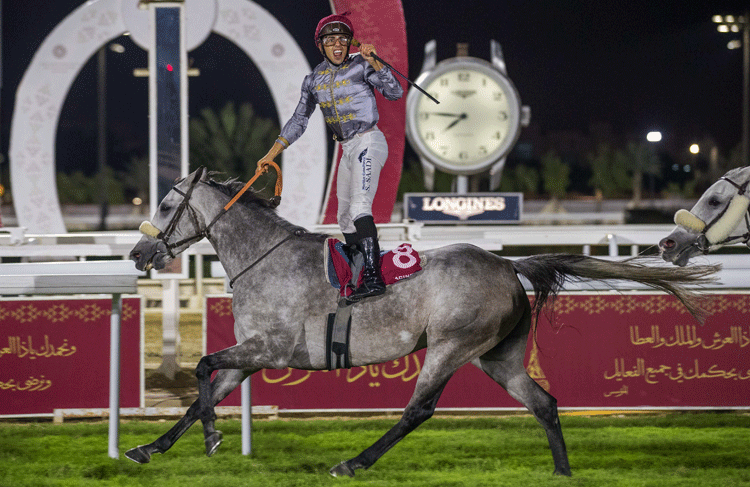 Al Naama ridden by Soufiane Saadi
HE Salah Bin Ghanem Al-Ali, Minister of Culture and Sports, crowned the winners of the Late Sheikh Jassim Bin Mohammed Al Thani Trophy and Qatar National Day Cup at Al Rayyan Park on Saturday, December 12. While Al Shaqab Racing's Al Naama won the Late Sheikh Jassim Bin Mohammed Al Thani Trophy, Injaaz Stud's Al Mustafiz won in the National Day Cup.
Al Shaqab Racing mares and trainer Alban Elie Marie De Mieulle celebrated a one-two in the The Late Sheikh Jassim Bin Mohammed Al Thani Trophy (Gr2 PA) (Far Bend) (3yo & older) at Al Rayyan Park's turf track on Saturday as Soufiane Saadi guided Al Naama (Majd Al Arab x Entisar) to a fantastic victory. Al Naama, who had lined up for her longest distance in over a year at 2000m, and stablemate Gtnah (TM Fred Texas x Mayada), ridden by Qatari rider Faleh Bughanaim, were the only ladies in a high quality field.
Closer home, Al Naama had a healthy gap on the other contenders and she had little trouble winning by a length and a quarter, as Gtnah finished runner up for the second straight time behind her stablemate.
Julian Colin Smart-trained Ebraz (Amer x Massamarie) rounded up the top three under Tomas Lukasek, riding in the colours of His Highness Sheikh Mohammed Bin Khalifa Al Thani.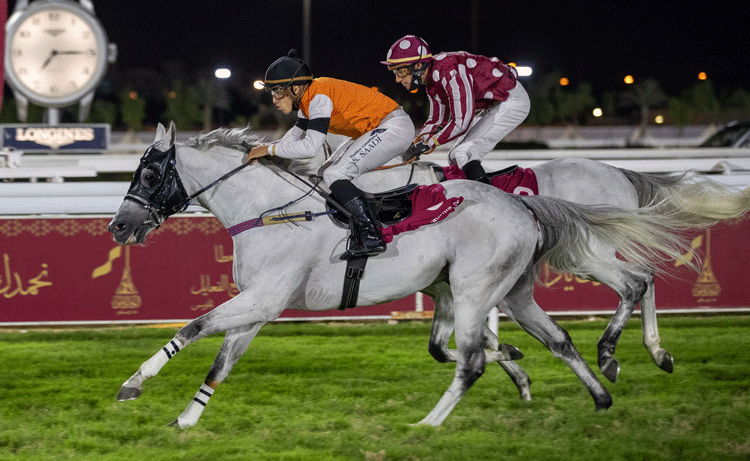 Al Mustafiz ridden by Soufiane Saadi
Injaaz Stud's Al Mustafiz (AF AlBahar x Djimana) was running seven furlongs for the first time since a C&D win almost two years ago. But the Zuhair Mohsen Zuhair Maki's ward was up for the task as the 7yo landed the National Day Cup Local Purebred Arabian Conditions (Far Bend) in a thrilling finish on Saturday.
Soufiane Saadi had his mount midfield early on in the race, before picking up the pace on the home stretch and staying on the heels of Alban Elie Marie De Mieulle's wards, Barra and Aahil, who had taken a slight advantage between themselves.
In the final 50m, dipping into his reserves, Al Mustafiz edged out Umm Qarn's Aahil (Munjiz x Daniah), ridden by Ronan Thomas, to win the local Arabian feature by a neck, while Barra (Munjiz x Daniah), helmed by Michael Forest in the colours of Patrice Alexandre Nicolet), finished third.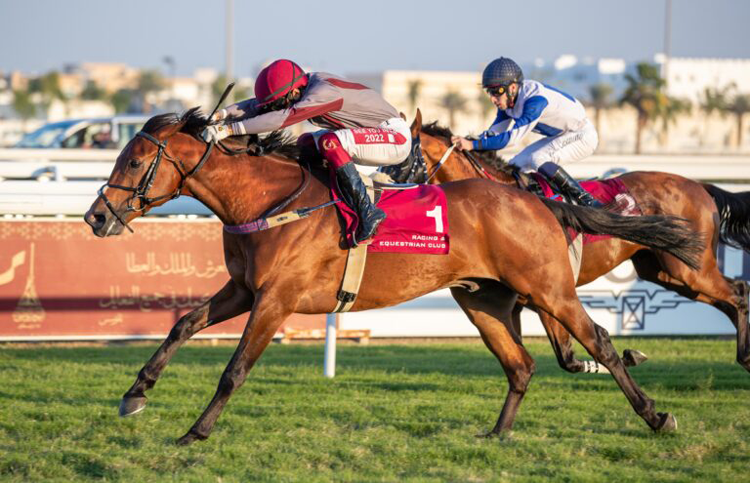 Djalnor ridden by Saleh Salem Al Marri
Salman Mohammned Alemadi's Djalnor (No Risk Al Maury x Djalmina) stepped down to a mile on Saturday for the first time in Qatar, but the result was still the same. The 4yo colt opened his time in Qatar with wins over 2000m, and that run continued in the Purebred Arabian Handicap (Far Bend) (95 & below), when Qatari jockey Saleh Salem Al Marri guided the Mohammed Gassim Ghazali trained colt to a fine victory with a length and a quarter to spare. In the process, not only did the bay horse lead a one-two for the trainer, with Al Junood in second spot, but also completed a hat-trick this season.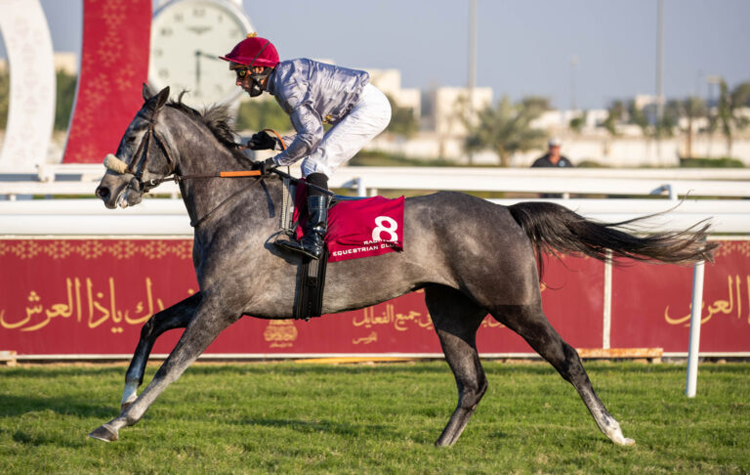 Al Efreeta ridden by Ronan Thomas
Al Shaqab Racing's Al Efreeta (Dahess x Dormadora) made a spectacular debut in Qatar with a dominant win in a miler on Saturday at Al Rayyan Park. The French recruit had two runners up finishes in Europe. With Ronan Thomas in the saddle for the first time, the Alban Elie Marie De Mieulle trained filly was unstoppable in the Purebred Arabian Maiden Plate (4 Year Olds) (Far Bend) as she surged forward and was up and away on the home straight to go past the post five lengths in front of her rivals.
Source: Qatar Racing & Equestrian Club. Photos: Juhaim/QREC