Al Shaamikh wins for new trainer
Jessica Quinlan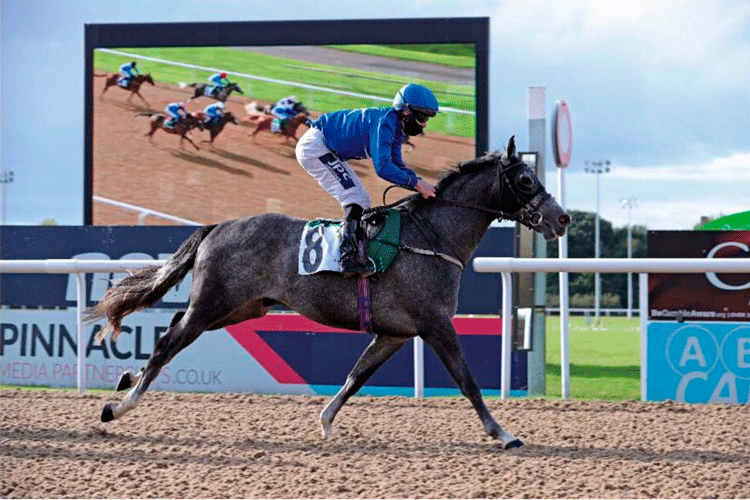 The Arabian Racing Organisation (ARO) was delighted for new trainer Jessica Quinlan who won the Wathba Stallions Cup Maiden Stakes with her first ever runner Al Shaamikh, ridden by Lewis Edmunds. The seven-furlong (1400m) contest was the first domestic race of the UK season, which opened the nine-race card at Wolverhampton on Saturday September 5.
Quinlan who started training from her Newmarket base earlier this year has three Arabians in her care, two of which, Al Shaamikh and Toufan Du Croate, are for the Qatari-based owner Mohammed Fahad Al-Attiyah. Of her success she commented: "I'm delighted, hopefully that won't be my only winner! Al Shaamikh is a game little horse; the race didn't quite go his way to start with. He didn't jump off quite as quickly as we'd hoped and because he was drawn on the inside, he had quite a lot of cover. As soon as Lewis got a bit of room, he galloped on through it and has won well.
"I wanted to see how both horses ran before making any firm plans as to what races would come next. Al Shaamikh could stay at this trip or we could go a bit further. Toufan Du Croate got away more quickly than we expected, but we thought this distance would probably be too sharp for him, he ran well but was outpaced in the final furlong. It's great to have my first runners and I'm pleased for the owner who has been very patient, waiting for the season to start."
Lewis Edmunds who was also recording his first win on an Arabian said: "He was green to begin with and a bit unsure of himself when we were in the pack, racing on and off the bit. When we turned for home he was always staying on and I could see the horse in front starting to idle, which helped him - having a horse to aim at. I think there's definitely a lot more improvement in him."
2019 ARO champion trainer James Owen had five horses entered of which the newcomers Sattam for his James Owen Racing Club and Wanaasa for HH Sheikh Hamdan Al Maktoum were second and third, confirmed by a photo finish.
The Wathba Stallions Cup series has been an integral part of the UK Arabian racing calendar for many years and their next sponsored race will be held at Wolverhampton on Monday September 14. The series is a popular addition to the Arabian racing programme worldwide and is run as part of the HH Sheikh Mansoor Global Arabian Horse Flat Racing Festival.
Genny Haynes, ARO Commercial and Finance Director said: "ARO is delighted for Jessica Quinlan's success with Al Shaamikh. It is great to see a young trainer, new to the sport and with no previous connections to Arabian racing gain her first winner, from her first two runners. ARO is extremely grateful for the continued support of the HH Sheikh Mansoor Global Arabian Horse Flat Racing Festival, who have been sponsoring with us since 2011. This year has been an exceptional time with many new challenges and we also thank the British Horseracing Authority and Wolverhampton racecourses for the support and assistance in enabling our racing to go ahead."
Source: ARO: www.aroracing.co.uk / Photos: Debbie Burt