Al Hajaj Stud's Nakheel wins Al Beshairiya Cup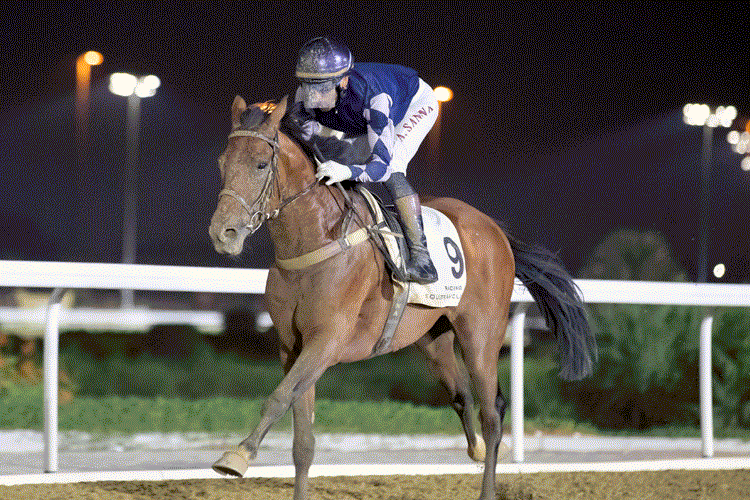 Nakheel ridden by Alberto Sanna. Photo: Juhaim/QREC
The Qatar Racing and Equestrian Club (QREC) organised the seventh race meeting in the 2021-22 season at the Al Rayyan Racecourse dirt track on Wednesday, 3 November. Al Hajaj Stud's NAKHEEL (FR) (General x Sarahmina) got off the mark winning the feature and eighth race in the card when he landed the Al Beshairiya Cup for trainer Jassim Ghazali with Alberto Sanna in the saddle. Sanna made it a hat-trick and a quick-fire double on the day as he steered the 4YO colt to a massive 7½-length victory giving trainer Jassim Ghazali a double in the meeting.
The feature race was for 4-6YO Purebred Arabians. The 1900m race had a big field of 14 runners. NAKHEEL broke from barrier 8 and was retained by Sanna near the rear. He continued to travel smoothly and approaching the final bend he started to improve and move forward. Once in the home straight, he showed a remarkable turn of foot and accelerated to just before the 200m mark to take the lead in a few strides. In a wink of any eye, he was far away in front, making any attempt to catch him useless.
NAKHEEL eventually swept to cross the finish line by such a huge margin. The final metres saw a move forward by Khattab De Faust (FR) (Mared Al Sahra) to take the second place in the colours of Abdulla Bin Mohammed Al-Attiya. The Ahmed Kobeissi-trained 5YO horse was ridden by Tomas Lukasek. The long-time leader, Haffiz (FR) (Nieshan x Ushamman De Carrere), owned by Ahmed Hassan Al Malki Al Jehani and trained by Hamad Al-Jehani finished further 1¼ lengths back in third under Lukas Delozier.
"'I'd like to thank trainer Jassim Ghazali for his efforts in getting NAKHEEL ready", said Jarrah Al Shahwani, owner of Al Hajaj Stud, after the race, "and for his decision to run NAKHEEL over this distance for the first time. NAKHEEL did very well proving that the trainer's decision was perfect. I expected NAKHEEL to be shortlisted in this race, but after what he has shown today, our expectations will be higher in his next outings."
"It was a tough race with strong runners", commented the winning trainer Jassim Ghazali, "It was also NAKHEEL's first run ever over this distance. I was hesitant about running him in this race, but one needs to take the risk at times and we eventually won the race. NAKHEEL was very promising last season and he finished 4th in his first appearance this season, which was a very promising start as well. Today, he deservedly won and I'd like to congratulate and thank the owner for his support and understanding since last year."
Following the feature race, Bader Mohammed Al Darwish, QREC Acting CEO, presented the trophies to the winners.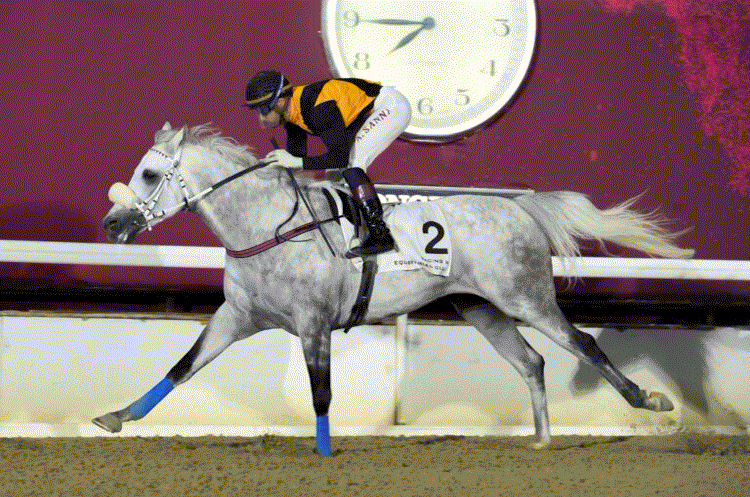 Tamih ridden by Alberto Sanna. Photo: Juhaim/QREC
In the penultimate race, a Purebred Arabian Conditions for 3YO+, Ahmad Mubarak Al Kuwari's TAMIH (FR) (Majd Al Arab x Tarabulus Al Wasmiya) continues his excellent run of form completing a hat-trick in the 1200m race. It was a double on the day for Alberto Sanna who guided the Eng. Mohamed Rashid Seif Al Kuwari to victory. Ateej (USA) (AF AlBahar x Sahara Croixnoire) was the runner-up and Al Junood (QA) (Hafid Du Bac x Al Mubadara) finished third.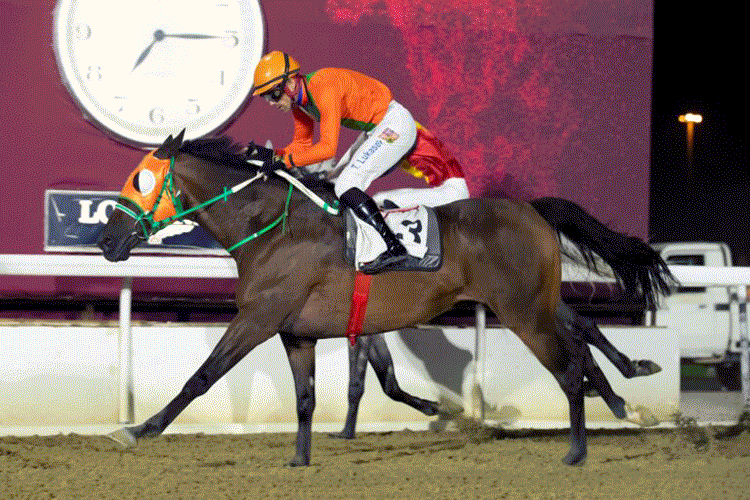 Rammah ridden by Tomas Lukasek. Photo: Juhaim/QREC
The sixth race in the card went the way of Saeed Bin Mubarak Saeed Aljafali Al Naimi's homebred RAMMAH (FR) (Majd Al Arab x Melusinne) who won the Purebred Arabian Handicap (0-85). Jockey Tomas Lukasek steered the Mohamed Khaled Elahmed-trained 5YO gelding to a ½-length win in the 1200m run for 3YO+. Ahzaab (QA) (Dahess) and AJS Al Aredh (QA) (Majd Al Arab) finished second and third respectively.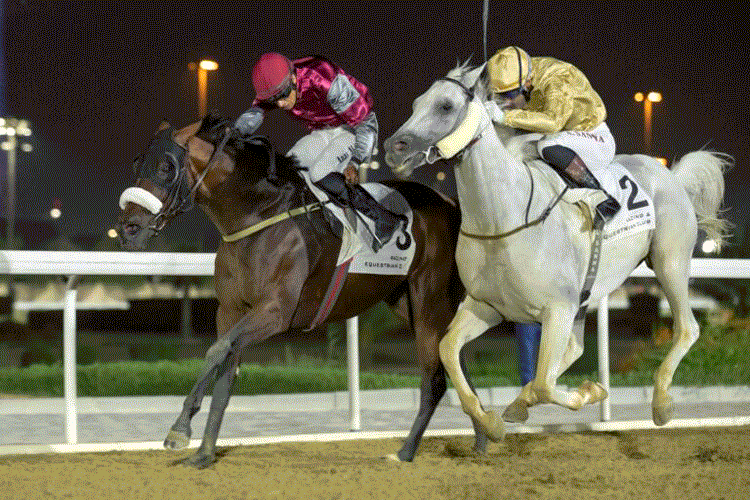 Monati ridden by Anas Al Seyabi. Photo: Juhaim/QREC
Jassim Bin Hamad Al Atteya's MONATI (QA) (Burning Sand x Halla), on her seasonal debu; picking up where she left off the previous season when she won the Local Purebred Arabian Handicap (0-70). Anas Al Seyabi guided the Mohammed Bin Hamad Al Attiya-trained 5YO mare to take the 1700m run for 3YO+ by a head. Benghazi Al Naif (QA) (T M Fred Texas x Hadab Al Naif) and Saud (QA) (Amer x Wasayef) finished second and third respectively.
Source: Qatar Racing & Equestrian Club/Mohamed Saad. Photos: Juhaim/QREC