Al Kitbi wins Individual Gold and Team Gold went to Spain, Silver to Brazil and Bronze to France
The United Arab Emirates' rider wins the World Championship at San Rossore. His compatriot Al Faresi finishes second with Chile's Boni Viada de Vivero third following an amazing comeback at the
WATCH THE RACE - FEI
WATC THE RACE – ENDURANCE LIFESTYLE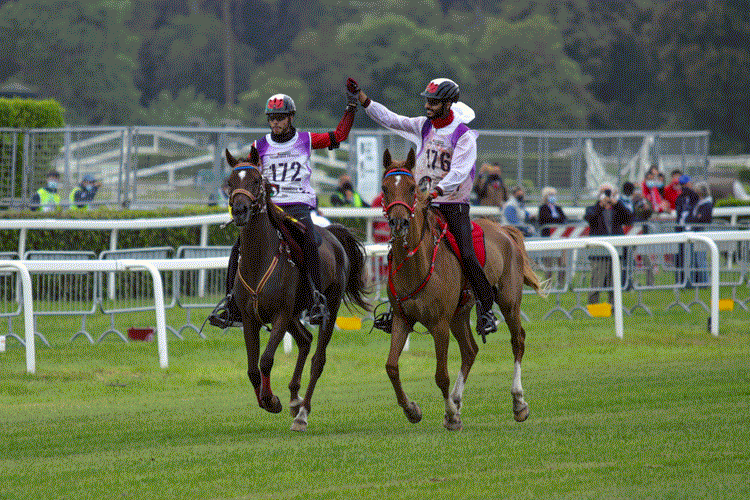 On left is gold medallist Salem Hamad Saeed Malhoof Al Kitbi riding Haleh, on right is silver medallist Mansour Saeed Mohd Al Faresi with Birmann Aya
Pisa, May 22nd – There was a smile overflowing with happiness and joy on Salem Hamad Saeed Malhoof Al Kitbi's face when, riding Haleh at an average of 21.602 km/h, he won the individual gold medal for the United Arab Emirates at the Longines FEI Endurance World Championship 2021, which finished on the afternoon of Saturday May 22nd at the San Rossore Racecourse in Pisa.
Silver went to his compatriot Mansour Saeed Mohd Al Faresi riding Birmann Aya, who crossed the finishing line together with the winner only beaten by 1". The bronze medal was won by Chile's Boni Viada de Vivero riding AS Embrujo, following an amazing comeback that also filled with pride Fuxiateam, the Italian stable in Agello, in the province of Perugia, where the pair that came third in this championship train. Team gold was won by Spain followed by Brazil and France.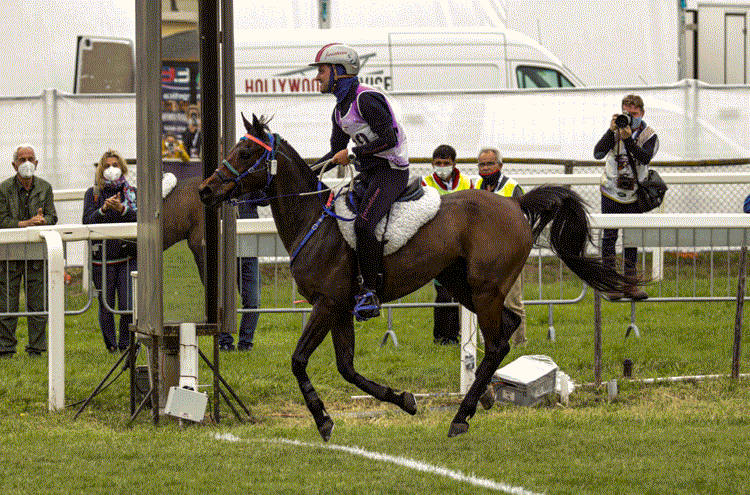 Boni Viada de Vivero on AS Embrujo. Photo: Santiago Faux
Salem Hamad Saeed Malhoof Al Kitbi (UAE) said: "I'm in this sport now 11 years and this is my first World Championship and I'm so proud of it! The final loop was particularly tough. "Until the last five kilometers the rest were pushing and making it hard for us, and in the final vet-check I was so nervous I thought my heart might burst!"
For Chile's Boni Viada de Vivero today was a day he will always remember. "I can hardly believe it! I knew I had a good horse but to have one that's in the top-three in the world - now that is just incredible!", he said.
As expected the Longines FEI Endurance World Championship 2021 presented significant technical questions from the very first kilometres with decisive moves being made only in the last ten of the 160 kilometres field of play.
It was exactly 7 am on May 22nd when the Longines FEI Endurance World Championship 2021 started on the straight on the San Rossore racetrack under a soft rain that improved even more the already excellent conditions for the competition facing these 74 riders and horses representing 31 nations competing in this World Championship.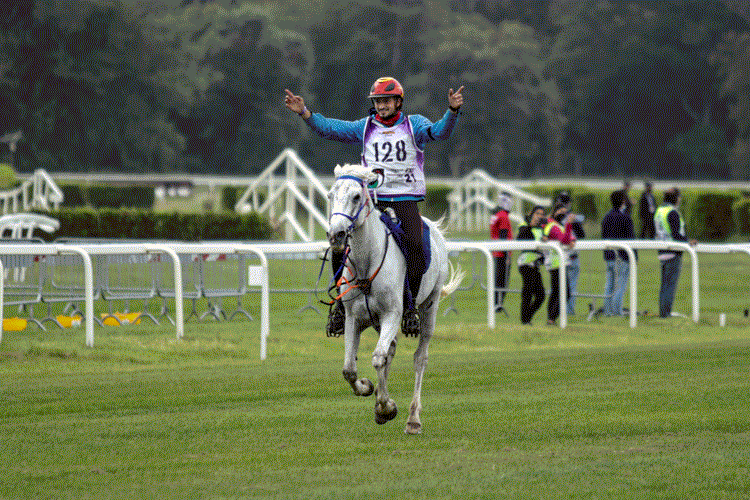 Angel Soy Coll on Warrens Hill Chayze
At the end of the first loop measuring 33.7 km, it was Jaafar Merza Abdulnabi Hassan riding G-Bangsar Alfouvar and representing Bahrain, who came in first at the Vet Gate. In first place by just a few seconds he was at the head of a large group of riders competing for a gold medal led by two pairs from the United Arab Emirates, Abdulla Ghanim Al Marri-Ulmeau du Vrihou and Salem Hamad Saeed Malhoof Al Kitibi-Haleh, and included the outgoing world champion, Spain's Jaume Puntí Dachs riding JM Bucefala.
At the end of the second loop instead the leader was the Uruguayan rider Isha Judd, who riding Ashva Fire Fly, was leading a pack of about twenty competitors with Spain's Rodrigo Omar Blanco riding For Ferro and Bahrain's representative Jaafar Merza Abdulnabi Hassan on G-Bangsar Alfouvar took the lead. At the time the team ranking was led by the United Arab Emirates followed by Spain, Bahrain, France, Brazil, Oman, Portugal, Italy, Bulgaria and Germany.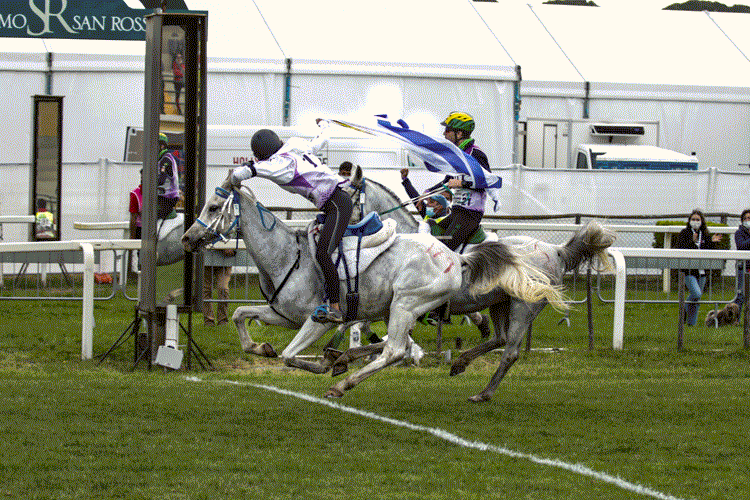 On right Vanessa Peyronel on AR Trueno and on left Felipe Morgulis on Saiph SBV. Photo: Santiago Faux
A first selection started to take shape at the end of the third loop, at which point horses and riders had already travelled 90.6 km. The group in the lead dropped to 13 horses and riders and Spain's Rodrigo Omar Blanco riding For Ferro started to take the lead followed by the UAE's Salem Hamad Saeed Malhoof Al Kitbi and Abdulla Ghanim Al Marri.
By the end of the fourth loop, although the leaders had not changed, there were two important eliminations with Abdulla Ghanim Al Marri and Jaafar Merza Abdulnabi Hassan's horses failing at the Vet Gate. This resulted in UAE rider Mansour Saeed Mohd Al Faresi and Birman Aya taking second place.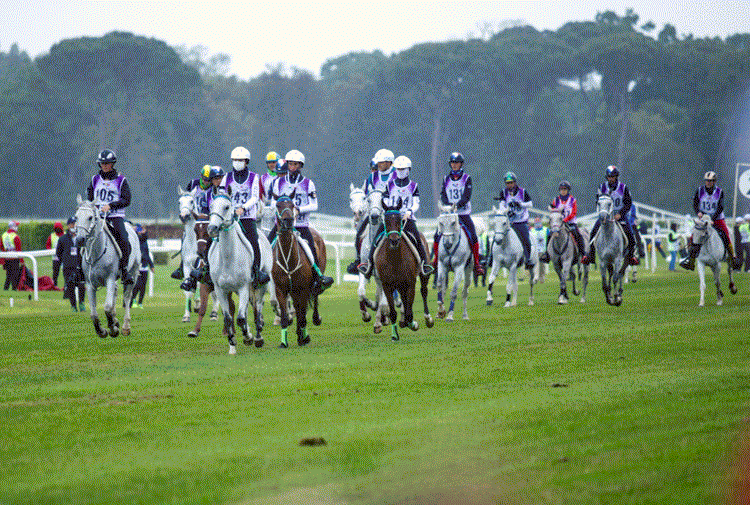 The fifth loop saw the lead group drop to six competitors with Blanco still in the lead followed at only 5 seconds by Al Kitbi, with Al Faresi (UAE), Fakhrawi (Bahrain), Lanternas (Portugal) and Viada de Vivero (Chile) close behind. It was all very close, with the first six riders divided by only 6minutes and 47seconds, resulting in a final loop in which Spain's Blanco dropped back to 6th place until the end of the championships decreed the triumphant arrival of Salem Hamad Saeed Malhoof Al Kitbi.
Team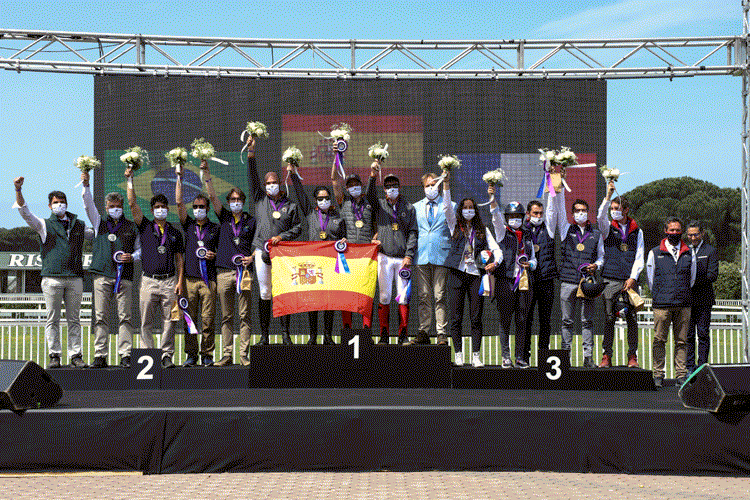 But the individual gold and silver medallists were the only two of the five-man UAE team to complete. A total of 12 countries contested the team title but just three finished, and it was a major battle for the medal placings.
The strong side from Bahrain were big favourites, but HH Sheikh Nasser Bin Hamad Al Khalifa retired and his four running mates were all eliminated. The gold and silver medallists from Spain and Brazil each finished with just the essential three team-members while the bronze medallists from France completed with an impressive four.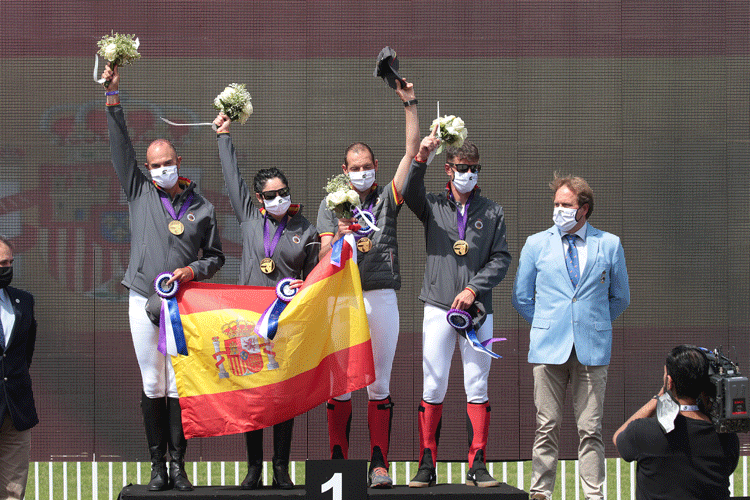 Spain Team Gold Medal: Jaume Puntí Dachs, Maria Álvarez Pontón, Angel Soy Coll, Alex Luque Moral and Omar Blanco Rodrigo
And although the Spanish appeared to be running away with it at the outset, they were under intense pressure when their two main contenders were eliminated for metabolic issues for their horses. Jaume Puntí Dachs and Alex Luque Moral claimed individual gold and silver along with team gold at the last World Championships in Samorin, Slovakia four years ago, but Luque Moral's Eryvan was vetted-out after Phase 4 and the Puntí Dachs' JM Bucefala experienced the same fate after Phase 5 today.
So Blanco Rodrigo could take no chances with For Ferro over the last 20km, he must finish safely if his team was to stay in with a chance, and when he clinched individual sixth spot and Angel Soy Coll, another member of the victorious 2016 team, finished fourth with Warrens Hill Chayze that bolstered the Spanish effort.
Desperately close
It was desperately close however, because the third score posted by 2008 and 2010 individual gold medalist Maria Álvarez Pontón was critical and there was huge tension while her horse, Mandany, was closely examined at the final vet-check. But a big roar went up when he was passed, leaving her in individual 15th place and finalising the total team time of 23:10:34 which left Spain in gold but just 3:01 ahead of Brazil in silver while the French posted 23:43:01 for the bronze.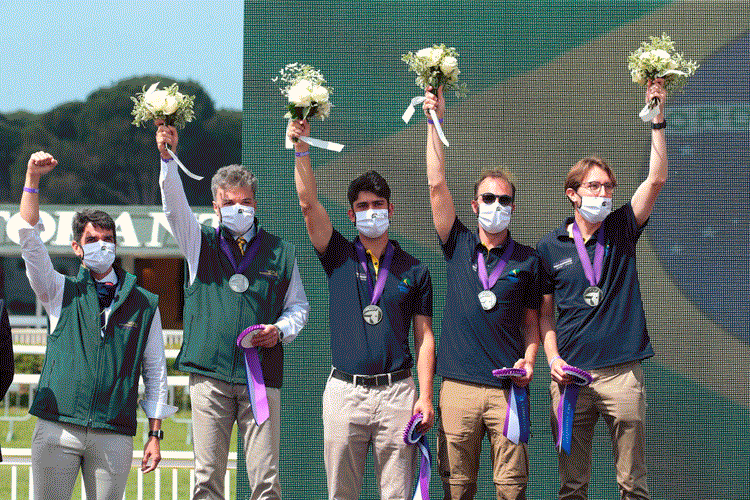 Brazil Team Silver Medal: Renato Salvador, Rodrigo Barreto, André Vidiz and Felipe Morgulis
The Brazilians lost Rodrigo Moreira Barreto at the first vet-gate but Felipe de Azevedo Morgulis (Saiph SBV), André Vidiz (Chambord Endurance) and Renato Salvador (Uzes Trio) stood firm to finish eighth, ninth and tenth respectively, thereby giving the victorious Spanish a real run for their money.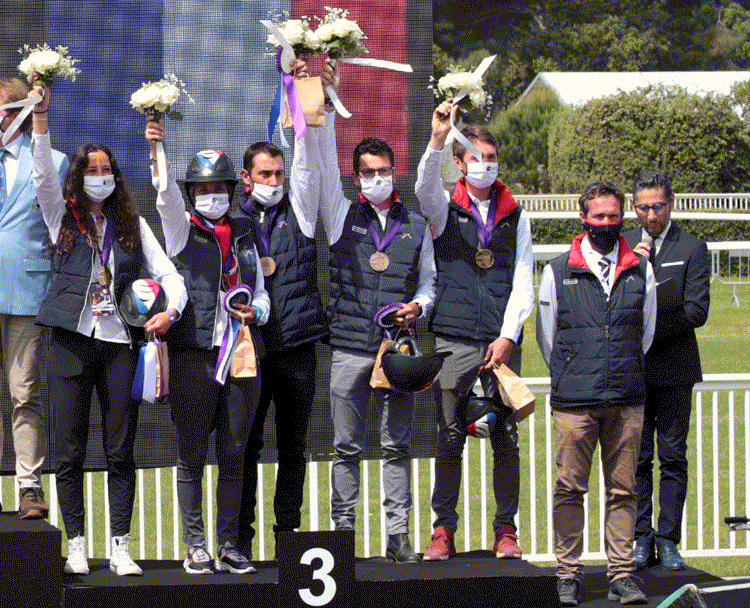 France Team Bronze Medal: Nicolas Ballarin, Gaele Ollivier Jacob, Margot Thomas, Roman Lafaure and Charles Cappeau
The French, who claimed team silver at the last four World Championships, lost Charles Cappeau and Camil Des Ormeaux after the fourth loop, but Nicolas Ballarin (Anir De La Teuliere), Gaele Ollivier Jacob (Pot Made), Margot Thomas (Kalon Milin Avel) and Roman Lafaure (Akim Cabirat) all completed to ensure their place on the podium.
Glory won for the athletes, and equally well-deserved satisfaction for the organisers, who made possible a feat inspired by the desire to restart in what has been interpreted as the event of rebirth. "Today we have not only new champions," said Sabrina Ibanez, Secretary General of the International Equestrian Federation (FEI), "but also new stimuli that will guide us into a new era for endurance. The organising committee led by Gianluca Laliscia has done a fantastic job. Thank you all for what you have been able to do, inspired precisely by endurance, which is a sport of teamwork and sacrifice".

Gianluca Laliscia, CEO & Chairman of sistemaeventi.it, admits: "The fact that we have completed this World Championship is a source of great pride for me and my staff. We are happy to have given the world of endurance racing an event with maximum safety, giving everyone the opportunity to give their best. All I can see today are smiles on the faces of the athletes, technicians, vets and officials: a clear sign that we have worked well and that is what counts".
The balance of the Longines FEI Endurance World Championship 2021 has everything to be positive. "The event – adds Laliscia – has not shown any criticalities in the absolute respect of all the protocols of sporting and health safety, the San Rossore Estate has been returned in all its beauty to the community of Pisa since yesterday immediately after the conclusion of the race, the fallout on the economic fabric-productive were as usual important through the maximum involvement of local companies. In addition to creating the conditions for the best sporting results, these were our major objectives that we were able to share with the institutions, which were proud to experience the event as an active participant on a par with the International Equestrian Federation and the Italian Equestrian Sports Federation".
Source: Press Office: https://ewc2021.com and Louise Parkes (FEI) . Photos: Oreste Testa and Santiago Faux