Al Nabooda, Oertel & O'Shea Al Ain doubles
highlighted by Derby Success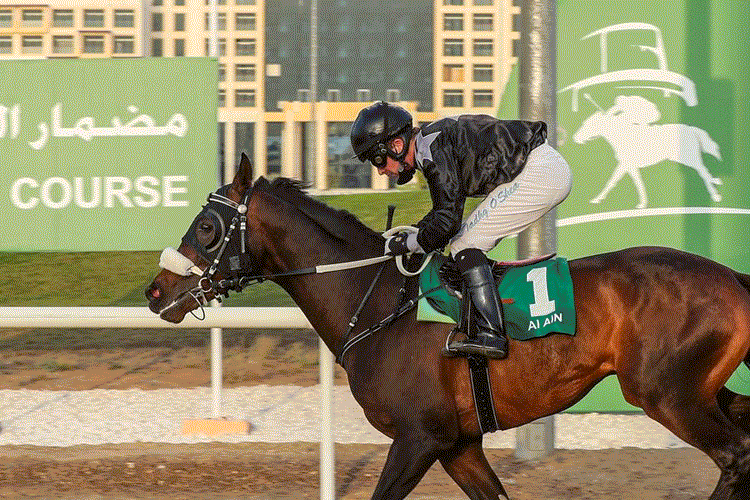 AF Mahzamy ridden by Tadhg O'Shea
The traditional seven races at Al Ain on Friday evening, February 26, a meeting highlighted by the 1800m Al Ain Derby, a Prestige contest for 4-year-olds foaled in the UAE and won in determined fashion by AF Mahzamy (AF Al Buraq x Mangnifique by Doran) under a positive Tadhg O'Shea for his main employer, Khalid Khalifa Al Nabooda and trainer Ernst Oertel.
Inaugurated in 2016, the owner and trainer became the first dual winners of the prize they also landed in 2017 with AF Taraha, partnered by Antonio Fresu.
Having stalked the leader, Sawt Assalam, O'Shea drove his mount, a homebred colt having just his second start, to take the lead with about 550m remaining and found a resolute partner, initially seeing off a renewed challenge from that rival, then always holding late bids presented by Fahd Al Wathba and then ES Rahmani who snatched second close home. One of eight maidens in a field of 11, AF Mahzamy was well beaten on his only previous start, a 1400m Al Ain maiden, but clearly benefitted from the extra distance and experience gained on that debut 34 days ago, completing a rapid 1800m double on the card for connections in the process.
Oertel said: "He is only small, but he is a very tough little horse. I would not say we were confident after a moderate first run, but he has given me a nice surprise the way he won today. We have lots of these nice 'babies' this year and we have brought them along slowly, so hopefully we have a good bunch of young horses for the future. We will see how he is after this race, but we could put him away for next season now because this was a big prize and he has had to work hard."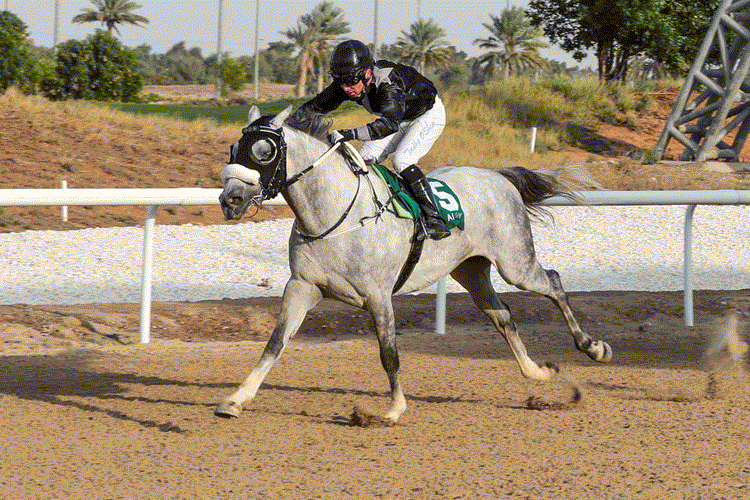 AF Yahawa ridden by Tadhg O'Shea
Also over 1800m, the meeting kicked off with a handicap for Wathba Stallions Cup for Private Owners Only and, like so many such races, O'Shea partnered the winner for Al Nabooda and Oertel.
Having settled AF Yahawa (Murhib x Hathrah by Makzan) in third, behind stable companion AF Taraha, Pharitz Al Denari and early leader, Inthar, O'Shea went in pursuit of the leader early in the straight. The pair was soon dueling, with Inthar unable to repel the determined O'Shea drive. Homebred, the 6-year-old entire was doubling his career and course tally having won a 1600m Al Ain maiden in November 2019. This was just his second outing of the season having finished fourth over this 1800m course and distance at the end of October on his previous racecourse appearance.
Oertel said: "He just had a little problem after his last start, so we have had to be patient with him and, I admit, we were a bit worried about his fitness after so long off, but he is a tough, consistent horse. He has won here before and we were pretty hopeful, but as I said, just a bit concerned about his fitness. He clearly likes it here, so I imagine we will look for another Al Ain race for him."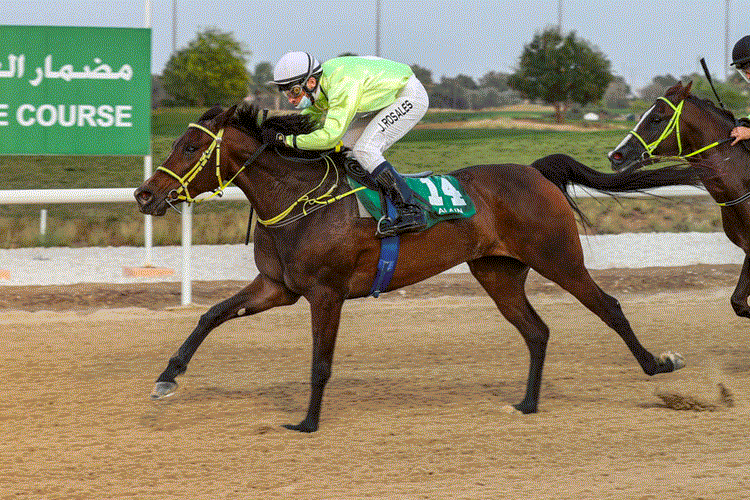 Odessy ridden by Jesus Rosales
For horses foaled in the UAE, a 1400m maiden, was dominated by trainer Abdallah Al Hammadi, already enjoying his best ever season and saddling winner number 18 for the campaign with Jesus Rosales and Odessy (Valiant Boy x Golden Odessy by Oh By Gosh) denying Fernando Jara aboard stable companion Ortagon. It had appeared Jara had timed his challenge to perfection, hitting the front entering the final 200m, only to be headed with about 75m remaining by Rosales' mount, losing her maiden tag at the third attempt having never threatened in either previous start, both over 1600m, here at Al Ain and then on the Abu Dhabi turf. Both first and second are owned by Al Ajban Stables, as have been all the Al Hammadi winners this season.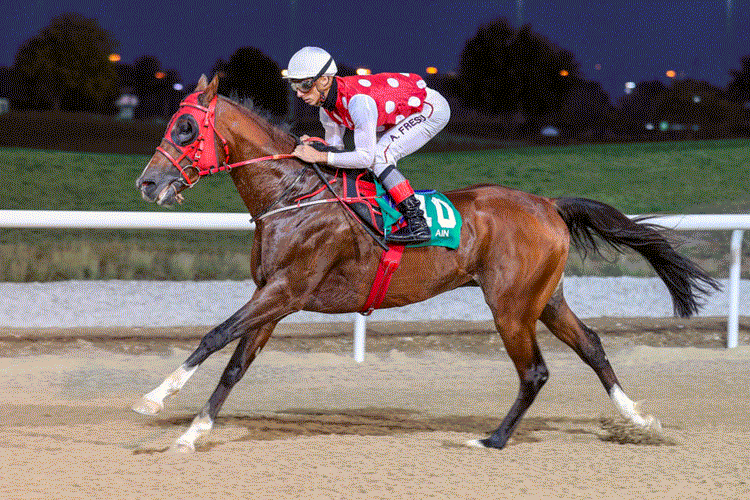 Tayseer ridden by Antonio Fresu
A capacity field of 15 then went to post for a second 1400m maiden, but once Antonio Fresu and Tayseer (Mahabb x Men Abu Dhabi by Johnny Onthe Spot) hit the front exiting the home bend, there was only going to be one winner, this one saddled for HH Sheikh Khalifa bin Zayed Al Nahyan by Eric Lemartinel. Settled in fourth by Italian Fresu, the 4-year-old homebred colt railed in a style a greyhound would have been proud of, seemingly gaining lengths effortlessly to enter the long straight in front. Soon clear, they were never going to be caught, a first win at the fourth attempt, all this season, for Lemartinel's charge who was producing by far a career best tackling the shortest trip he has faced to date.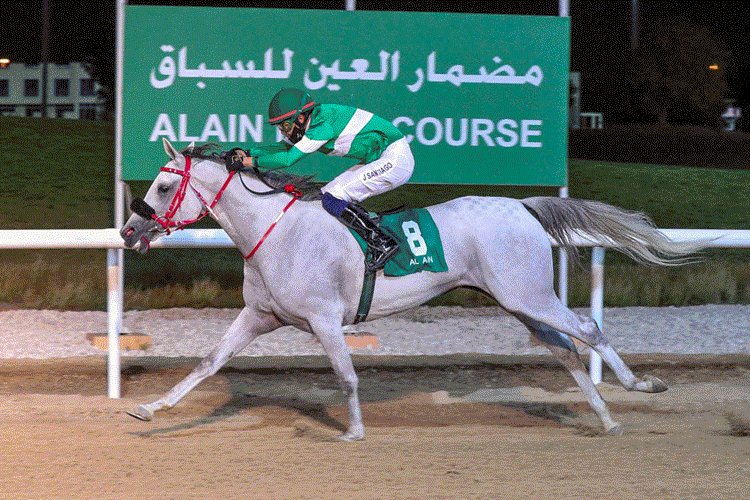 AF Barari ridden by José Santiago
It was a similar story in the following 1600m handicap for fillies and mares with Jose Santiago adopting virtually identical tactics with the same end result aboard AF Barari (AF Maqam Alezz x AF Disan by Madoua De Piboul) for Yousif bin Ghilan in the colours of Khalfan Hamad Al Qubaisi.
Sat motionless aboard the 7-year-old mare, Santiago took the shortest route around the race's only bend and the pair cruised to the front early in the straight, soon skipping clear. The race was in safekeeping with fully 300m remaining with Santiago able to allow his mount to virtually 'freewheel' the final 150m. Third over course and distance just last Saturday, this was a second career success for the mare, both over this Al Ain 1400m having won a maiden, for Antonio Fresu, just last March on her final start last season. The current campaign has been a busy one as this was actually her eighth start since starting her new season in the middle of November.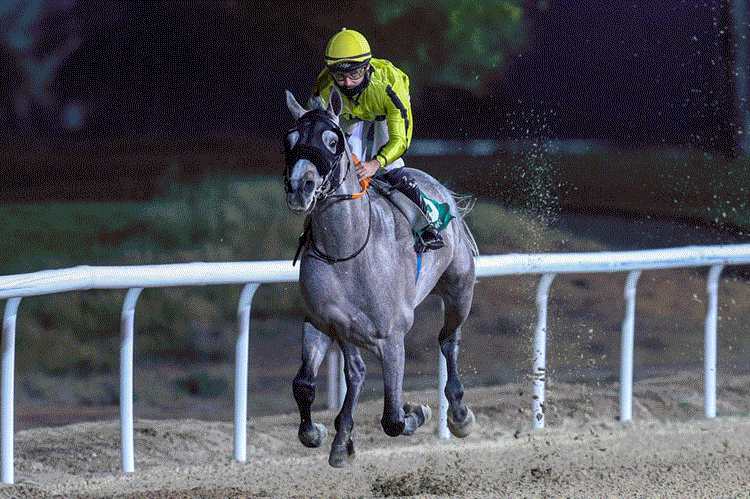 Kerless Del Roc ridden by Fernando Jara
A former UAE Champion Jockey, not to mention a Dubai World Cup winner, Fernando Jara, during his previous 147 local victories, cannot have partnered many easier than Kerless Del Roc (Dahess x Kerlia Des Pins by Kerbella) who proved in a class of his own against 11 helpless rivals in a 2000m conditions race. Beaten on debut, his sole turf start, the 4-year-old colt was then partnered with the Panamanian jockey, the pair easily winning a maiden over 1800m here at Al Ain before the duo followed up, over the same course and distance, in a conditions race. Trained by Ahmed Al Mehairbi for Al Rahmani Racing, those two victories were achieved by a combined 16 ¼ lengths. On this occasion he crossed the line 15 lengths clear having almost cantered the final 200m. If this had been a boxing match, it would have been stopped about 400m out, so easily did he win.
Remarkably, considering he was eased down a long way out, he actually broke the track record to add to his 1800m Al Ain fastest time registered in his maiden victory in January.
Al Mehairbi said: "As I said five weeks ago and the week before that after his first two wins, this is a really exciting young horse and one we have always really liked. He is improving all the time, as he matures and with extra experience and he is a great horse to have in a relatively small yard. He is spearheading our best season and we hope he has more to offer."
Source: Emirates Racing Authority