Amwaj Al Khalediah was unbeatable at Sheikh Zayed Bin Sultan Al Nahyan - Europe Stakes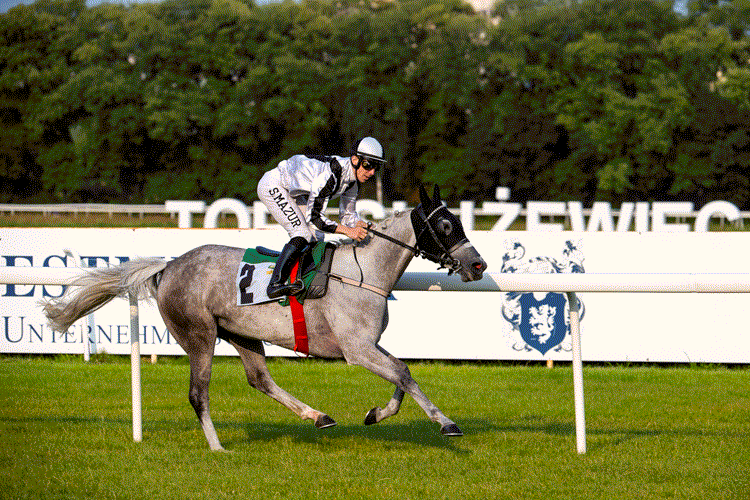 Amwaj Al Khalediah ridden by Szczepan Mazur
Amwaj Al Khalediah, trained by Maciej Kacprzyk, took a breathtaking victory in the Sheikh Zayed Bin Sultan Al Nahyan - Europe Stakes (G3 PA), on August 22. Ridden by Szczepan Mazur, the mare won with a huge advantage over Samonlau 'OA', Alsahr, Hosco de Bozouls and Apollo del Sol, who were fighting for the following places. It was the third win in a row that day for Maciej Kacprzyk, as well as his third triumph in this prestigious race (with jockey Szczepan Mazur).
Amwaj Al Khalediah gave her rivals no chances, dictating a strong pace from the very start. On the straight she distanced herself from her rivals and won by a large margin, in an excellent time of 2'56,7", only 0.4 seconds slower than the track record from 2010! A long way behind the mare, we saw a fight for the second place, out of which the other favorite Samonlau 'OA', ridden by Viktor Popov emerged victorious. Coming in third was the Polish Derby winner Alsahr, only slightly ahead of Hosco de Bozouls. The lowest paid place was taken by Apollo del Sol.
As we heard from trainer Maciej Kacprzyk after the race, he and the owner of the Al Khalediah Poland mare (Polska AKF) plan to have the mare participate in the Qatar Arabian World Cup race at Longchamp on the day of the Arc de Triomphe race. This is the world's highest ranked G1 race, which saw a victory of Fazza Al Khalediah for Al Khalediah Poland in 2018.
Trainer Cornelia Fraisl was also very pleased with the second place for Samonlau 'OA' and fourth placd for Hosco de Bozouls; it was an amazing day for her. The performance of Derby winner Alsahr, bred and owned by Zbigniew Górski, was also greatly appreciated.
Source: Hanna Zalewska - Tor Wyścigów Konnych Służewiec