Antonio Fresu wins three races in Al Ain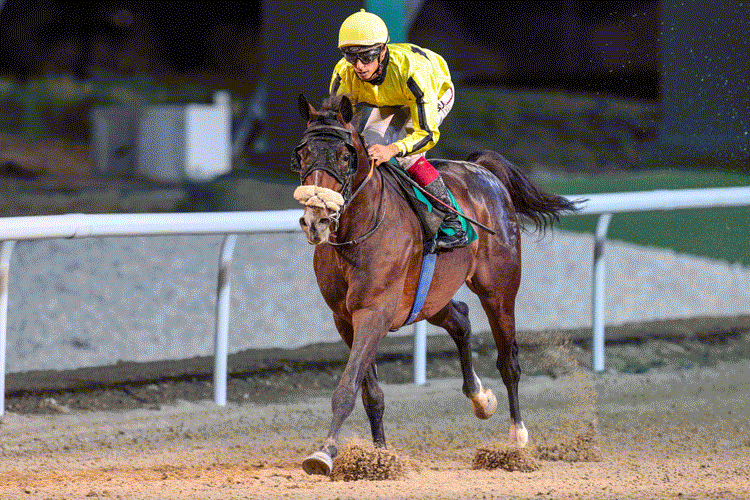 Dagui Lotois ridden by Antonio Fresu
The 1600m Group 3 Al Ain Mile, the biggest race of the season in the Garden City, was the undoubted highlight of Friday's meeting in Al Ain, March 12, especially for connections of Dagui Lotois (Dahess x Larissa Lotoise by Djourman) who proved a class apart from his ten rivals.
Antonio Fresu, completing a treble on the card, oozed confidence throughout on the 5-year-old entire, saddled by Ahmed Al Mehairbi for Al Rahmani Racing, hugging the rail on the home turn. The ground they saved propelled them from about fourth into a threatening position and, once Fresu pressed the accelerator, they dashed to the front with the race in safekeeping with fully 300m remaining. All three of the horse's career victories have been registered here at Al Ain, this following consecutive victories in a maiden over 1800m in January last year followed by a 2000m conditions race a fortnight later. In fact, his only defeat at his favourite track was suffered on his seasonal return, in a handicap over 1800m, in November, tiring late on when attempting to concede lumps of weight to his14 rivals.
He arrived here after finishing fourth in the 1600m Group 1 Al Maktoum Challenge R1 and third in both the 1900m second round of the Al Maktoum Challenge and, on the Abu Dhabi turf, over 2200m in HH The President Cup, also Group One contests.
Fresu said: "It has certainly been a good evening and this is a very pleasing victory for the horse and who team who deserved a big win with him. He is a very good horse who, hopefully, has some options this season, be it on turf or maybe the Kahayla Classic, but we will just have to see how he comes out of this."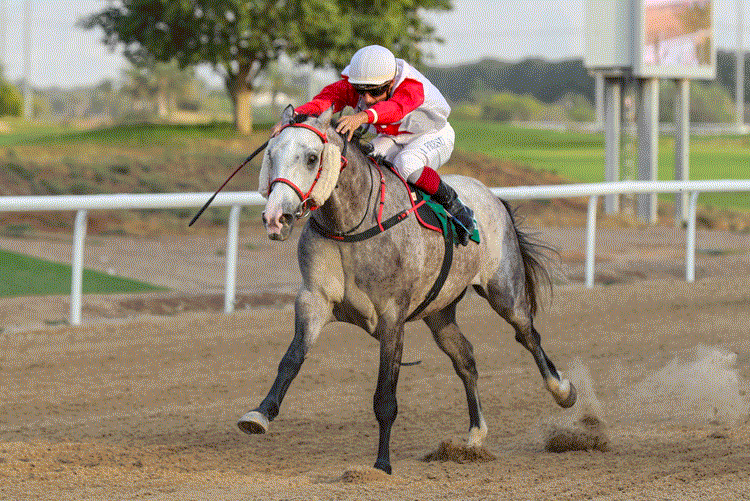 Minwer ridden by Antonio Fresu
A 2000m maiden for horses foaled in the UAE was dominated by runners prepared at Al Asayl by Eric Lemartinel, the Frenchman supplying the first three home, headed by Antonio Fresu aboard Minwer (Majd Al Arab x Chick Flick by Calin Du Loup). The Italian jockey was sat motionless when carried to the front at the top of the long straight with it soon apparent virtually all his 14 rivals were beaten. The exception proved to be Sundus who was closing in the final 200m, without ever really looking likely to get there under Fabrice Veron. Stablemate Al Bateen completed the Lemartinel 1-2-3.
A 4-year-old gelding, he was shedding his maiden tag at the seventh attempt, sixth on this track with a solitary Abu Dhabi turf effort in Abu Dhabi among his previous appearances. He becomes the second horse to carry the silks of Sheikh Khalifa bin Sultan bin Khalifa Al Nahyan to victory, following dual heroine Mumayaza, most recently victorious in the Emirates Fillies Classic in the middle of last month.
Lemartinel said: "As this horse gets older, bigger, stronger and more experienced, he has improved with his racing. He is only a 4-year-old and, you would hope, with more improvement to come."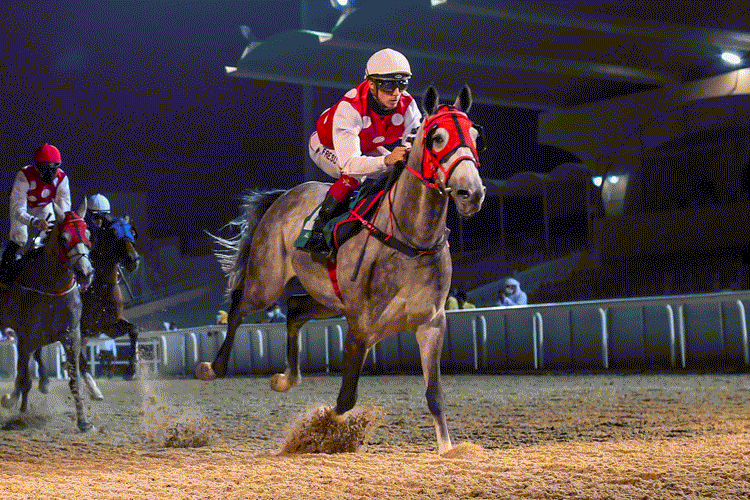 Muthhel ridden by Antonio Fresu
Trainer and jockey later doubled up with Muthhel (Majd Al Arab x Elmalak Elwaheed by Djel Bon), Fabrice Veron again second on a stable companion, this time Eyjabi, in a 1600m maiden. Both are homebred 4-year-old geldings who race in the silks of HH Shaikh Khalifa bin Zayed Al Nahyan, Veron's mount having just his second start. He was third on debut, whereas the winner arrived with extra experience, losing his maiden tag at the fourth attempt, having previously finished ninth on both starts locally, but in better quality races than a maiden.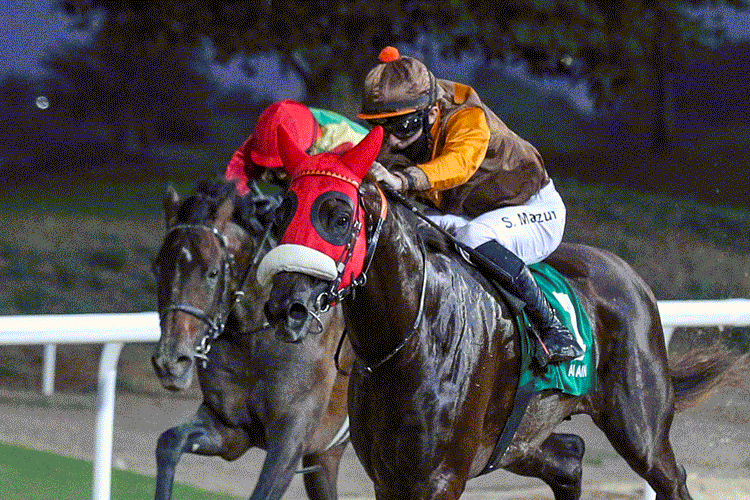 Asif ridden by Szczepan Mazur
WATCH THE RACE
The best quality from a pair of 2000m handicaps proved a memorable occasion for trainer Ibrahim Al Hadhrami, who was able to relax over the final 300m when his stablemates Asif (Dhiaa Al Reef x Hayat By Gerbya) and Salb forged clear of 11 toiling rivals, the former landing the spoils under Szczepan Mazur. The four-year-old colt has now won four of his six career appearances, but remains unbeaten on dirt surfaces with a debut success in Muscat now followed by three consecutive Al Ain victories. Sandwiched between were two less successful, albeit in decent races, attempts on the Abu Dhabi turf. This was the longest trip he has tackled to date, his Muscat victory over 1600m followed by two here at Al Ain, the second month ago. As was the case then, he seemed reluctant to go to post, but he certainly relishes with far more zest!
Al Hadhrami said: "That was very pleasing and we came here thinking they both had good chances. Luckily we were correct and it is a big result for the whole team."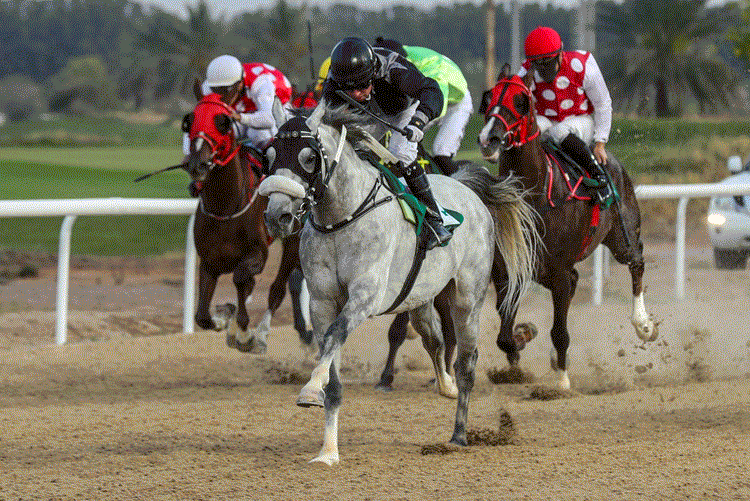 AF Yahawa ridden by Tadhg O'Shea
Earlier, a lesser 2000m handicap was landed comprehensively by AF Yahawa (Murhib x Hathrah by Makzan), driven clear in the final 225m by Tadhg O'Shea to post a decisive success for Khalid Khalifa Al Nabooda and Ernest Oertel. Content to take his time in behind a posse who were keen to lead, O'Shea eased his mount into contention halfway up the straight before putting the race to bed in just a few strides. The homebred 6-year-old entire has now won on three occasions, all on this course having won a 1600m maiden in November 2019 and a handicap, over 1800m, on his most recent outing, just a fortnight ago at the previous Al Ain fixture. 
O'Shea said: "He stayed on strongly over 1800m the last day, so we were confident the extra 200m would not be an issue as he is a more mature horse than when he tried it last season."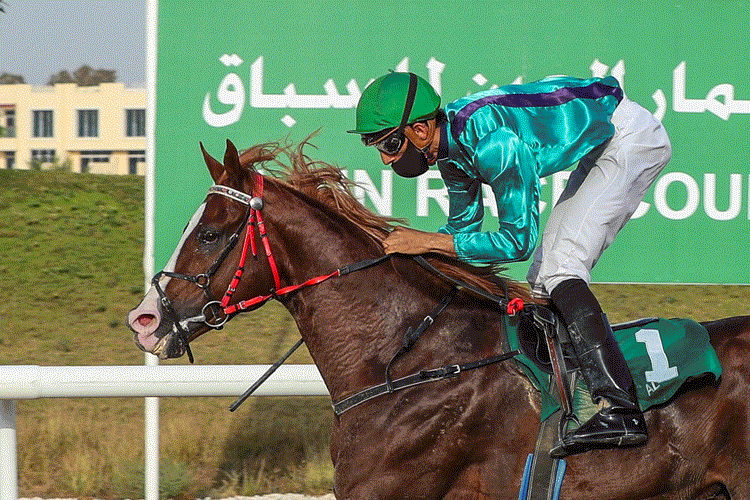 AF Ramz ridden by Abdul Aziz Al Balushi
In The Wathba Stallions Cup for Private Owners Only, the opening 1400m handicap was won decisively by AF Ramz (Al Kesbe x Obayya Al Faisal by Zefiro De Nulvi)  who was never going to be denied under Omani apprentice Abdul Aziz Al Balushi, once sent past stable companion AF Mozhell about 300m out. The latter was denied second close home by Noof KB. A 7-year-old entire, AF Ramz was winning for the fourth time, all on the Al Ain dirt and thrice at 1400m. His previous success, in early December, was over 1600m.
He is owned and trained by Khalifa Al Neyadi, celebrating his ninth winner of the campaign as he closes in on his best ever tally, of ten, achieved last season. 
Source: Emirates Racing Authority