Applause for Jara after winning
three races in Al Ain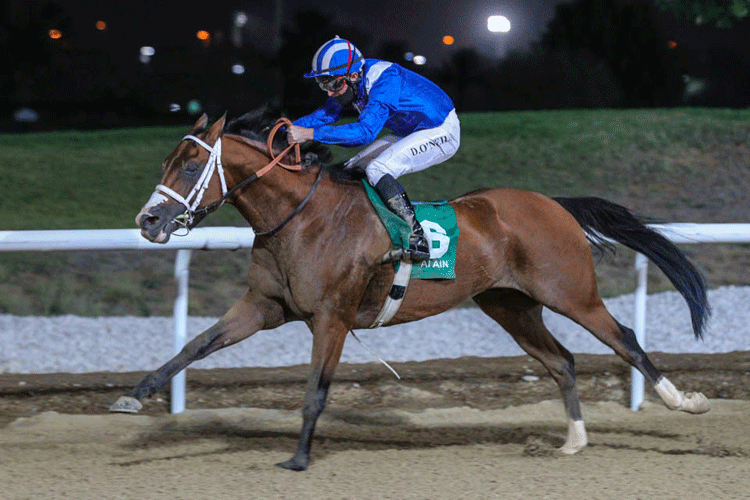 Sauternes Al Maury ridden by Dane O'Neil
Racing at Al Ain on Saturday, January 23, was highlighted by the concluding 2000m conditions contest and class undoubtedly prevailed with the enigmatic Sauternes Al Maury (Mahabb x Savavit Al Maury by Dormane) registering his third career success for Doug Watson and Sheikh Hamdan bin Rashid Al Maktoum on what likely will be his swansong.
With an official rating of 96, the 9-year-old entire was by far the one the remaining ten had to beat and he was always travelling strongly under Dane O'Neill, retained by the owner. They eased to the front with about 525m remaining, immediately challenged by Salb (Dormane x Nahdhah by Amer), ridden by Szczepan Mazur, who proved a persistent challenger until the final 150m when Watson's charge was well on top.
The horse actually won two of his first three career outings, both at Al Ain, landing a 1400m maiden on debut in January 2016 and a 1600m handicap in the November of that same year. Two runner-up efforts were the best he had mustered since, but he was plying his trade in a good quality of races, including four times tackling Group One company.
Watson said: "He was entitled to win that and it is nice to see him get his head back in front. He has always had plenty of ability, but has not always been the most straightforward. I imagine we will retire him now."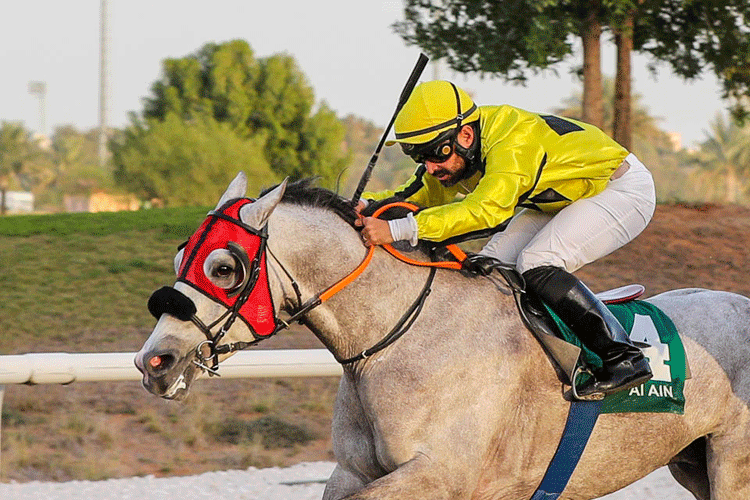 Munfared ridden by Fernando Jara
The curtain raiser, a 1400m maiden for 4-year-olds in private ownership, was contested by a capacity field of 15, but very few ever threatened with the final 700m developing into a duel between Munfared (TM Fred Texas x Safya by Akbar), ridden by Fernando Jara, and Al Mansour NF (Tabarak x Rolly Polly by Falina Des Fabries), ridden by Patrick Cosgrave, who just could not get past his determined rival. This was just his second career start, having finished well beaten on turf in the Listed Abu Dhabi Championship five weeks ago, the winner showed a battling attitude under Fernando Jara, riding in the predominantly yellow silks of Al Rahmani Racing for trainer Ahmed Al Mehairbi.
"That was a real battle and my horse has really responded well on just his second start. The runner-up had already run four times, so had much more experience, but I had a very willing and game partner", said Jara.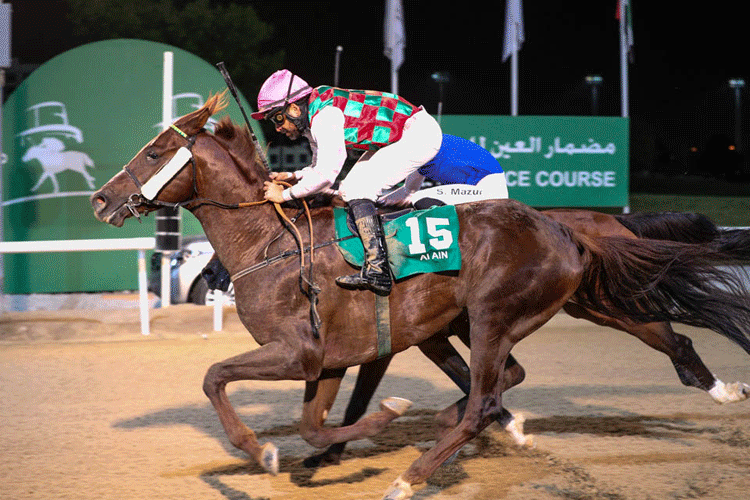 Rajee ridden by Fernando Jara
Denied a double then, Jara only had to wait 30 minutes to complete his brace although his mount, Rajee (Munjiz x Rakha by MahabbE), looked a most unlikely winner in the 1800m handicap in which he was virtually last as the field exited the home turn. However, the 4-year-old colt responded to Jara's urgings, appearing fast and late to snatch the spoils from Pharitz Oubai (Dahess x Laila by Tahar De Candelon) who would have been a second winner on the card for Mazur. Previously a maiden after five starts, four in the UAE the Yas Racing homebred was taking full advantage of the weight he was receiving from his 14 rivals for trainer Majed Al Jahoori.
The handler said: "He was third, then second in two starts here over 1600m, staying on too late to get to the winner each time so we thought this extra 200m would suit him, but all credit to the jockey who was working hard from a long way out."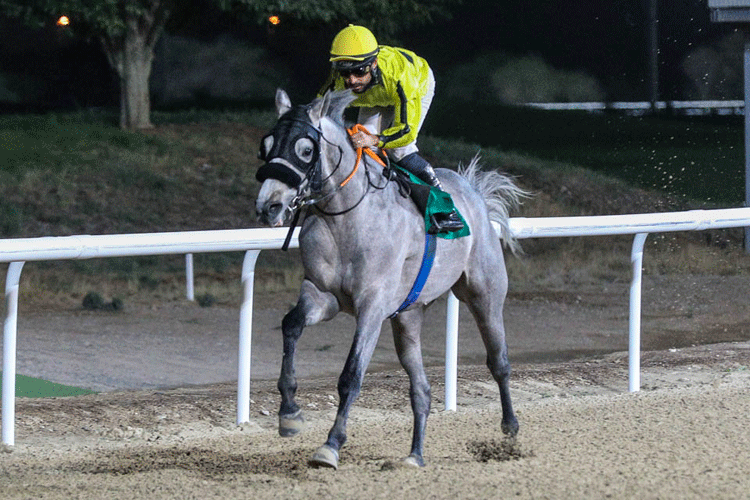 Kerless Del Roc ridden by Fernando Jara
Normal service was then somewhat resumed over 1800m in a conditions race for horses who had not prevailed more than once previously with Jara aboard the exciting Kerless Del Roc (Dahess x Kerlia Des Pins by Kerbella (FR), ridden by Fernando Jara, locked in a war with Ottoman (Valiant Boy x Caviyar by Calin De Louve), ridden by Szczepan Mazur, soon after entering the straight.
However, on this occasion, the battle was brief before Jara's mount shot clear to follow up his track record winning effort of just last Friday, completing the jockey's treble and doubles for Al Rahmani Racing and trainer Al Mehairbi. Beaten a long way on debut, in the aforementioned Abu Dhabi Championship, the exciting 4-year-old is unbeaten on dirt with his two victories over this track and trip.
A delighted Al Mehairbi was almost purring after the race and said: "That was another very good winning performance from a horse, we hope, is going to be extremely good. He learned a lot at Abu Dhabi the first day as he showed last week, but that was only a maiden whereas this was a much stronger race. We will have to think about where to go with him now, but we will have to think about stepping him up in class."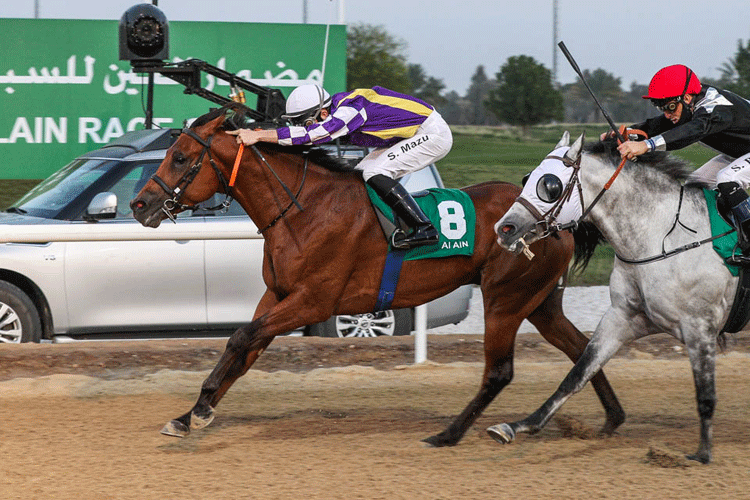 Sawt Assalam ridden by Szczepan Mazur
The 1600m handicap, for horses foaled locally, was a virtual carbon copy, this time dirt debutant, Sawt Assalam (Mahabb x Prime D'Or by Dormane) who had led virtually from the outset under Szczepan Mazur, always seemingly holding the constant, but ultimately fruitless, challenge of AF Mukhrej (AF Al Buraq x Warda Al Maury by Kudor), throughout the long home straight. Mazur's mount, a 4-year-old colt having just his fourth career start, now boasts a 50% record after making all, for Mazur, in a 1400m maiden on the turf at Abu Dhabi before suffering two defeats at the same venue. Homebred by Ben Shahwan Arabian Horse Stables, he is trained by Ibrahim Al Hadhrami, saddling his sixth winner of the season, all bar one here at Al Ain.
Mazur said: "The horse likes to be ridden positively and enjoyed himself out in front before digging deep when challenged throughout the closing stages."

Dergham Athbah ridden by Pat Dobbs
A definite theme was developing, this time it was Ullias (Dahess x Chanel De Faust by Mahabb), ridden by Fernando Jara, representing the same connections as Munfared, and Dergham Athbah (AF Albahar x Mandragore Al Maury by Dormane) who were embroiled in a two horse war throughout the final 600m in the 1800m maiden that followed. The one difference was that the latter, under Pat Dobbs, actually passed the former to open his account at the fifth time of asking.
That said, winning trainer Mohamed Daggash must have endured the final 100m when Jara persuaded Munfared to rally, but the winning post appeared just in time for Dobbs' mount, a 4-year-old colt homebred by Athbah Stud and Racing. Second on his final of two runs in Britain, both on the all-weather, he was fourth, under Dobbs, on his local and turf debut at Abu Dhabi in the 1600m Listed Abu Dhabi Championship. He went on to find only Kerless Del Roc too strong on his dirt bow, over this 1800m course and distance, just eight days ago. That race was run in a track record time so was obviously strong form.
Daggash, saddling his seventh winner of the season and enjoying by far his best ever campaign, said: "He deserved to get his head in front after two good efforts for us. The jockey was very pleased with the way he battled."
Source and photos: Emirates Racing Authority