Arif lowers track record with easy in Al Ain feature race victory to star
in Al Hadhrami double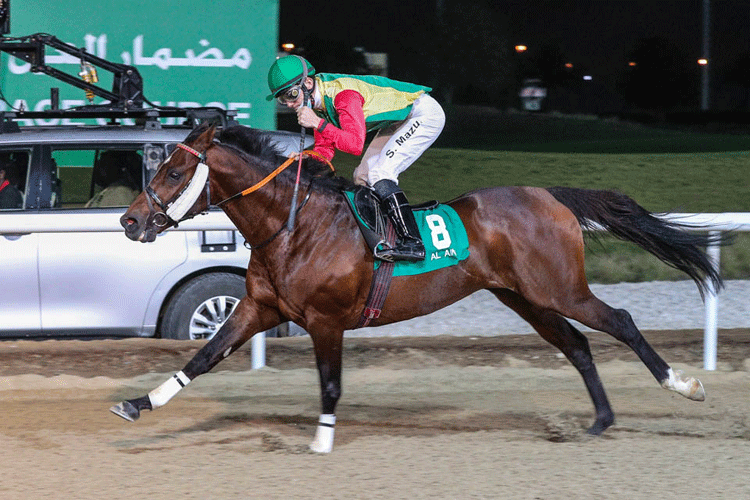 Arif ridden by Szczepan Mazur
Seven races at Al Ain on Friday, January 15 evening were officially highlighted by a 1400m handicap which was turned into a procession by Arif (Azadi x Orphe Du Clos by Kerbella), one of several winners on the card to benefit from positive tactics and second to break a track record.
Szczepan Mazur, sporting the silks of the Omani Royal Cavalry for trainer Ibrahim Al Hadhrami, was content to track Marzaga for the opening 500m, but then grabbed the initiative before committing for home a long way out, the race in safekeeping entering the final 300m. Homebred, the 8-year-old entire was registering a fifth career victory, third on dirt and second over 1400m having also won over the trip on the Abu Dhabi turf in March 2017.
"I actually won on this horse over a 1000m last season and was then second on him to the very good Jayide Al Boraq. He obviously has plenty of natural speed which I was keen to utilise, but he also stays 1400m well, so I was keen to ride him handily and was happy to attack early. Everything went perfectly!" said Mazur.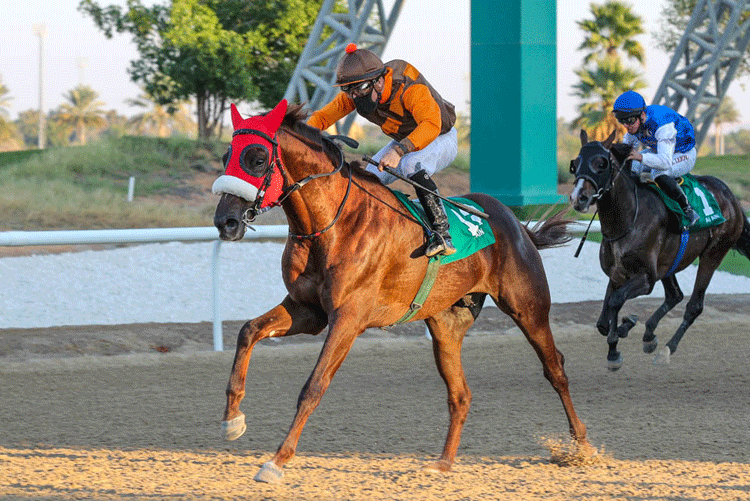 Asif ridden by Fabrice Veron
The fixture kicked off with a handicap over 1800m for horses in private ownership with Asif (Dhiaa Al Reef x Hayat by Gerbya) recording a relatively comfortable success under Fabrice Veron, riding for Ibrahim Al Hadhrami in the colours of Mohd Rashid Al Saadi, celebrating his first UAE winner with his ninth runner. A 4-year-old colt, he was doubling his career tally on his fourth start and remains unbeaten on dirt, winning his 1600m debut at Muscat in March before two Abu Dhabi turf outings in December. Never far off the pace, he took up the running as the leaders entered the long Al Ain straight and was involved in a duel with top weight RB Double Down (General x RB Madymoiselle by Majd Al Arab), ridden by Hugo Leboc, until that rival cried enough with about 150m left and surrendered second place to Amirah in the closing stages.
Al Hadhrami said: "He is a decent little horse who won well first time in Muscat and has not been disgraced in better class races at Abu Dhabi. That was only his fourth start, so he is open to plenty of improvement and he showed a determined attitude which was very pleasing."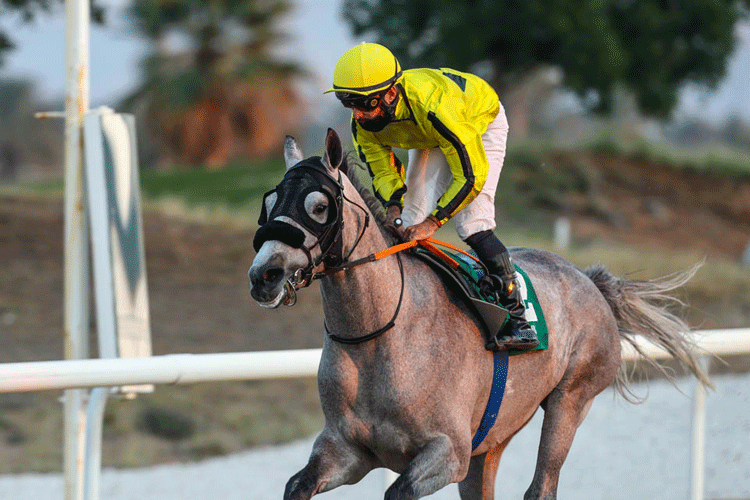 Kerless Del Roc ridden by Fernando Jara
A capacity field of 15 may have gone to post in the 1800m maiden, but the vast majority may as well have stayed at home and only one mattered entering the final 500m when Fernando Jara kicked Kerless Del Roc (Dahess x Kerlia Des Pins by Kerbella) clear after which the race, as a contest, was basically over. The track record was lowered in the process. Jara, sporting the predominantly yellow silks of Al Rahmani Racing aboard the 4-year-old colt trained by Ahmed Al Mehairbi, went straight to the front and had the vast majority beaten entering the home turn and the race was in safekeeping halfway up the home straight. This was just the winner's second career start, having made his debut in the Listed Abu Dhabi Championship over 1600m on the capital's turf track almost a month ago.
"This is a horse we really like and that was impressive. He has relished the dirt surface and clearly stayed well. Hopefully there is more to come from him", said Al Mehairbi.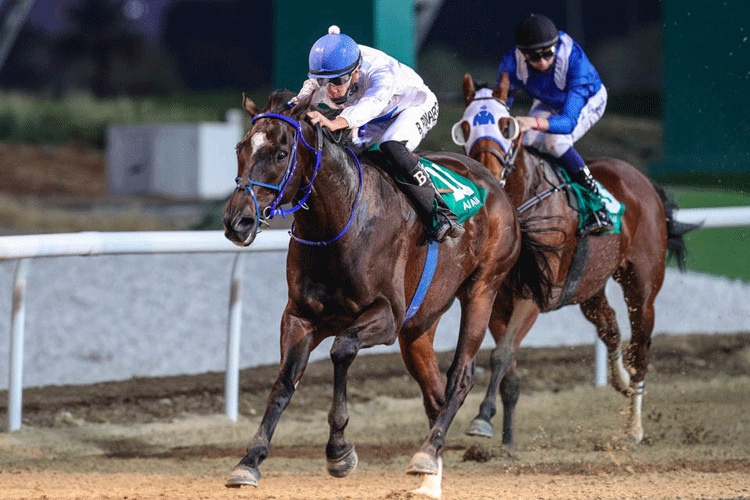 Minitaurist ridden by Bernardo Pinheiro
The only Thoroughbred race, a 1600m handicap, developed into a thrilling finish after Minitaurist (Shamardal x Herboriste by Hernando), soon in front under Brazilian jockey Bernardo Pinheiro, fought off numerous challenges throughout the length of the straight, only to be joined in the final stride by Dress Coat, challenging quite wide under Szczepan Mazur. They flashed past the line seemingly locked together but the line had arrived just in time for Pinheiro's mount, a gelded 8-year-old son of Shamardal saddled by Ahmed Al Shemaili for Saeed Musabbeh Al Mheiri. It was a third career success for the horse, second in the UAE and this season, this victory supplementing a 1700m Sharjah handicap score he achieved on the last day of October.
Al Shemaili said: "That is two wins and a third from three runs this season, so he has been in good form throughout. He has shown a real battling attitude today and just had enough left at the line."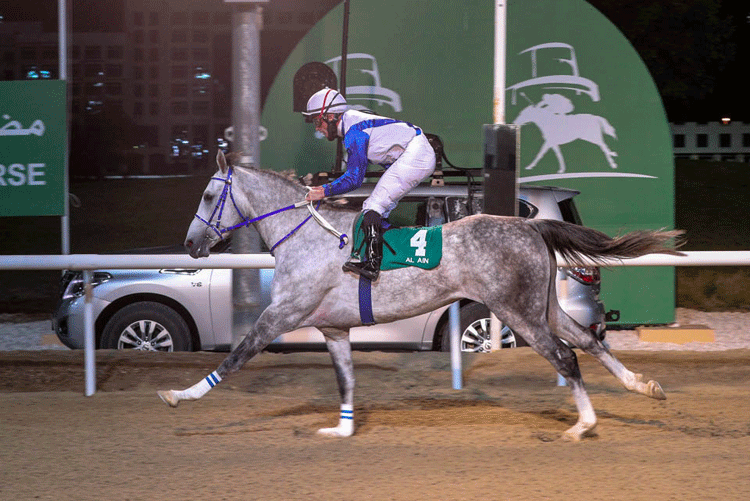 ES Rahmani ridden by Dane O'Neil
A 1600m maiden restricted to 4-year-olds foaled in the UAE was another race contested by the maximum allowed 15, but in which very few were able to get involved. Rahi (Nieshan x Barasti by Robbie), ridden by Patrick Cosgrave, led throughout the first half of the race before passed by AF Al Ahkaf (AF Al Buraq x Ezaya by Tornado De Syrah), ridden by Tadhg O'Shea, who was stalked by Dane O'Neill aboard ES Rahmani (Azzam Al Zobair x Maradjane Du Monteil by Madjani) and once asked for his effort the latter soon put the race to bed for Ibrahim Aseel and Sheikh Abdulla bin Majid Al Qassemi who also bred the colt who was making it third time lucky. Fourth on debut over 1000m at Sharjah where he is trained, he was then third, over 1400m on the Abu Dhabi turf in the Abu Dhabi Colts Classic, ridden by O'Neill for the first time.
"He stayed on well for me at Abu Dhabi, so I thought the trip would suit and he has really travelled strongly here before quickening nicely. They have finished at long intervals in behind which is a good sign and this horse looks the type to improve with his racing and extra experience", said O'Neill.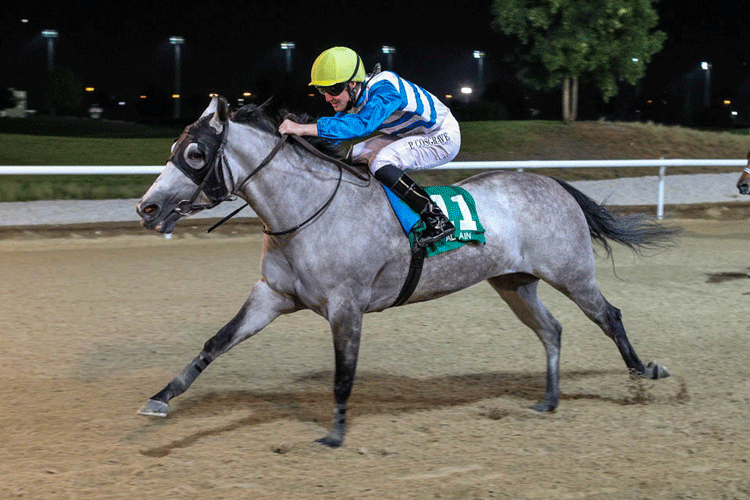 Lamhat Al Khalediah ridden by Patrick Cosgrave
A fast start propelled Lamhat Al Khalediah (Laith Al Khalediah x Saba Al Khalediah by Dormane) into an early advantage in a 1000m maiden after which she probably never saw any of her 14 rivals, blitzing down the centre of the sprint chute and then the main course to win easily under Pat Cosgrave. Trained locally by Helal Alalawi, the 4-year-old filly was making her dirt debut on just her second racecourse appearance having shown blistering early speed in the 1600m Listed Abu Dhabi Championship before fading dramatically over the final 500m. This drop in trip and surface switch clearly suited and she provided her owner, Musaad Abdullah Alothman a maiden winner at the second attempt, this being the only horse he has raced thus far.
Alalawi said: "We were pretty hopeful because she is naturally very quick, so we thought conditions would be ideal and so it has proved."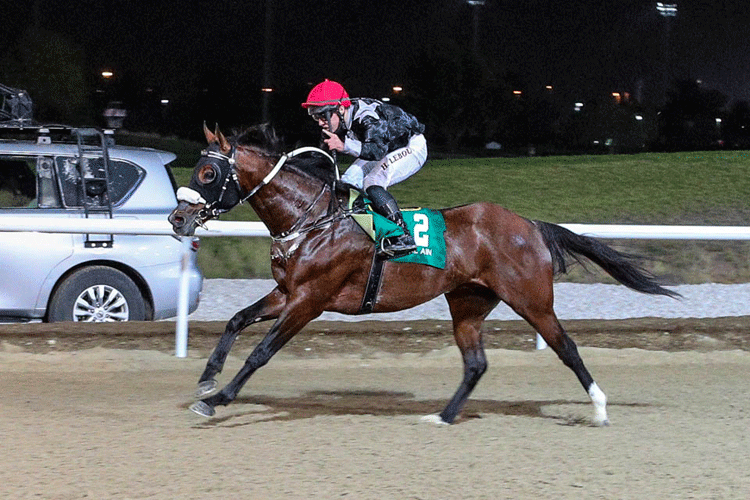 AF Hajeej ridden by Hugo Lebouc
The concluding 1000m handicap was landed in similar fashion, this time apprentice Hugo Lebouc was the jockey concerned, always prominent aboard AF Hajeej (AF Alsalaam x Khouteez by Khoutoubia) before storming clear at halfway after which they were never going to be caught for Ernst Oertel and Khalid Khalifa Al Nabooda. Like so many of the Champion Owner's runners, homebred, the 6-year-old entire was doubling his career haul on his eighth start, his previous success having been achieved on debut, over 1200m, at Sharjah in November 2018.
"Riding for these connections you always know you have a chance in this kind of race and I was actually second on this horse over 1000m at Sharjah last time when we finished strongly after a poor break, so I knew he had plenty of speed. I am delighted to ride a winner for Mr Al Nabooda and am very grateful to him and Mr Oertel for the opportunity", said Lebouc.
Source and photos: Emirates Racing Authority