Bakir leads Umm Qarn,
De Mieulle 1-2 in Al Wakra Cup
Bakir ridden by Carlos Henrique
Umm Qarn's Bakir (Amer x Zabieh) led a spectacular 1-2 for the colours and trainer Alban de Mieulle in the Al Wakra Cup (Local Purebred Arabian Handicap, 90 & Below) at Al Rayyan Park dirt track on Wednesday, April 14, night. In the process, the 5yo halted a string of second place finishes to enter the winner's circle for the first time. Starting wide in the 1900m feature, the grey horse had Carlos Henrique for company for the first time and the duo did well with a fantastic effort that saw them build a healthy gap on the home straight to win by three lengths and a quarter, even as stablemate Abida (Dahess x Altesse D'aroco) was helmed to runner up spot by Soufiane Saadi. The 5yo mare beat Al Ghazali Stud's AJS Al Aredh (Majd Al Arab x Karreema), ridden by JP Guillambert for Mohammed Ghazali, for the second place.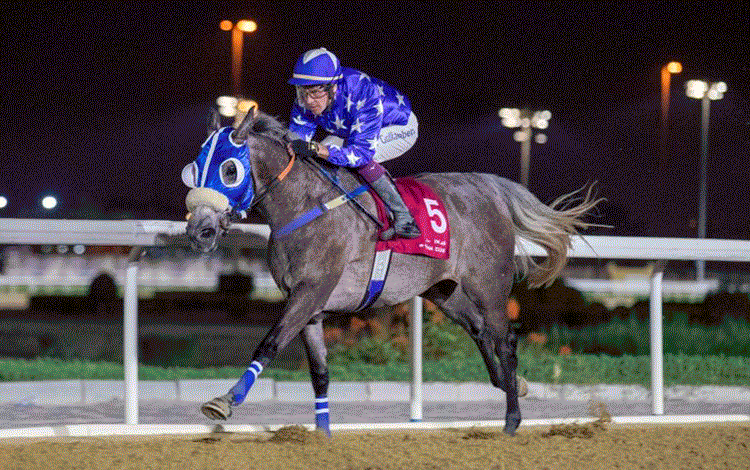 Divine Princess ridden by JP Guillambert
H.H. Sheikh Mohammed Bin Khalifa Al Thani's Divine Princess (Amer x Nacree Al Maury) made it two in a row when the filly followed her maiden win from last month with a comfortable victory in the Purebred Arabian Plate (4 Year Olds). Helmed by JP Guillambert, the Gassim Ghazali-schooled grey filly beat the Tomas Lukasek-ridden Hm Jalfane by three lengths at the post.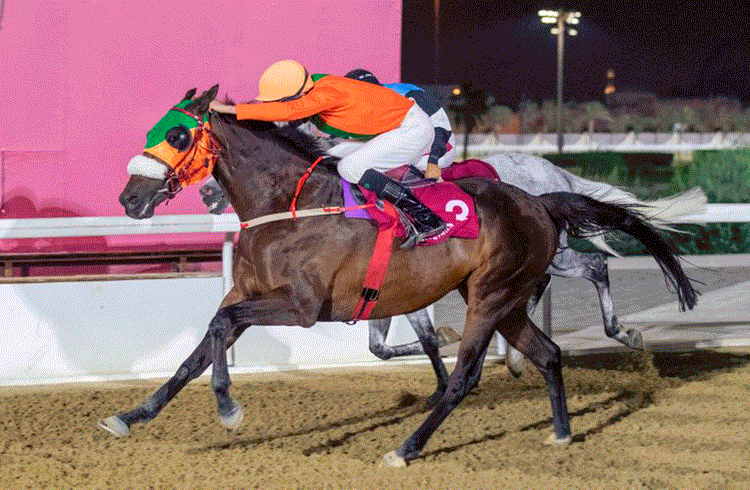 Rammah ridden by Adnan Hawa
Saeed Bin Mubarak Saeed Aljafali Al Naimi's Rammah (Majd Al Arab x Melusinne) went one better than his last outing to shed his maiden status in thrilling fashion on Wednesday night. With Adnan Hawa in the saddle for the Majed Seifeddine-schooled gelding for the first time, the duo overcame a wide start in the six-furlong Purebred Arabian Handicap sprint to win the affair by half a length, in front of the Saleh Salem Al Marri-ridden Madaya.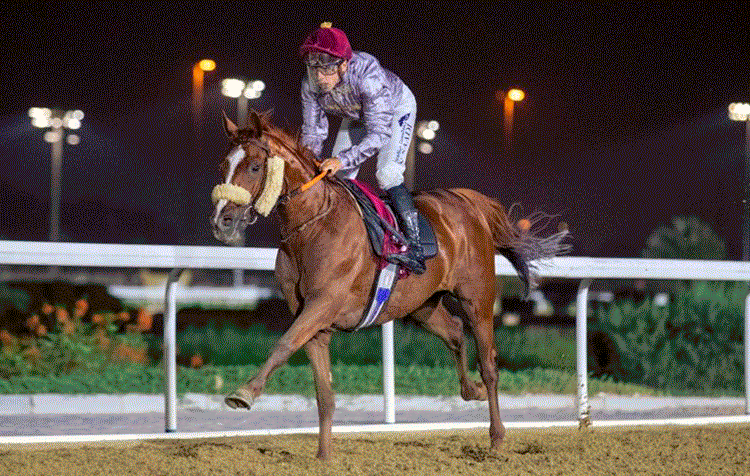 Zalej Al Cham ridden by Soufiane Saadi
Al Shaqab Racing's Zalej Al Cham (Azadi x Al Kahira) made a winning debut on dirt when the chestnut landed the Purebred Arabian Novice Plate in spectacular fashion. The Alban de Mieulle-schooled 5yo had twice finished runner up since his move to Qatar over longer distances. At Al Rayyan Park track on Wednesday, the horse had Soufiane Saadi in the saddle for the second time, and the duo went one better than that attempt to win the 1700m run by a mammoth eight lengths.
Source: Qatar Racing & Equestrian Club. Photos: Juhaim/QREC