Bughanaim guides Hajadie Du Croate to
Al Gharafa Cup win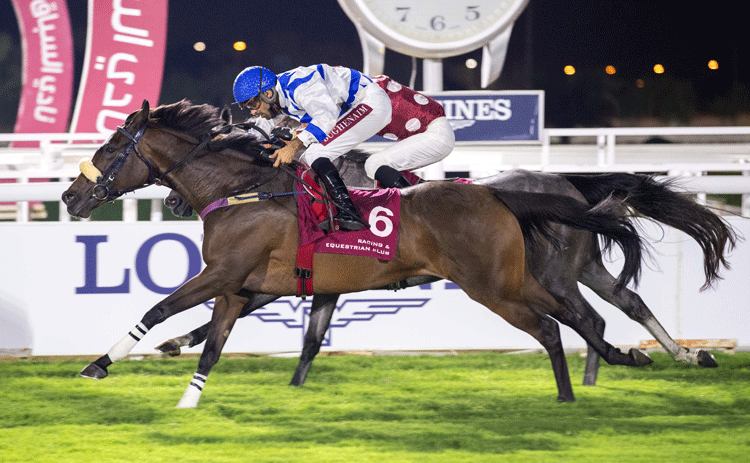 Nasser Saeed Al Eida's Hajadie Du Croate (AF AlBahar x Topaze Du Croate by Dormane) won on her Qatar debut in thrilling fashion when Qatari jockey Faleh Bughanaim guided Gassim Mohammad Ghazali's ward to a second victory overall in the AL Gharafa Cup (3yo Purebred Arabians) on October 15.
In the mile-long turf feature, the filly, who reached Qatari shores after landing a seven-furlong run in France in August, edged out the Alban Elie Marie De Mieulle saddled Muqla (Tabarak x Sarahmina), ridden by Ronan Thomas in the colours of Umm Qarn, by a quarter of a length at the post. Mohammed Nasser Al Naimi's Veverka PY (Nizam x Di Amantina Py) too made a promising Qatar debut finishing third under Francois Herholdt, two lengths behind the front duo.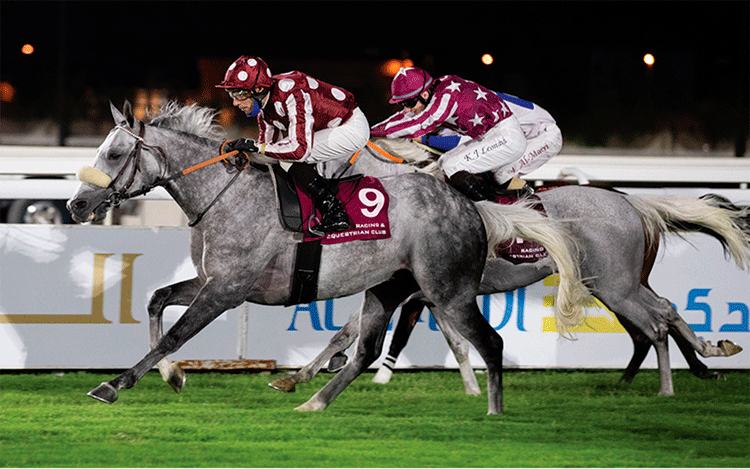 Ronan Thoman on Gold Amer
Umm Qarn's Gold Amer (Amer x Al Hanoof by Manganate) brushed aside a less-than top outing on his last C&D to register his third career win on Thursday. Under Ronan Thomas, who had ridden Alban Elie Marie De Mieulle-saddled 5yo to his last handicap win in December, was in the saddle again for Purebred Arabian Handicap (90 & below). Together, the duo picked up a fine win beating Alberto Sanna and his mount Ennab by a length at the post.
Source: Qatar Racing & Equestrian Club / Photo: QREC/Juhaim