Céphale de Ghazal on debut completes a double for Al Shaqab Racing at Pau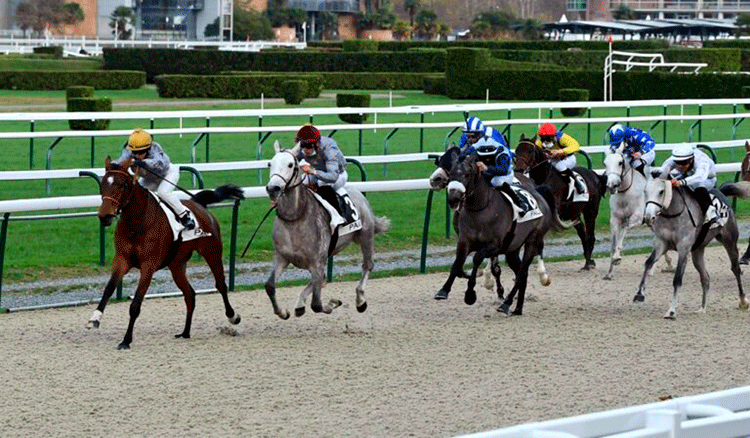 Shortly after the success of Almafjar (Mister Ginoux x Al Dhabi by Mahabb), Al Shaqab Racing celebrated a second Purebred Arabian winner at Pau on Tuesday, 8 December 2020!
Céphale de Ghazal, a three-year-old daughter of Munjiz, lifted the UAE National Archives Cup-Sheikh Mansoor Festival, a smart maiden race on the all-weather track over 2,000 metres, on her debut in a contest against horses, who had already won.
Just like Almafjar, Céphale de Ghazal (Munjiz x Chamade de Ghazal by Dormane), is trained by Elisabeth Bernard and was ridden on her winning debut by apprentice jockey Anaëlle Mekouche.
She led home a 1-2 for Al Shaqab Racing and Elisabeth Bernard, with Alarish (TM Fred Texas x Nasrat by Amer) finishing runner-up three quarters of a length behind her.
Elisabeth Bernard commented: "I wasn't expecting Céphale de Ghazal to win against this field on her debut. I don't often have my horses sharpened up before their debuts, so it's a nice surprise. Her jockey told me that she has a fantastic ride and that the filly was easy to ride. She rode her exceptionally well. The weight allowance is a definite help, but it is still great to win on debut. It's often a size of quality. I think she will be very nice next year. As for Alarish, I'm very happy with his race and he should improve with age."
Djafar (Dahess x Badira by Munjiz), ridden by Jerome Cabre, finished third. He is trained by Thomas Fourcy and owned by Amandine Fourcy.
Source: Jour de Galop/Qatar Racing & Equestrian Club. Photo: Robert Polin