Conchita DA, Belgian victory in Sweden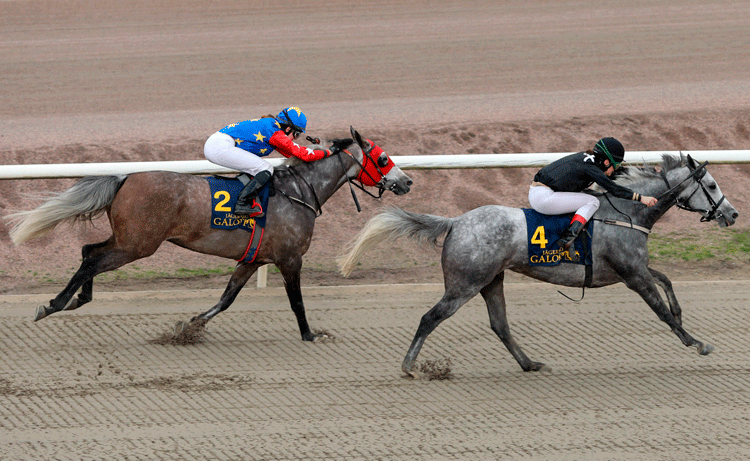 Belgian bred Gr1 victress Conchita DA came to Sweden to add yet more black type to her name in the Wathba Stallions Sprint Cup. Sponsored by HH Sheikh Mansour bin Zayed Al Nahyan and his partners she disappointed neither breeder Verstrepen nor owner/trainer Peter Deckers in the 1200 m dash on the dirt.
After the first rush van den Troost was satisfied to sit tucked in behind the pace set by young Highland Queen and Top Medina with Cleopathre and Macallan behind her while Jaldi Karo couldn't go the early pace. In the bend Highland Queen had done her share and stablemate Macallan set sails and were upsides Top Medina with Conchita between them coming into the straight.
While Cleopathre and Jaldi Karo began to make headway, Macallan couldn't go through with his attack and left Conchita and Top Medina to fight it out and with no gas left he had to see first Cleopathre pass him for third- and then by Jaldi Karo for fourth place in the dying stages. Exactly the same order in which the three finished in last year's Wathba Stallions Sprint.
In the 2020 race, however, they had two in front of them and not least Conchita DA. When the 5-y-o daughter by AF Al Bahar out of an Amer mare got a reminder, she strode clear in good style to cross the line a length in front of the consistent, Swedish bred Top Medina.
The Wathba Stallions Sprint Cup 2020 was fine race and Scandinavian Arabian Racing Association and everybody else is grateful for the Festival's continued support even in these unusual times. I'm sure mr. Deckers and ms. Engels are. They looked happy.
Congratulations to a wortwhile visit and welcome back.
Text and photos by Nils Rosenkjaer