Cult Irish Heroine Warming Up For Saudi Assault
Princess Zoe to have "mini race" before tackling $2.5 million
Longines Red Sea Turf Handicap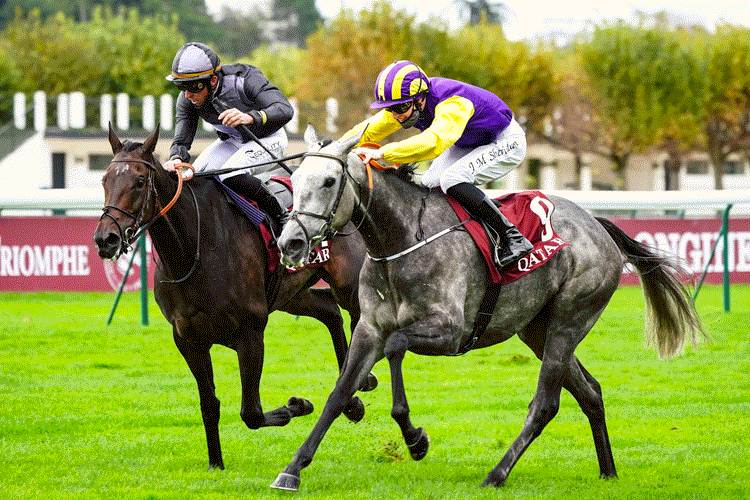 Princess Zoe winning the 2020 running of the Group 1 Prix du Cadran at ParisLongchamp - Credit: Focus On Racing
Tony Mullins will give star stayer Princess Zoe a novel "mini race" in preparation for the $2.5 million Longines Red Sea Turf Handicap at next month's Saudi Cup meeting.
The hugely popular Irish mare will gallop at Leopardstown after the track's Dublin Racing Festival jumps fixture on the first weekend in February.
She will then have three weeks before running in the 3000m contest – the longest race at the world's richest race meeting – on Saturday 26 February. The Group 3 handicap is one of the supporting prizes on The Saudi Cup card at King Abdulaziz Racecourse in Riyadh.
Mullins said: "Everything is going according to plan. I don't want Saudi to be her first run of the season so I'm inventing my own little mini race. It'll only be two or three horses, but it will give her that feel that she's got a run under her belt.
"We'll be going genuine racing pace and it depends on the ground how far we'll go. If there's a good cut in the ground, we'll go 1m4f (2400m) and if it's a bit quicker we might go 1m6f (2800m).
"There was nowhere for her to run because we have not got a winter programme suitable for horses of her calibre here in Ireland. We're treating this as a run to put her spot on for Saudi.
"She did a couple of bits of work last week and she'll do a couple of bits between now and the Dublin Festival. You can do all the work you like at home, but I just love a strong bit of work in Leopardstown."
Since joining Mullins from Germany a couple of years ago, Princess Zoe has been transformed from a low-grade handicapper into one of Europe's best stayers.
She completed a stunning five-timer in 2020 when landing her first Group 1 success in the Prix du Cadran at Longchamp on Prix de l'Arc de Triomphe weekend.
Last season she put up the best performance of her career when finishing second behind Subjectivist in the Group 1 Gold Cup at Royal Ascot. The defence of her Prix du Cadran crown in early October did not go to plan but she returned lame after finishing only fifth behind Trueshan.
Mullins revealed: "We were always worried about fast ground, but she seemed to handle it very well in Royal Ascot. The minute that happened I said: "Saudi is the place I want to go".
"In our opinion The Saudi Cup is the new go-to race meeting of the year. I'd be lying if I said it wasn't the prize money.
"I've only seen videos of the track in Riyadh – I haven't actually stepped out on it. It looks like a beautiful track, albeit a little bit sharp for staying horses. Maybe that will suit her – I certainly don't see any reason why the track won't. I hear the Japanese horses are very good, but they'll have to be!"
Despite failing to win in five runs last season, Mullins thought the now seven-year-old grey mare performed better than she had done the previous year. He's confident she has improved again over the winter months.
He revealed: "I keep saying this but I think she's actually a better mare again this time round, which is unbelievable at her age.
"Even though she didn't win last season, her runs were better than the previous one. I think now she might be even better again and I'm just hoping Leopardstown will show us that before we go to Saudi.
"We trained her last season for the Gold Cup in Royal Ascot and the Prix du Cadran in Longchamp. She was injured in Paris, she came home lame on her off fore and I think she hit herself with her hind leg turning into the straight. I felt she was going to win and when she didn't produce that brilliant stamina that she usually does I was shocked.
"The next day her leg was swollen at the back of her tendon. We knew then that something had hit her – it broke our hearts. We were so confident going to Paris – it was devastating."
Princess Zoe has developed a cult following during her rise through the ranks. Despite having competition from some of the world's best for the affections of the racing public, she is now one of the most popular horses in Ireland and Mullins realises how important she is for the horse-loving nation.
He said: "I think Irish people like to see the underdog come up and take on the big boys. She's done it and we've done it – both of us together. She's a very pretty mare and grey, I don't know what it is but they love her as much as I do.
"We've had a lot of nice winners in 30 years of training, but Princess Zoe is in a different stratosphere. It's nice to know that, if we get the material, we can do the job. It's a good feeling.
"There's no team around here that could take on Man Utd but, in racing, you can always do it. It's the one sport in the world that from humble places you can reach the top.
"It's like a small kid from around here in Gowran getting to play against Ronaldo. We've been lucky and blessed to get a mare like Princess Zoe. We're now right at the top table – I shake myself everyday thinking about it."
Regular rider Joey Sheridan is another part of the Princess Zoe fairytale. The 20-year-old apprentice jockey will be on board again as she attempts to add another chapter to her incredible story in the Longines Red Sea Turf Handicap. The race offers more than five times the prize money of last year's Gold Cup at Royal Ascot.
Mullins added: "Joey is out there now so he'll be riding in Riyadh in early February. He's going to have a few rides out there before the big meeting, which is huge. I love that – having our jockey out there knowing the track."
STC International Jockeys' Challenge
FRIDAY FEBRUARY 25, 2022
Saudi Cup Day
SATURDAY FEBRUARY 26, 20222
King Abdulaziz Racetrack, Riyadh, Kingdom of Saudi Arabia (KSA)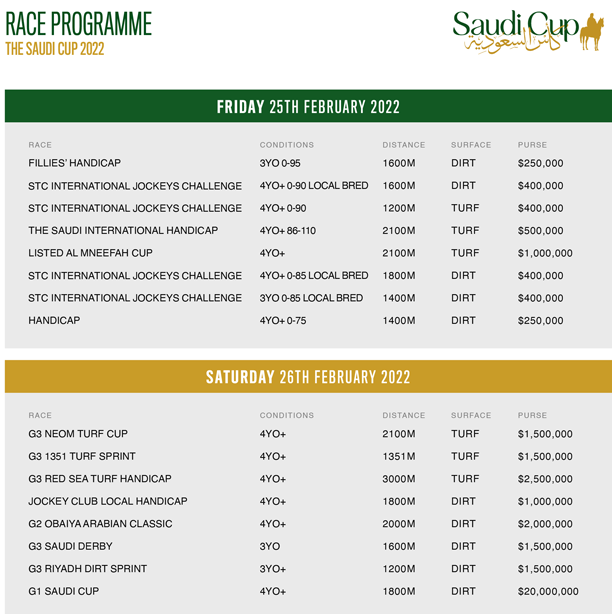 About The Saudi Cup

Organised by the Jockey Club of Saudi Arabia and run at the King Abdulaziz Racetrack in Riyadh, Saudi Arabia, The Saudi Cup is a two-day festival of international racing headlined by the USD$20m Saudi Cup – the world's most valuable race.

Established in 2020 with the third renewal set to be run on Saturday February 26, 2022, The Saudi Cup day card carries a total prize purse of $30.5m and features dirt and turf races for the highest calibre of racehorses in the world.

A full card of racing on the preceding Friday includes an International Jockeys Challenge which sees seven female and seven male jockeys compete as individuals as well as the $500,000 Saudi International Handicap for horses trained in IFHA-registered Part II and III racing countries.

The Saudi Cup is charged with raising awareness of horse racing in the country, encouraging participation among men and women. It also aims to promote Saudi Arabia at international level, acting as a marker for the Kingdom's transformational journey, encouraging tourism and investment.
Source: The Saudi Cup/Media