De Roüalle and Mullen with Ajjaj win First Leg of The Al Ain Marathon Series for Yas Racing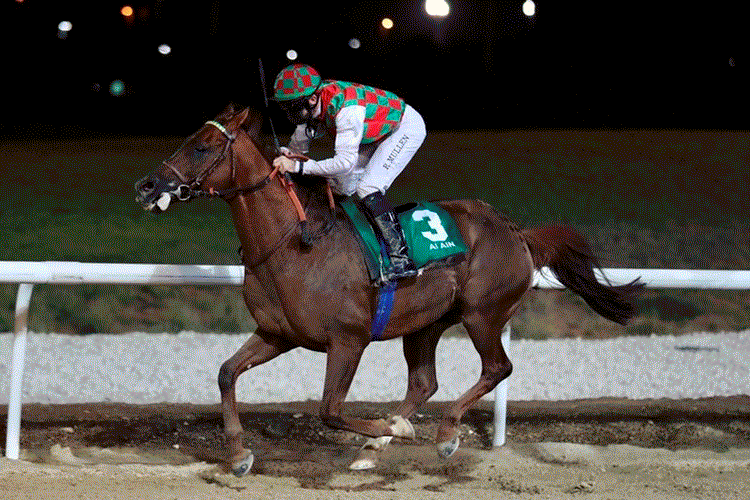 Ajjaj ridden by Richard Mullen
Jean de Roüalle and Richard Mullen got this season's Al Ain Marathon Series off to a flier with victory in the 3200m first leg with Ajjaj (Tahar De Candelon x Shumoos by Djouras Tur) whose late burst saw him change the complexion of the race 300m from the finish, at Al Ain Racecourse oon January 29.
Brought to the straight wide but slightly trailing leader Eric Lemartinel's Basmah (Bibi De Carrere x Nymphea Du Paon by Mahabb), Mullen delivered a riding masterclass aboard the 10yo Tahar De Candelon horse, who moved to challenge for the lead as soon as he received his orders. Basmah tried to challenge under Fabrice Veron, but failed with stablemate and teammate RB Grynade (Burning Sand x Frynzy by Dormane) taking third a further five lengths behind under Tadhg O'Shea.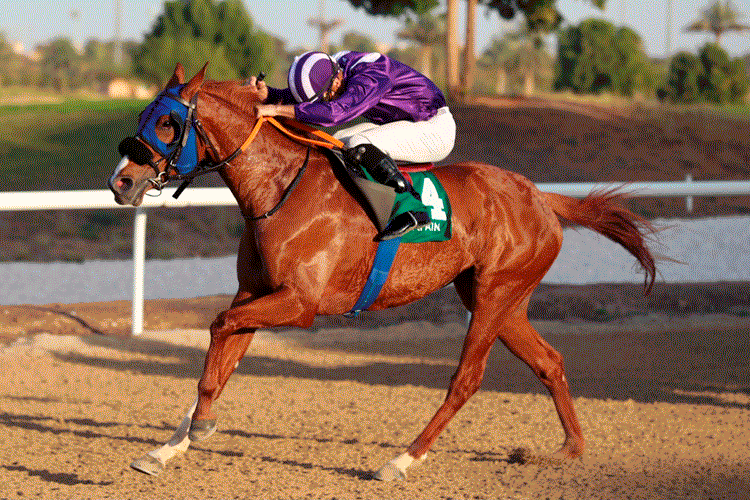 Mrmr ridden by Fabrice Veron
There were doubles on the card for trainers Ibrahim Al Hadhrami and Ahmed Al Mehairbi. The latter got his evening underway in the card opening 1600m maiden for 4yos with the Fabrice Veron ridden Mrmr (Munjiz x Dahess Majan by Dahess) and doubled his scoring after Ullias (Dahess x Chanel De Faust by Mahabb) landed the 1800m maiden under Fernando Jara.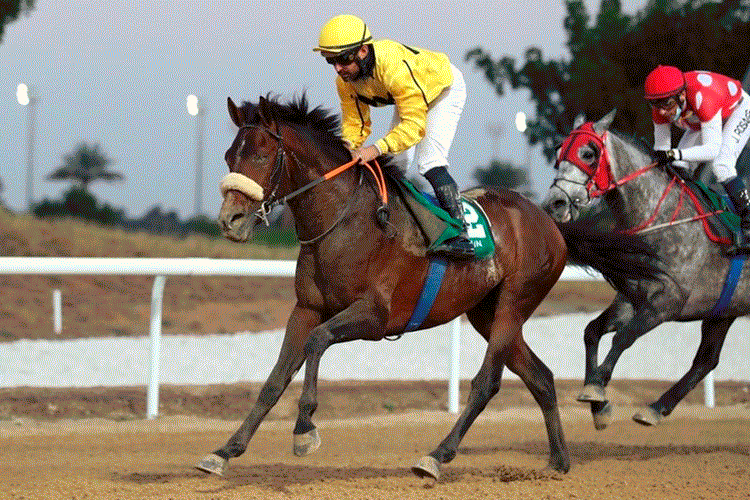 Ullias ridden by Fernando Jara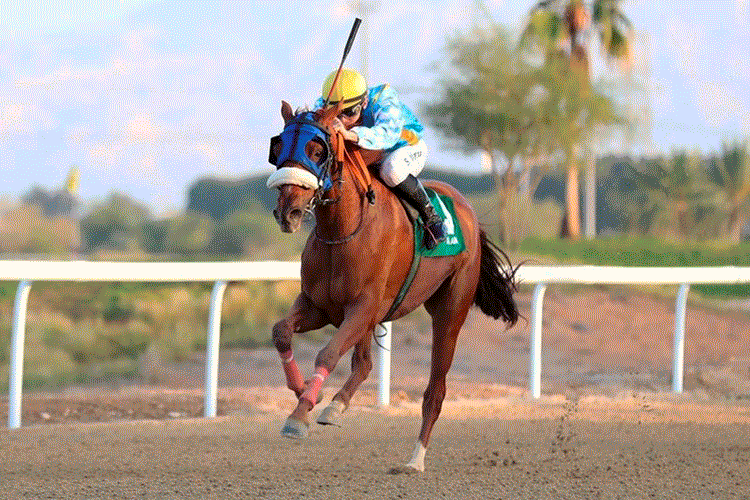 Jood ridden by Szczepan Mazur
Al Hadhrami's first success was gained in the 1600m maiden for 4yos and above with the Szczepan Mazur ridden Jood (Nieshan x Iskra De Carrere by Coq Du Cassou), and the pair combined to win the 1000m handicap sprint with Arif (Azadi x Orphe Du Clos by Kerbella).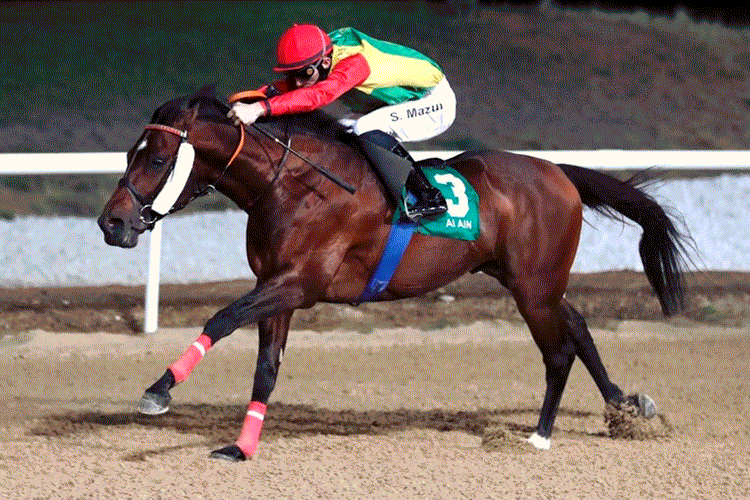 Arif ridden by Szczepan Mazur
Ernst Oertel and Sandro Paiva also got on the scoresheet in the 2000m handicap with AF Eshaar (Marwan x Amjaad by Amer) who edged Lemartinel's Jesus Rosales piloted Taajer by a short head, while Fabrice Veron picked up a second success on the card in the Wathba Stallions Cup for Private Owners 1400m handicap with Hazeem Al Raed (TM Fred Texas x Karizma CS by Kador De Blaziet).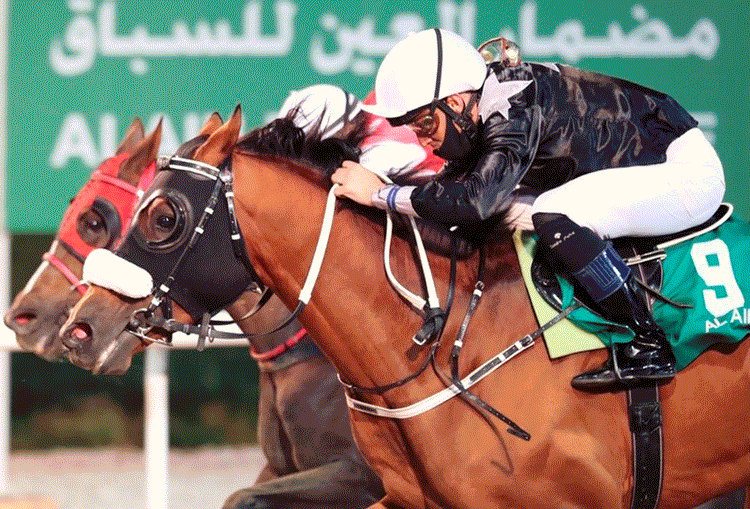 AF Eshaar ridden by Sandro Paiva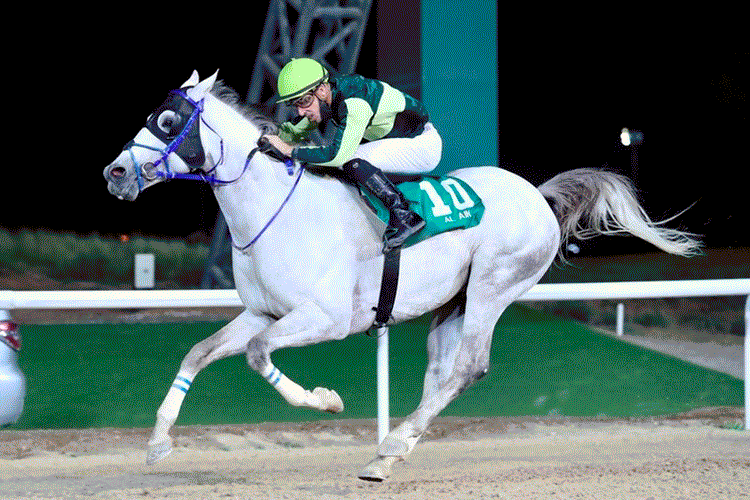 Hazeem Al Raed ridden by Fabrice Veron
Source and photos: Emirates Racing Authority