De Vries helps Al Hammadi score in Arabian Triple Crown R1 with the unbeaten Hameem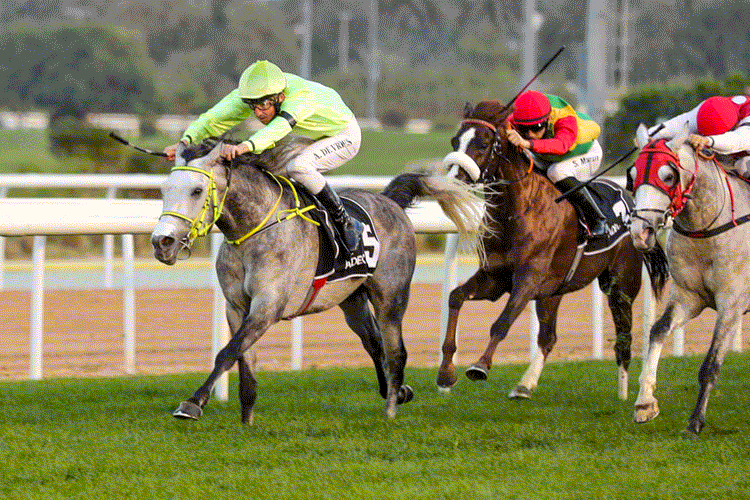 Hameem ridden by Adrie de Vries
Abdallah Al Hammadi's unbeaten stable star Hameem (Valiant Boy x RB Burn Baby Burn by TH Richie) stretched his win streak to five races when winning the PA Listed Arabian Triple Crown Rd1 in style under Adrie de Vries at Abu Dhabi Equestrian Club on February 7.
Victory in the mile event was one of three on the night for Emirati schooler Al Hammadi, whose seasonal tally is up to 14. Al Hammadi won three of the six races on the card scoring in successive races starting with the opening 1600m maiden for 4yos and older horses where Thabet Al Reef (Bibi De Carrere x RS Thaqiba by Ne Rien Prendre) ran out a massive four and a half-length winner under Bernardo Pinheiro.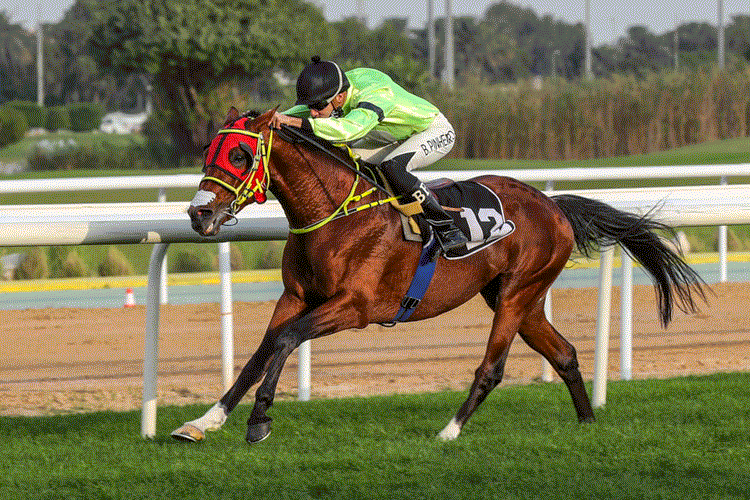 Thabet Al Reef ridden by Bernardo Pinheiro
Al Hammadi's second arrived in the first of the handicaps, which was over the same 1600m trip and where Blue Diamond (Shadiyda x Mamlakah by Dayjur) prevailed by a neck in the hands of Pat Cosgrave.
The Listed Arabian Triple Crown Rd 1 saw Al Hammadi's Abu Dhabi Colts Classic and Abu Dhabi Equestrian Club Gold Cup winner Hameem turn up with one of the best performances of his career. The 4yo Valiant Boy colt was slow getting away and ridden at the back of the field by Dutchman De Vries, who has steered him to four wins this season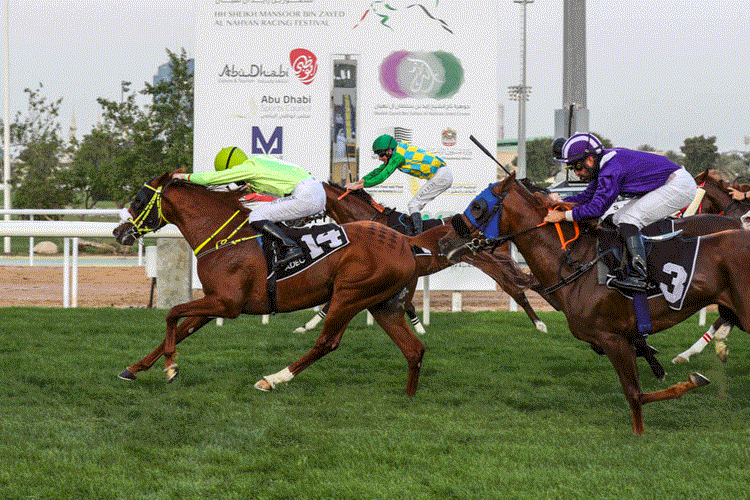 Blue Diamond ridden by Pat Cosgrave
Hameem looked like he would not make it to the front in time as Ernst Oertel's AF Alajaj took up the running briefly from teammate and stable companion AF Thayer as soon as the field turned for home.
Eric Lemartinel's Mujeeb and Ibrahim Al Hadhrami's Mutaqadim pounced immediately and left AF Alajaj behind. With 300m left, De Vries and Hameem still found themselves with traffic to negotiate, but the Dutchman expertly threaded his partner between horses and once finding space to run, Hameem flew to score by a length and a quarter from Mujeeb with Fabrice Veron up. Mutaqadim was a further length and a quarter behind in third with Szczepan Mazur up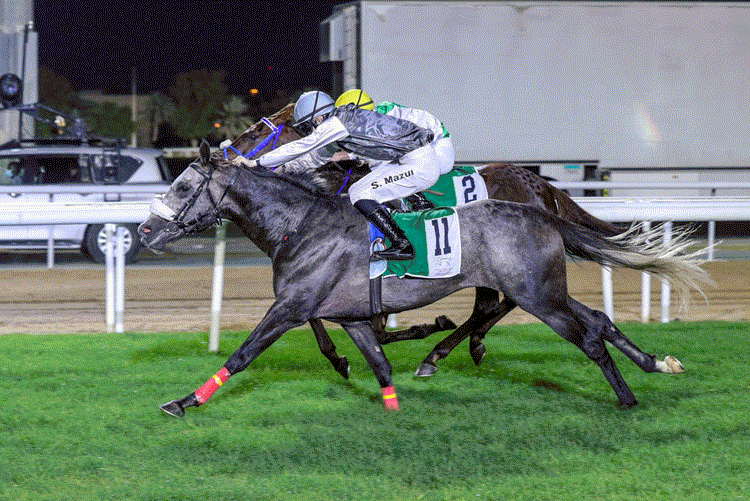 Shoja'A Muscat ridden by Szczepan Mazur
Omani handler Al Hadhrami and Szczepan Mazur of Poland then celebrated a consecutive double success with Shoja'A Muscat (Za'eem ASF x Noor Jahan by Gerbya) his head ahead of Ashton Tourettes to win the 1400m Wathba Stallions Cup for Private Owners. Al Hadhrami and Mazur then won the following 1200m maiden that followed with Heros De Lagarde (AF Albahar x Moubaraka by Djouras Tu), who ran across the finish with six and a quarter lengths to spare.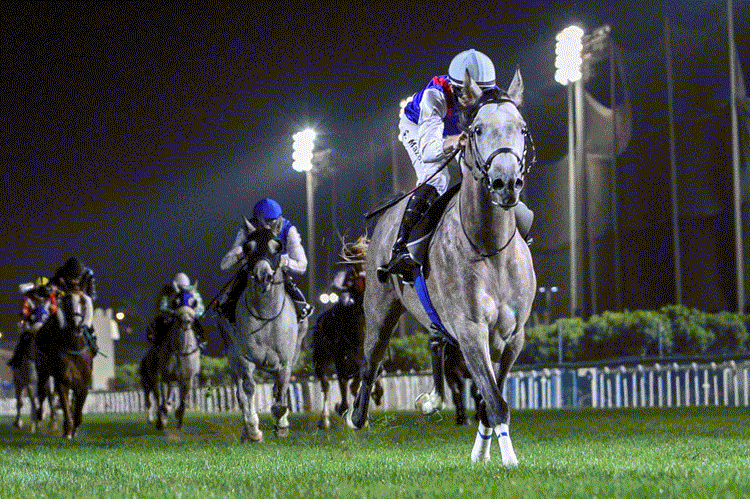 Heros De Lagarde ridden by Szczepan Mazur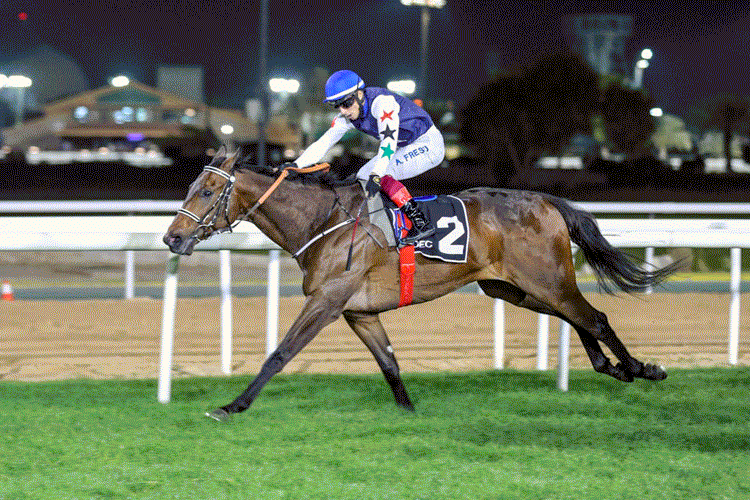 Good Tidings ridden by Antonio Fresu
The only Thoroughbred affair on the card was a handicap contest over a 2400m trip and won by Musabbeh Al Mheiri's Good Tidings ((Teofilo x Nouvelle Bonne by Desert Style) with Antonio Fresu up. Finishing second a half-length in arrears was Blue Sovereign, for trainer Erwan Charpy and jockey Clement Lecoeuvre, while Jaber Ramadhan's Harbour Spirit took third a further neck back in the hands of Harry Bentley.
Source and photos: Emirates Racing Authority