Double win for Injaaz Stud
with Lekhraib and Muthhil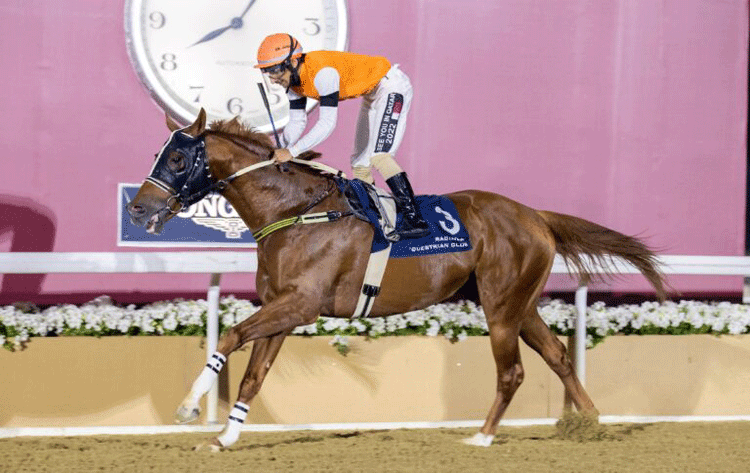 Lekhraib ridden by Ali Khalid Al Mosallam
Injaaz Stud's Lekhraib (AF AlBahar x Grace T) improved his strike rate this season, racing to his fourth victory from six outings these terms so far. His latest win was in the Purebred Arabian Conditions on Wednesday, January 13, where he partnered with Ali Khalid Al Mosallam. Saddled by Mohammed Ghazali, the 7yo chestnut landed the six furlong sprint with ease finishing a dominant five lengths ahead of Soufiane Saadi ridden Ateej, showing versatility, having landed a 1700m feature last time round.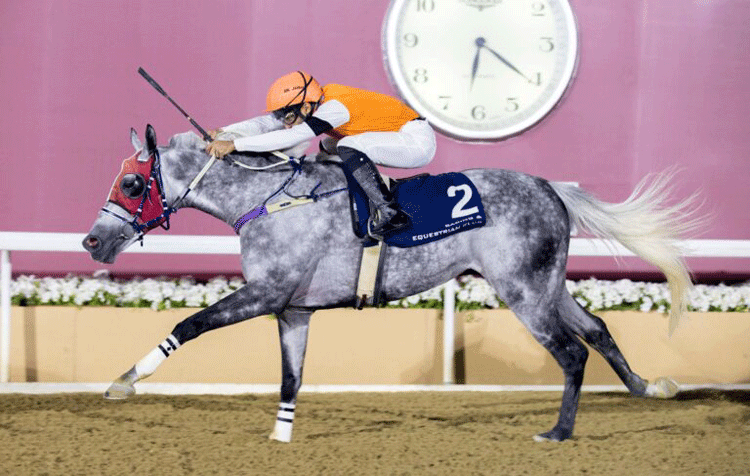 Muthhil ridden by Saleh Salem Al Marri
Injaaz Stud's MuthhilL (Amer x New Princess) led a one-two for trainer Gassim Ghazali when the Qatar bred 6yo bagged the Purebred Arabian Handicap (80 & below) in a fine finish to the 1700m run on Wednesday. Helmed by Qatari apprentice jockey Saleh Salem Al Marri, the grey horse went one better than his last start to enter the winner's circle for the second time this season. Muthhil beat Marco Casamento ridden Anees by two lengths at the post for the victory.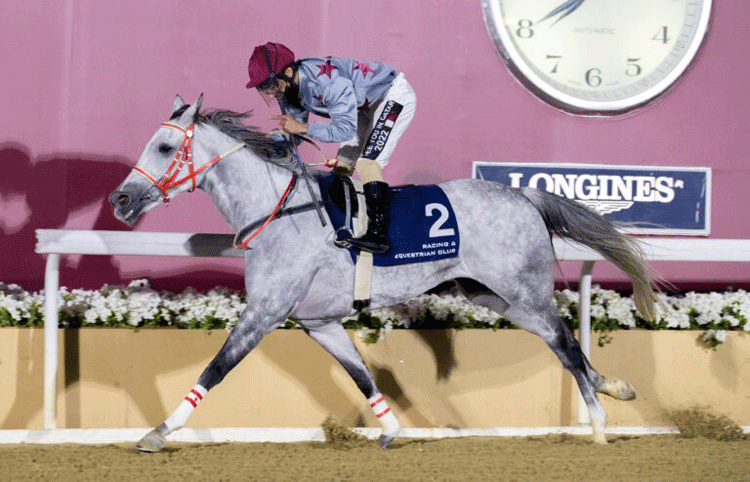 Lama ridden by Ali Khalid Al Mosallam
Abdulaziz Hamad Al Marri's Lama (Hatteen x Ahazeej) bounced back from a forgettable outing last time round to win for the third time this season, with all of the victories for the mare happening under Ali Khalid Al Mosallam. The win in the Local Purebred Arabians (Fillies & Mares) (4yo & older) was the apprentice rider's second yesterday. In the six furlong sprint, Lama beat Saleh Salem Al Marri ridden Qoot by two lengths and three quarters for a comfortable entry.

Stam Al Naif ridden by Saleh Salem Al Marri
Qatari jockey Saleh Salem Al Marri continued with what has been his best season so far when he rode his 15th winner of the season on Wednesday. In the Local Purebred Arabian Novice Plate, the apprentice rider guided Khalid Rashid Al Mohannadi's Stam Al Naif (Djelmidor x Hadab Al Naif) to a fine victory. Rashid Al Jehani saddled 9yo had last won in the April of 2017 over C&D. On Wednesday, the bay horse won the six furlong sprint with one and a half lengths to spare.
Source: Qatar Racing & Equestrian Club. Photos: Juhaim/QREC