Double for O'Shea bettered by
Al Nabooda and Oertel trebles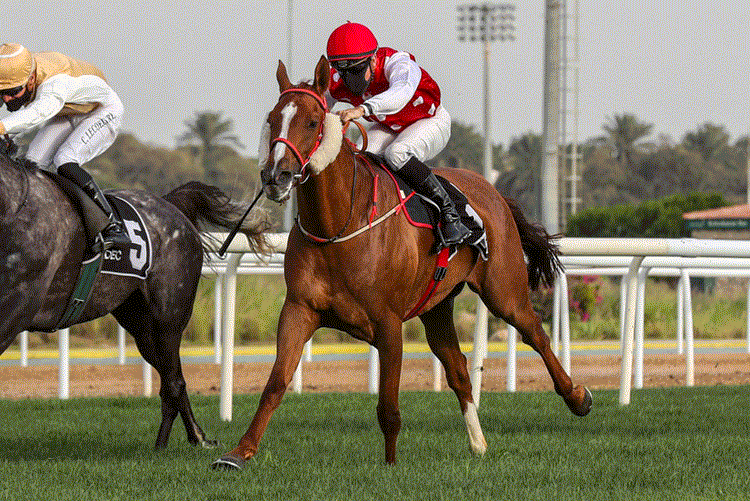 Nadhra ridden by Fabrice Veron
The opening 1600m handicap for fillies and mares at the Abu Dhabi Equestrian Club on Sunday, March 14, due to be contested by a capacity field of 14 before a late withdrawal, was won in quite taking fashion by turf debutante Nadhra (Munjiz x Kunooz by Amer), previously a maiden after three attempts on dirt at Al Ain. Homebred, the 4-year-old filly was held up towards the rear by Fabrice Veron before making stealthy progress as the field descended on the home turn.  Pulled slightly wide leaving that bend, Veron's mount picked up nicely to hit the front inside the final 100m and win going away for Eric Lemartinel and HH Sheikh Khalifa bin Zayed Al Nahyan.
Veron said: "I was actually a little bit disappointed by her last time at Al Ain, but she is a filly I have always liked and has not let me down here. She probably did not like being surrounded by other horses then and I was able to take my time today, but she was a lot more professional here and is learning. The switch to turf has certainly not harmed her, but I would be happy to try her again on dirt; I think she has plenty of ability and is going to be a nice filly next season."
The maximum allowed field of 14 then contested a 1400m maiden but very few were ever able to get competitive with the first two home probably occupying those positions from the outset.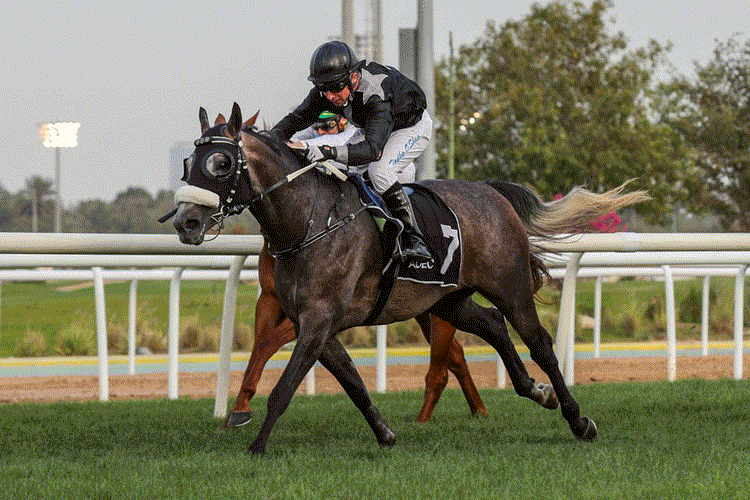 AF Dars ridden by Tadhg O'Shea
However, it was AF Dars (AF Al Buraq x Af Daimounah by Tidjari Des Forges) and Tadhg O'Shea who landed the prize for Khalid Khalif Al Nabooda and Ernst Oertel, the UAE Champion Jockey having stalked Basima Al Wathba throughout the majority of the race before hitting the front without 175m remaining.  The race was soon over, the homebred 4-year-old colt building on his debut, over 1000m here at Abu Dhabi, when fifth seven weeks ago. 
O'Shea said: "It is competitive racing this evening, but I did feel this was one of my better chances even from the worst of the draw out in 14. Ernst and his team have produced him in great shape, as they always do, and he jumped well so clearly had learned a lot. He surprised me because he was a bit of a handful before the race, but when I needed him, he really battled, so as I said, learned a lot from the first time. He could be a nice horse."
Oertel added: "The 1000m first time was too short and we all learned from that first outing. He is a winner now, so we can go home, regroup and plan ahead."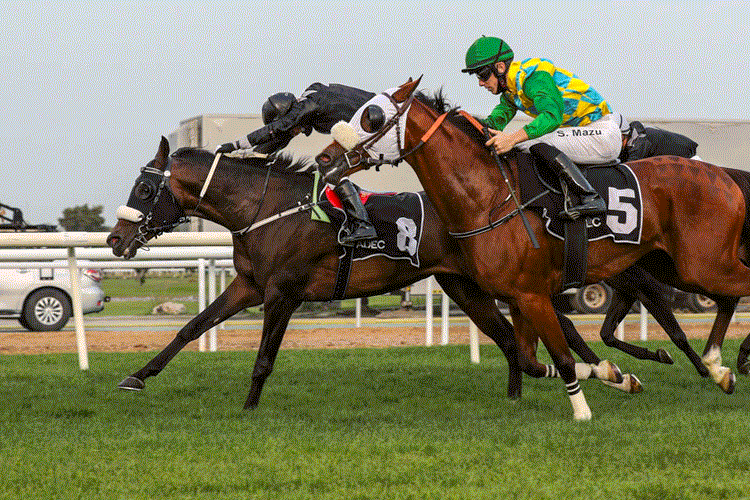 AF Musannef ridden by Tadhg O'Shea
For horses foaled in the UAE, a 1400m handicap went to the same connections, again defeating 13 rivals in a full field, with O'Shea finding a very willing partner in the form of AF Musannef (AF Al Buraq x Nasemah by Kaolino), doubling his career tally while winning on turf for the first time at the seventh attempt.
Without a win until just over three weeks ago when he landed a 1600m Al Ain maiden, he was then a gritty second over 1700m at Sharjah in a handicap, perhaps finding the trip a tad too far. Challenged throughout the straight, and probably headed, by SS Jalmod, O'Shea was able to drive his mount back to the head of affairs where it mattered. 
O'Shea said: "He won narrowly at Al Ain and then ran a very creditable race when second, to the same horse he had beaten, at Sharjah, proving a tough horse on both occasions. I actually thought he was better on the sand, but pleasingly, he has proved me wrong this evening. The yard are in great form so long may it continue."
Owner and trainer promptly completed a treble with O'Shea having to settle for a never dangerous third on this occasion aboard AF Mohanak (AF Al Buraq x JAP Hamsah by Odin), in a 1200m handicap also restricted to those foaled locally.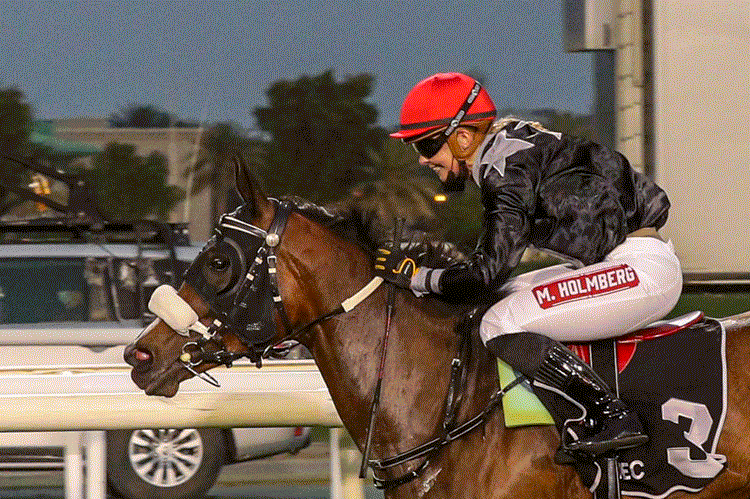 AF Taghzel ridden by Malin Homberg
It was to prove a landmark occasion for Swedish jockey Malin Homberg who was able to open her UAE account, after 25 previous attempts, aboard AF Taghzel (AF Al Buraq x Voici Kossack by Bengali D'Albret), the pair probably never headed after a fast start. 
Homberg said: "I am so pleased to ride a winner for these connections who have given me so much help over the season and I have to thank Tadhg for helping me get the opportunity with the Oertel team. I was third on this mare last time, so knew she was game and would battle for me which is exactly what she has done. I am just thrilled."

M'A Yaromoon ridden by Jesus Rosales
The Wathba Stallions Cup for Private Owners Only this week was a 2200m handicap which proved the perfect opportunity for 9-year-old entire M'A Yaromoon (Munjiz x Romance Du Loup by Djarni Des Forges) to finally get off the mark after 11 previous attempts, admittedly not that many for one of his age.
Settled in midfield among a dozen runners by Jesus Rosales, sporting the silks of Hassan Ibrahim Al Ahmad Al Jesmi, another previously without a winner, after 19 tries as an owner, the pair made relentless progress leaving the back straight before hitting the front just inside the final 200m, the race soon in safekeeping for trainer Khalifa Al Neyadi.
Source: Emirates Racing Authority