Dragon dominates UAE President Cup in Shadwan's absence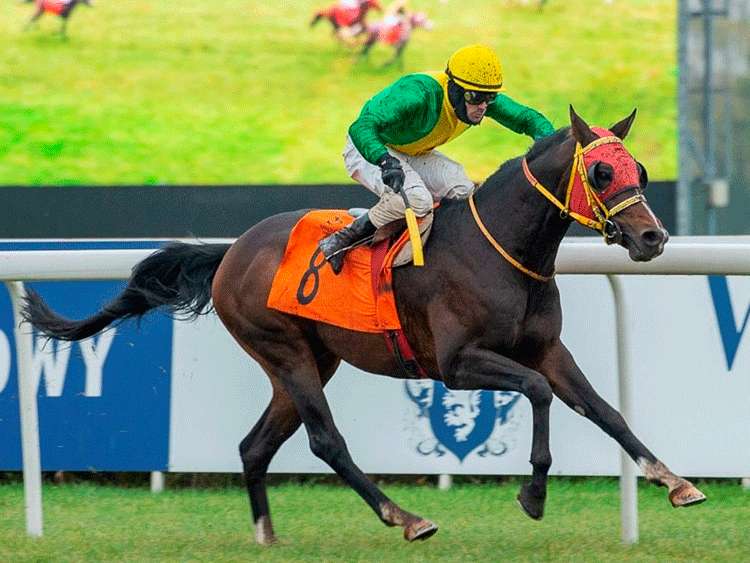 Stefano Mura & Dragon
After the withdrawal of the injured Shadwan Al Khalediah, Dragon (Dahess x Djaima by Nonius) became a strong favorite of the UAE President Cup race (Comparative Award), who easily defeated the most dangerous rivals in the competition for the Michałów Award.
After the start, Stefano Mura, who rode him, positioned at the end of the field, and the solid pace was dictated by Seiful Muliuk and Hamal. Grand Dakris was running in the middle of the pack, but traditionally he started causing problems for the rider in the distance.
Meanwhile, Dragon unexpectedly moved forward at the bend and even before going straight, he took the lead. He started a dynamic escape at the canat, quickly jumping away from his rivals several lengths. Hamal and Seiful Muliuk fought for second place but soon the first one folded. Meanwhile, through the field, strongly sent Grand Dakris finally began to walk and broke away from the peloton.
Dragon was winning convincingly, although in the end he was already slowing down, while the Grand Dakris, speeding up under Abaev, defeated Seiful Muliuk quite confidently (for the second time this year). Three-year-old Echaron was fourth, which should be considered a very good trailer for next year's appearances, and General Lady moved to fifth in the ending.
The breeder and owner of Dragon trained by Maciej Janikowski is Zbigniew Górski. Thanks to additional donations funded by the UAE Ministry of Presidental Affairs in Abu Dhabi, the race has the status of Listed PA. In addition to the basic prize (PLN 30,000), Dragon won an additional PLN 40,000 for the owner, PLN 20,000 for the trainer and PLN 10,000 for the rider. Additionally, each of the five paid places was subsidized. We can also be glad that the top four included as many as three horses bred in Poland!

Source and Photo: foto: Służewiec Horse Racing Track