Ebraz wins Qatar International Stakes for the second consecutive year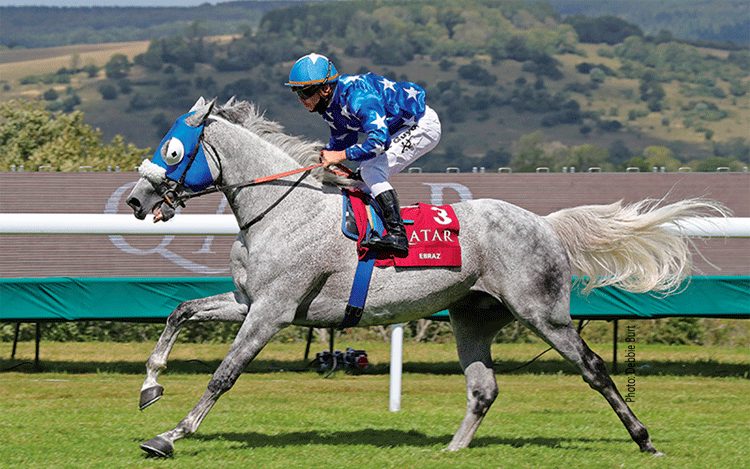 The fifth day and finale, August 1, of QREC-sponsored Qatar Goodwood Festival, England, came with a massive Qatari victory when H.H. Sheikh Mohammed Bin Khalifa Al Thani's Ebraz won the G1 P/A Qatar International Stakes for four-year-old and older Arabians, for the second year on the spin.
The worlds' leading Arabian racehorse, Ebraz (Amer x Massamarie by Tidjani) continued his excellent record at the Qatar Goodwood Festival, adding a second consecutive win in the Qatar International Stakes, to his two runner-up successes. The Julian Smart trained seven-year-old is clearly in his prime and quickly asserted his dominance over his rivals in the one-mile contest with minimal urging from Maxime Guyon, who also partnered him to victory last year. HH Sheikh Mohammed bin Khalifa Al Thani's homebred was just too good for Deyran and the 2017 winner Tayf.
The mile contest is a G1 contest for purebred Arabian horses and forms the first leg of the Doha Triple Crown. Following his victory in 2019, Ebraz went on to become the first winner of the Doha Triple Crown, with victories in the Qatar Arabian World Cup at Longchamp and the HH The Amir Sword at Doha. With this repeated victory under his belt, Ebraz, the highest rated Arabian in the world, sends a strong message that he is targeting the Doha Triple Crown once more. The performance which son of Amer made at Goodwood shows he is not content with the historic achievement that he is only horse ever to have landed the coveted title, but has already started his new journey for landing the title again; an accomplishment, if realised, may not be repeated by any other horse.
Deryan (Mahabb x Haboob by Akbar), bred by HH Sheikh Mansoor Bin Zayed Al Nahyan and owned by Yas Horse Racing Management, trained by Didier Guillemin, was the runner-up under by Ioritz Mendizabal. HH Sheikh Abdullah Bin Khalifa Al Thani's Tayf (Amer x Djelmila by Manganate), the runner-up last year and the winner of the 2017 edition, finished third with Olivier Peslier in the saddle. He is trained by Thomas Fourcy.
Trainer Julian Smart said: "Ebraz is very special. He is one of the best - he already proved that in Doha, winning the Triple Crown and winning the HH The Amir Sword three times. This is the fourth time he has come to Goodwood - he has been unlucky on two occasions and has managed to win it the last two years. Now we go to France for the Qatar Arabian Gold Cup and who knows, maybe the unthinkable. We already thought the Doha Triple Crown couldn't be done and he has done it; maybe he can do another one, you never know.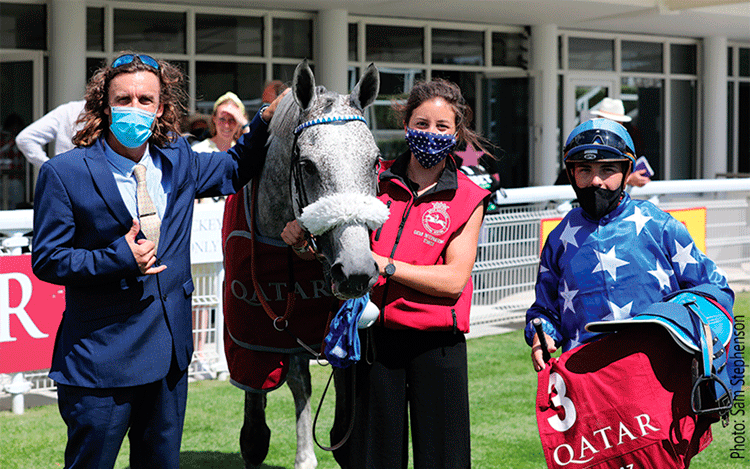 "It's not a crazy question to ask whether Ebraz might be getting better. I actually think since his prep race three weeks ago, he has been training unbelievably well. He is actually lighter as a seven-year-old than he has ever been. I have always said the Arabians get better with age. How much better he can get at seven or eight I don't know, but he's still going strong and, touch wood, he's still healthy.
"While he is in this kind of form, I would like to keep him going. We will obviously target the Arc meeting for the Qatar Arabian World Cup and then we'll see - do we go back to Doha for another HH The Amir Sword, or do we leave him in France to go to stud? That will all be decided by the Boss if he is sound in October."
Adam Waterworth, Managing Director of Sport at the Goodwood Estate commented: "Having Ebraz back was fantastic for us and I've been lucky enough to see him win out in Qatar too. This week has been all about superstars and returning champions and Ebraz fits that bill as well as any of the horses that we've had here this week, so I'm delighted to see him win today."
Commenting on the race ARO Finance and Commercial Director Genny Haynes said: "What a wonderful way to open our 2020 season, with a second consecutive win by Ebraz today. We congratulate HH Sheikh Mohammed bin Khalifa Al Thani and Julian Smart for their achievements with such a talented horse. We are delighted that thanks to Qatar Racing and Equestrian Club and Goodwood racecourse that a contest of this quality was showcased to the world at this most challenging time.
"Though our season has been pushed back in the calendar due to the current circumstances, we look forward to announcing the remaining races in our 2020 race plan in the very near future and thank all of our participants and sponsors for their patience and support."
Source: ARO/QREC.