Emblem Road drives to joyous local win
in The Saudi Cup
Huge Saudi celebration for local victory in world's most valuable race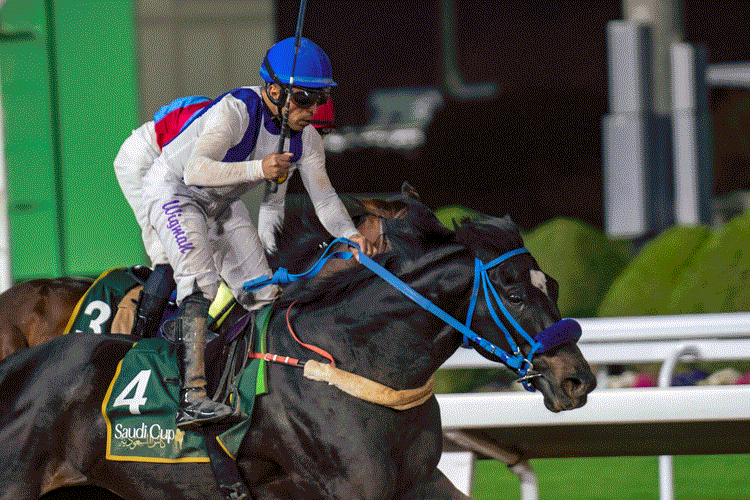 Wigberto Ramos celebrates after winning The Saudi Cup on Emblem Road. Credit: Jockey Club of Saudi Arabia / Mathea Kelley
Waves of pride and emotion pulsed through King Abdulaziz Racecourse in Riyadh on Saturday evening as unheralded local runner Emblem Road (USA) snatched the richest race ever staged, the US $20 million Group 1 The Saudi Cup.  

A deafening crescendo climaxed in joy and near disbelief as jockey Wigberto Ramos coaxed Emblem Road down the centre of the track for a half-length margin from USA challengers Country Grammar (USA) and Midnight Bourbon (USA). 

For Saudi Arabian racing, this was an extraordinary result. Emblem Road, a four-year-old American-bred son of Quality Road, had only raced in Saudi Arabia, where he was taking his record to eight wins from 11 starts. He was prepared by trainer Mitab Almulawah and carried the white and blue silks of Prince Saud bin Salman Abdulaziz. 

This was a race packed with Group 1 champions and there was no element of fluke. Searing early fractions were set by Secret Ambition (GB) and Art Collector (USA). Close-up in the run were last year's Mishriff (IRE), caught wide, and Kentucky Derby winner Mandaloun (USA). But one by one the challengers melted away. The Japanese star TO Keynes (JPN) could not add to the incredible haul by his compatriots earlier in the evening. 

All the while, Panamanian-born rider Ramos stalked the pace in midfield, but with cover, before scything down the brave Country Grammer inside the final 50m to cue one of the greatest shocks - and celebrations - ever seen in Saudi racing. The winning time was 1:50.52.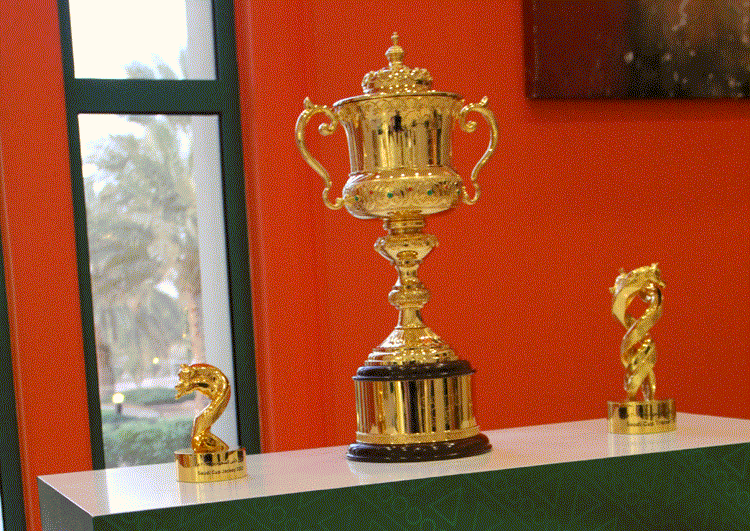 Prince Bandar Bin Khalid Al Faisal, Chairman of the Jockey Club of Saudi Arabia, said: "Wow. To have a locally trained horse perform that way is very emotional. I'm very happy for the connections, and I'm happy for Saudi Arabia. I think Mishriff, a Saudi Arabian-owned horse [the 2021 The Saudi Cup winner], did amazing things to spread the love of horses. And to have a locally-trained horse win it [The Saudi Cup] is extremely special, and I'm really excited about what this means for the future of horse racing in Saudi Arabia."

Stable representative Hisham Wahed said: "Emblem Road had trained really well and I thought that he was going better than Making Miracles. Keeping The Saudi Cup here in the Kingdom - that is the best thing, it is a great feeling. All the people here are happy that we keep it in Saudi Arabia."

Jockey Wigberto Ramos said: "My horse ran a great race and I broke good and my horse was very strong. He wanted to go early, but I took my time with him and took a little hold and saw another horse, so then I just waited for the 500m to ask him. The key on this track is that you have to be near the front when you pass the 800m. If you're near, you are in a good position and outside is the best part of the track. It's a big turn, so when you put a horse who comes from behind all the way on the outside, they finish a lot better. I knew that I could do it, but now that I've done it, I still don't believe it. I beat so many good horses and this is the biggest race in the world. I think he could go on to the Dubai World Cup. He's the kind of horse who can do it."
Source: The Saudi Cup / Media