Farasah wins on debut in
Wathba Stallions Cup Maiden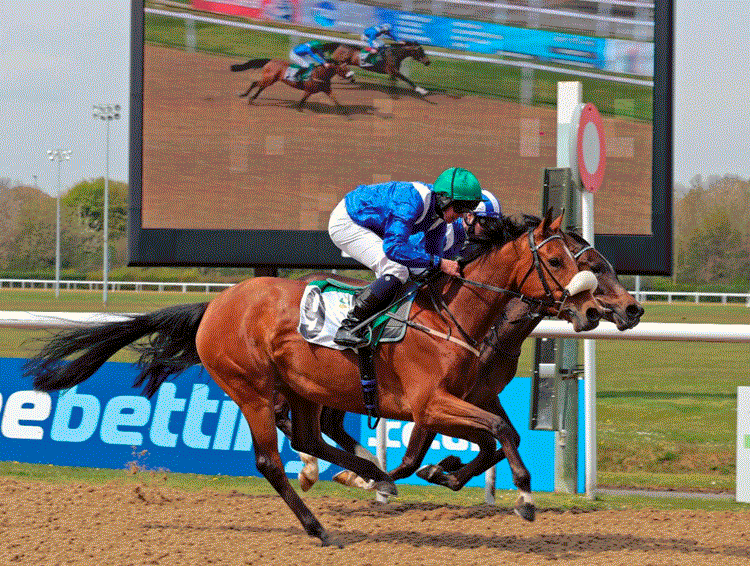 Farasah ridden by Mark Crehan
The Arabian Racing Organisation (ARO) season got underway this afternoon with a thrilling photo finish to the Wathba Stallions Cup Maiden Stakes at Wolverhampton. Stablemates Farasah and Aldaana were separated by just a head at the line, with Alsimsaam six and a half lengths back in third. Trainin
g the first two home was James Owen, both in the colours of Shadwell Estates, like the third, who was trained by Phil Collington. Winning jockey Mark Crehan commented: "That's my first ride on an Arabian, so it's my first winner on one too, and it's pretty special to get it in these silks. It's not much different to riding a thoroughbred, she was a lovely ride which made the experience a lot easier. She was green throughout, but it all came together for her at the finish, and she responded well. I think she's a nice filly."
Owen was delighted with the start his team has made saying: "We had her in training last year, but she was too weak to race. She's well-bred though and we've had winners from the dam before. She's the first one we've had by Mahabb and she looks a different class. I really rate Aldaana, I wouldn't have worked these two together at home, so it was a bit of a surprise, but I'm delighted that Farasah has shown improvement on the track. Aldaana's still a maiden and she'll be hard to beat next time. A step up in trip will suit her.'
The Wathba Stallions Cup Maiden Stakes was the first of five Wathba Stallions Cup races to be run in the UK as part of the HH Sheikh Mansoor bin Zayed Al Nahyan Racing Festival, a supporter of UK Arabian racing for over ten years. The series aims to promote the breeders of Arabian racehorses, and is supported by Wathba Stallions, the breeding arm in the UAE and France, of HH Sheikh Mansoor bin Zayed Al Nahyan, Deputy Prime Minister and Minister for Presidential Affairs, who is also Chairman of the Emirates Arabian Horse Association.
Genny Haynes, ARO Commercial and Finance Director said: "Congratulations to James and his team and to Shadwell Estates who had the first three home. It's always good to see professional jockeys having a positive first experience on Arabians and we hope to see Mark Crehan riding with us again this season.
"ARO is extremely grateful for the continued support of the HH Sheikh Mansoor bin Zayed Al Nahyan Racing Festival. We are also grateful for the assistance of the British Horseracing Authority and all the staff and officials at Wolverhampton today. We now look forward to our next race, the wathbastallions.com handicap to be run at Bath on Monday 3rd May."
The HH Sheikh Mansoor Bin Zayed Al Nahyan Horse Racing Festival is sustained by the Abu Dhabi Department of Culture & Tourism coordinated by Abu Dhabi Sports Council, Etisalat as the official sponsor, with National Feed as strategic partner, The National Archives as the official partner , Emirates Airline as the official carrier, sponsored by Al Massood Automobiles Nissan, Areej Alameerat, Omeir Travels Agency, YAS Sports TV., Viola Communications, Abu Dhabi Falconers Club, the UAE's General Women's Union , Emirates Arabian Horse Society & Abu Dhabi Equestrian Club.
Source: Arabian Racing Organisation. Photo: Debbie Burt - Equine Creative Media