HM Jalfane wins 2.200m Lekhraib Cup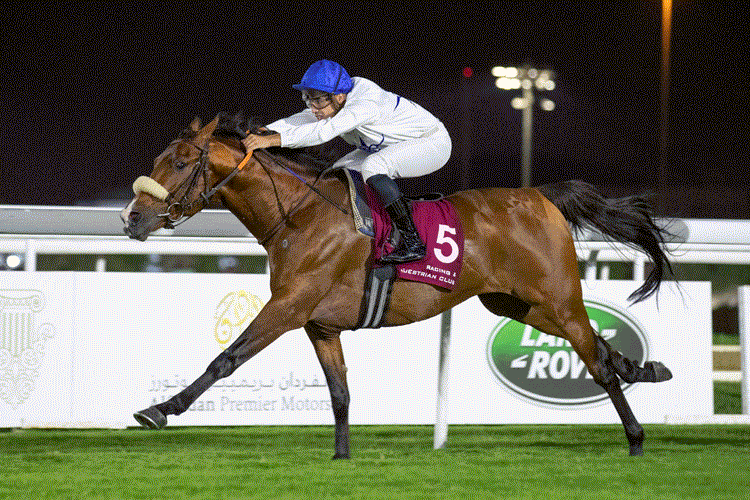 HM Jalfane ridden by Soufiane Saadi. Photo: Juhaim/QREC
The Qatar Racing and Equestrian Club (QREC) organised the 14th race meeting in the 2021-22 season at the Al Rayyan Racecourse turf track on Thursday, 25 November. The eight-race card day was wrapped up with the feature event, Lekhraib Cup, a Conditions for three-year-olds and older Purebred Arabians. It was Abdullah Bin Fahad Al Attiyah's HM JALFANE (FR) (Dahess X Al Musck) who won the 2200m race and landed the cup. In a brilliant ride, Soufiane Saadi controlled the pace throughout guiding the four-year-old colt to record a one and a quarter length victory and a quick-fire double for trainer Alban de Mieulle, who also had a one-two in the same race as he saddled the runner-up, Al Walid (FR) (Dahess) as well. It was a special day for the French trainer with others of his wards finishing second and third in other races of the day. It was HM Jalfane's second appearance this season and he showed much improvement this time, indicating that he perhaps he just needed his seasonal debut, especially as he finished the previous season well being placed runner-up when he was last seen last term.
HM Jalfane started from stall 5 to lead the six-runner field with a steady pace. Both Motrag (FR) (Amer) from outside and Ginkeau (FR) (Divamer) by the rails were at his heels. The proceedings continued unchanged until the final bend. At the beginning of the home straight, the rhythm became totally different with HM Jalfane accelerating and the others chasing him. It looked as if a new sprint has just started. HM Jalfane gradually increased the gap in front of Ginkeau while Motrag weakened and started to give ground with Goldamer (FR) (Amer) progressing to the third positon at the 200m mark.
While that seemed the final order of the contenders in the lead, Al Walid came with a late strong sweep to go past Ginkeau from outside to be second and tried to join HM Jalfane, but the latter was not to be caught as he maintained his surge to score comfortably. Saadi's showed master skills as he controlled the pace throughout to the line. Al Walid, in the colours of Al Shaqab Racing, finished second under Ronan Thomas for de Mieulle as well, who could have a one-two-three, but the Eng. Osama Omer Al Dafea-owned and trained Ginkeau finished third, further one and a half lengths behind, under Faleh Bughanaim almost a length in front of Goldamer.
"HM Jalfane gave a superb performance and the race was good", said Abdulrahman Bin Fahad Al Attiyah, "He took the lead from the start and maintained it nicely."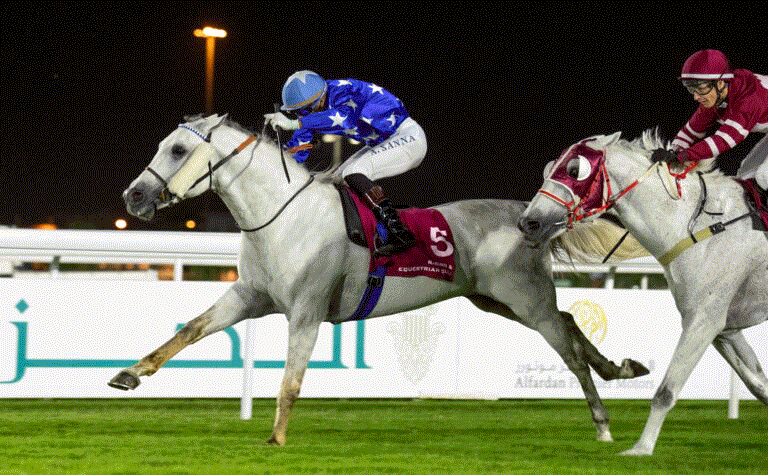 Ghali Al Athman ridden by Alberto Sanna. Photo: Juhaim/QREC
H.H. Sheikh Mohammed Bin Khalifa Al Thani's GHALI AL ATHMAN (QA) (Harran ASF x Al Nefor) stayed on the best in the Conditions for three-year-olds and older Local Purebred Arabians. Alberto Sanna steered the Rudy Nerbonne-trained five-year-old horse to an exciting win by half a length at the line in the 1850m contest. Aaley Al Magam (QA) (Amer) and Ishfaq (QA) (Asraa Min Al Barq) finished second and third respectively.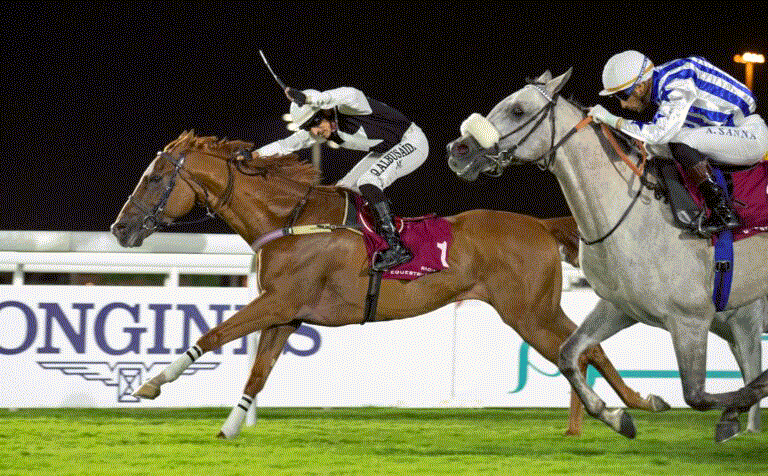 Maghamir Des Forges ridden by Qais Al Busaidi. Photo: Juhaim/QREC
Al Ghazali Stud's MAGHAMIR DES FORGES (FR) (Mahabb x Djezabel Des Forges) prevailed in an exciting head-to-head finish in the 1600m Handicap (0-95) for three-year-olds and older Purebred Arabians under Qais Al Busaidi. The Jassim Ghazali-trained 5YO gelding held off opposition by just a short head at the line in front of Saad (QA) (Munjiz). Umm Bab (FR) (Al Mamun Monlau) was further one and a quarter lengths behind in third.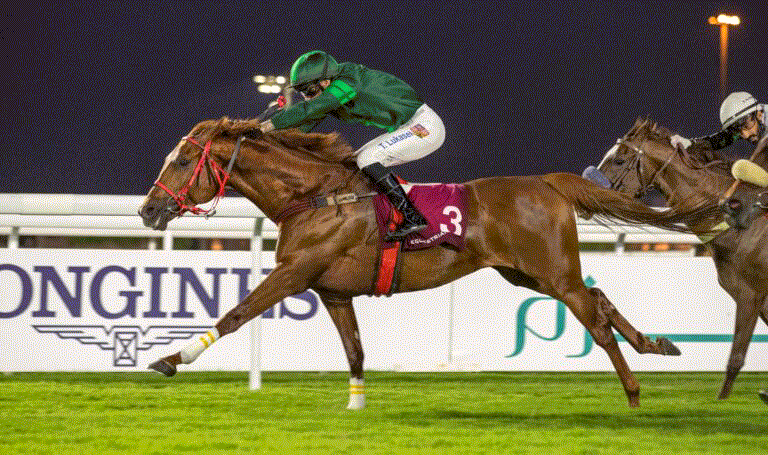 HM Al Bourak ridden by Tomas Lukasek. Photo: Juhaim/QREC
Mohammed Abdulhadi Saad Al Hajri's HM AL BOURAK (FR) (Azadi x Al Kahira) regained winning thread quickly in the Purebred Arabian Novice Plate. Tomas Lukasek rode the Hamad Al Jehani-saddled four-year-old colt to a ½-length win in the 1600m run for three-year-olds and older. Hakida (FR) (TM Fred Texas) and Arsalan (QA) (AF AlBahar) finished second and third respectively.
Source: Qatar Racing & Equestrian Club
---