Hadi De Carrere takes The Obaiya Arabian Classic for France
Legendary French jockey Olivier Peslier swoops in for a valuable Arabian prize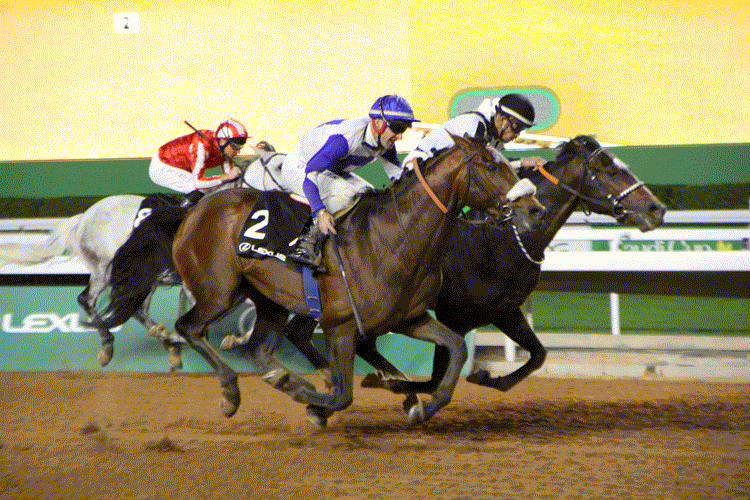 Hadi De Carrere (#2 left) ridden by Thomas Fourcy. Photo: Cidinha Franzão
French trainer Thomas Fourcy has been in unstoppable form with his Arabian racehorses and his Hadi De Carrere (FR) won the world's most valuable race for the breed, the US $2,000,000 The Obaiya Arabian Classic presented by Lexus, a Group 2PA.
Ridden by Olivier Peslier, Hadi De Carrere enjoyed a smooth passage on the rail just behind the leader RB Rich Lyke Me (USA), who set a strong pace in front. Entering the home straight, RB Rich Lyke Me was still going well, but the locally-trained Tilal Al Khalediah (KSA) was closing on his outside. Peslier moved Hadi De Carrere into a position to challenge and, with 50m to go, the three of them were in a line across the track.
In a thrilling finish for the crowds, Hadi De Carrere gained the advantage, winning by just a nose from Tilal Al Khalediah, to give Fourcy and owner Khalifa bin Sheail Al Kuwari another notable victory. Exactly seven days ago Fourcy had trained the winner of The HH The Amir Sword, Qatar's premier race for Arabians, Lady Princess, also for Al Kuwari. He clocked a time of 2:16.20.
Hadi De Carrere had been the leading European three-year-old of 2020, winning France's two most important Group 1 races for that age group in the Al Rayyan Cup (Prix Kesberoy) and the Qatar Arabian Trophy des Poulains. However, the colt was off the course for 10 months before reappearing in Pau in January, finishing fifth on his all-weather debut. This win heralded a return to form and is a testament to Fourcy's abilities as a premier trainer of Arabians.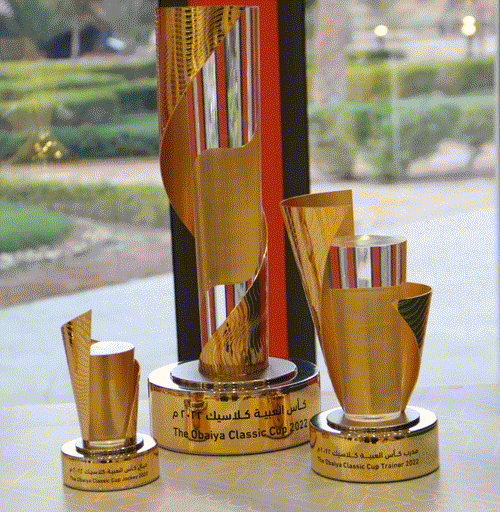 The Obaya Classic Cup 2022 Trophies. Photo: Cidinha Franzão
Olivier Peslier, jockey, Hadi De Carrere, 1st: "My horse honestly had a one-year break and had to come back and finished fifth [last time out]. I wanted to ride the horse in Saudi Arabia because when I rode him last time I thought he was very nice and loved him. The form is good from [more than] one year ago [before the break], but it's very hard to come back with him.
"I know he's a strong horse, but he just gallops, so I was thinking about the win and kept fighting and fighting. When we passed the winning post, I didn't [know if I had won], but then I turned and looked for the screen and it was my face! So that's good for me! When you win like that, the pressure comes down.
"It's great to win [in Saudi Arabia]. The year is very hard, so I will go relax in Mauritius soon, but I wanted a win [before]. My last five rides, I kept finishing second, second, second, but I thought, 'Wait a second, the win is coming soon' and to win this one, I'm very happy."
"We are super happy. We had a few problems with him last winter in Qatar, and we left him in peace before giving him a nice and easy run in a race at Pau so that he would come here fresh and keen.
"He was very good at three in heavy ground and I wasn't worried about the track. He is a good mover and he goes for it.
"He showed a lot of courage and was very tough. And it was another magical ride by Oliver [Peslier], who is just cool and patient and knows when to push the button. We will go to Dubai for the Kahayla Classic", said Thomas Fourcy, trainer, Hadi De Carrere.
Source: The Saudi Cup / Media