Improving Munfared lands Al Ain feature after early Veron Double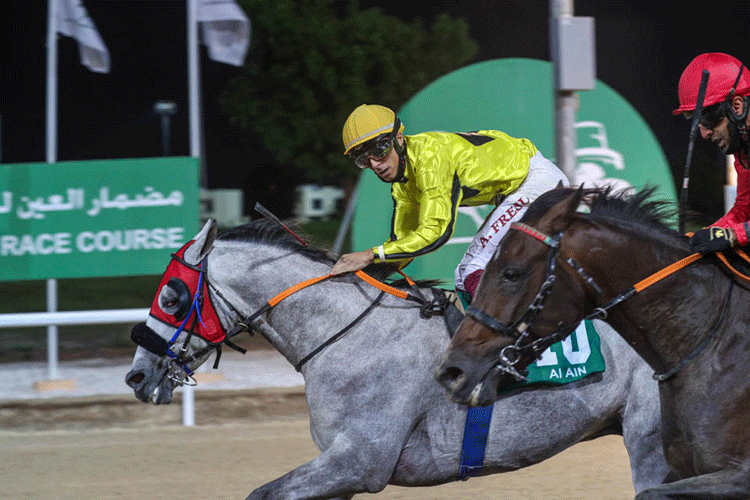 Munfared ridden by Antonio Fresu
Racing at Al Ain on Friday, February 12, was officially highlighted by a 2000m conditions race, for horses who had not previously won twice, and the one to double their account was Munfared (TM Fred Texas x Safya by Akbar), making it two wins from just three starts. Confidently ridden by Antonio Fresu for Ahmed Al Mehairbi and Al Rahmani Racing, the 4-year-old old colt actually looked likely to win comfortably when striking the front with about 450m remaining before Salb threw down a determined challenge throughout the final 300m, but always looked held.
Well beaten on his turf debut at Abu Dhabi in December, albeit in the Listed Abu Dhabi Championship, he then posted a determined 1400m maiden success here at Al Ain three weeks ago.
Al Mehairbi said: "This is a nice colt who has improved with each start and we hope can continue to do so. We thought the extra distance was an advantage and he has, again, shown a battling, winning, mentality which is ideal."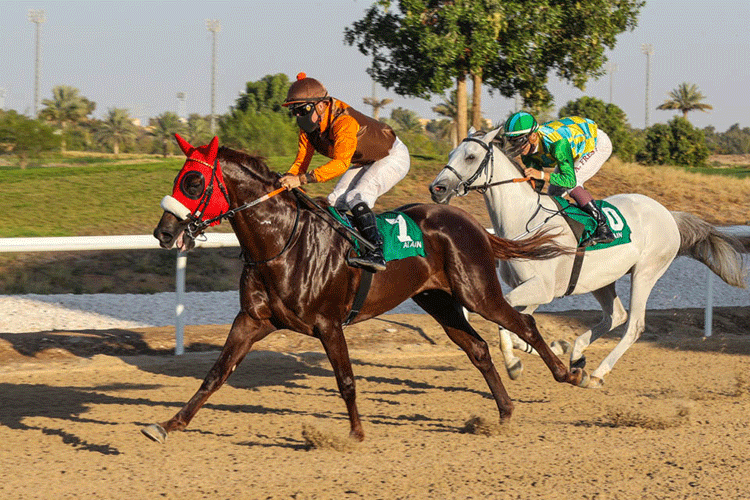 Asif ridden by Fabrice Veron
The meeting kicked off with a handicap for horses in Wathba Stallions Cup for Private Owners Only over 1800m and a gutsy performance from Asif (Dhiaa Al Reef x Hayat by Gerbya) was enough to land the spoils, probably never headed under Fabrice Veron riding in the colours of Mohd Rashid Al Saadi for trainer Ibrahim Al Hadhrami.
Victorious on his debut over 1600m in Muscat, the 4-year-old colt was then well beaten on both his first two UAE outings, albeit in decent races and on the Abu Dhabi turf. However, he is now unbeaten after three dirt appearances and when partnered by Veron, the pair having won their previous start, a handicap over this 1800m Al Ain course and distance. That was exactly a month ago. He actually showed a far better attitude in the race, fighting off what had looked a likely telling challenge from runner-up Dream De Montjoi, having arrived late at the start accompanied by an outrider and pony, minus Veron.
Al Hadhrami said: "As I told you last time he is a nice little horse who loves dirt surfaces and is hopefully improving."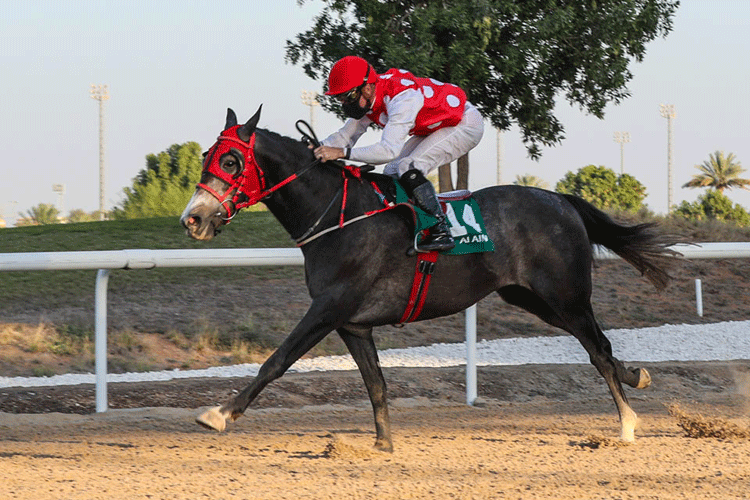 Qassim ridden by Fabrice Veron
Veron immediately completed an 1800m handicap double, this time sporting the silks of HH Sheikh Khalifa bin Zayed Al Nahyan aboard Qassim (AF Albahar x Tornade Du Loup by Tornado De Syrah) for Eric Lemartinel. Having just his fourth start and shedding his maiden tag in the process, the homebred 4-year-old colt hit the front a long way out, but had most rivals beaten off halfway up the straight with stable companion Muqtader staying on to claim second, but never looking likely to pass Veron's mount.
Raced only at Al Ain, he was well beaten on his first two starts before plugging on to take a remote fourth over this 1800m three weeks ago.
Lemartinel said: "That was only his fourth run and he is improving with the experience each time which is pleasing. Obviously this was only a moderate handicap, but he can get better and we will look for another race back here at Al Ain."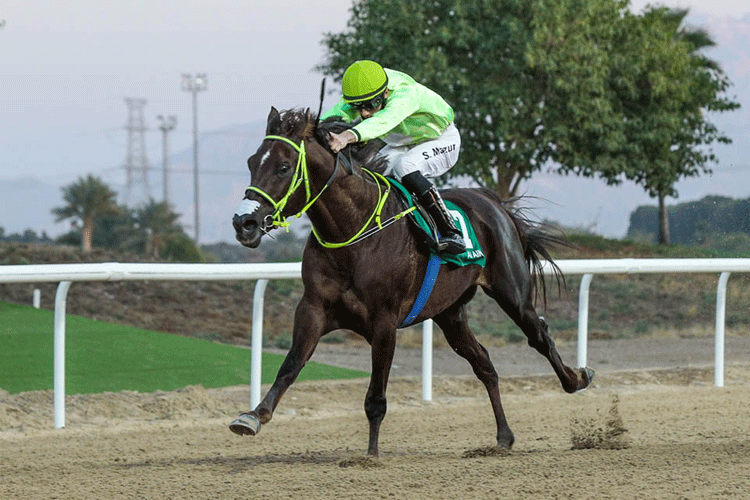 Kesra ridden by Szczepan Mazur
Positive tactics have proved winning ones more often than not on Al Ain recently and that was the case again in a 2000m maiden for horses foaled locally in which Szczepan Mazur sent Kesra (Mahabb x Kasbanah by Djelfor) to the front and the pair stayed there for Al Ajban Stables and Abdallah Al Hammadi.
That rather simplifies the performance though as Mazur's mount was hounded by half of his 14 opponents early on, but that number slowly whittled down and, in the end, the pair won relatively comfortably. A 5-year-old entire, he was opening his account at the seventh attempt, fourth on dirt and was actually registering a first gold, silver or bronze medal in the process, a fifth on his only previous outing this season, at the end of October, the best finish he had managed previously.
Mazur said: "That was a brave performance as he was not given an easy lead by any means, so all credit to the horse. He can improve again".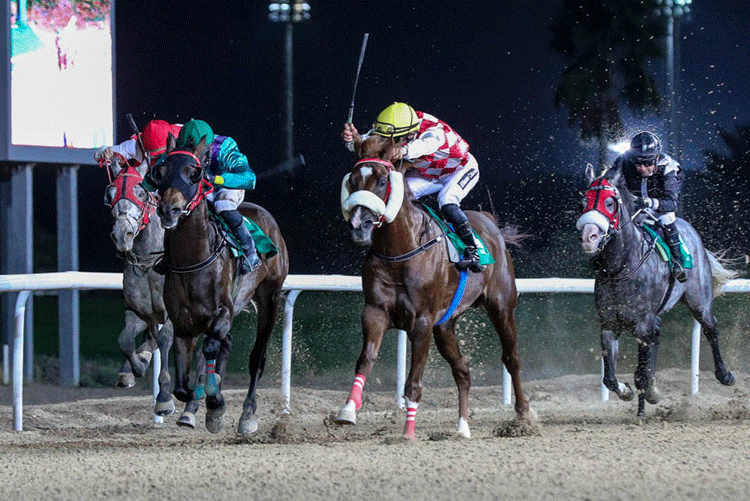 Amang Awada ridden by Elione Chaves
A 1600m handicap produced a grandstand finish with Elione Chaves riding his first winner of the season, after 14 fruitless attempts, delivering Amang Alwada (Abu Alemarat x Mela La by Sour) to lead right on the line to deny Al Suhooj. Riding in the jazzy silks of Sheikh Hamed bin Khadim bin Butti for trainer Mohammed Al Shamsi, Chaves and the 9-year-old entire were actually probably second for 1598m, initially behind AF Mezmar and then the majority of the straight. However, they were in front when it mattered, Chaves seeming to know with a clench of the fist straight after the line.
The jockey said: "It is nice to get a winner on the board and I was late getting here this season, so it was quite apt I was almost too late getting up, but I was pretty confident we had won, just."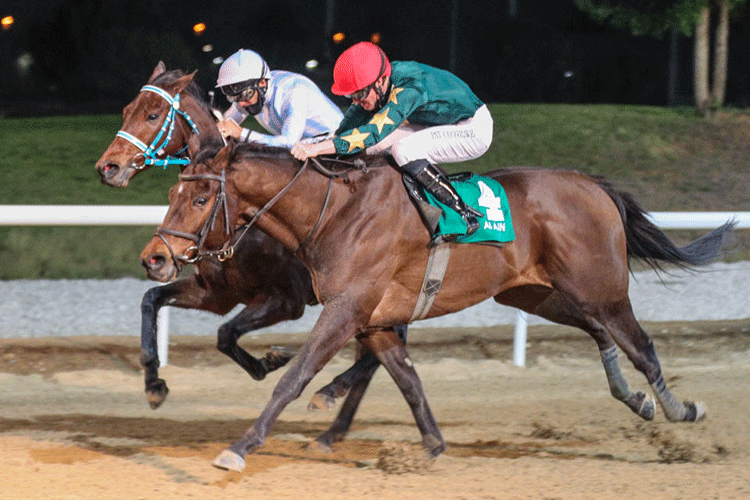 Horganza ridden by Sam Hitchcott
There was then a virtual carbon copy climax to the following 1400m maiden, only this time the winning line appeared just in time for Horganza (Josco Du Cayrou x Alcantara by Kerbella) and Sam Hitchcott, the pair clinging on grimly from Ares De Gion who was finishing at a rate of knots under Szczepan Mazur.
A 4-year-old filly with just her second start having finished third; over course and distance on debut three weeks ago, Ziad Galadari's silks were being carried to victory for the first time this season, after 13 unsuccessful forays. Never far off the pace, Hitchcott grasped the initiative early in the long straight and the filly galloped all the way to the line, having just enough left in the dying strides.
Winning trainer Ibrahim Aseel said: "That is a big result for our whole team and the owner who is a big supporter of ours. We were quite hopeful though because she ran very well on debut and improved for that experience."
Source and photos: Emirates Racing Authority