Injaaz Stud's Arguya wins Umm Bab Cup doubling her tally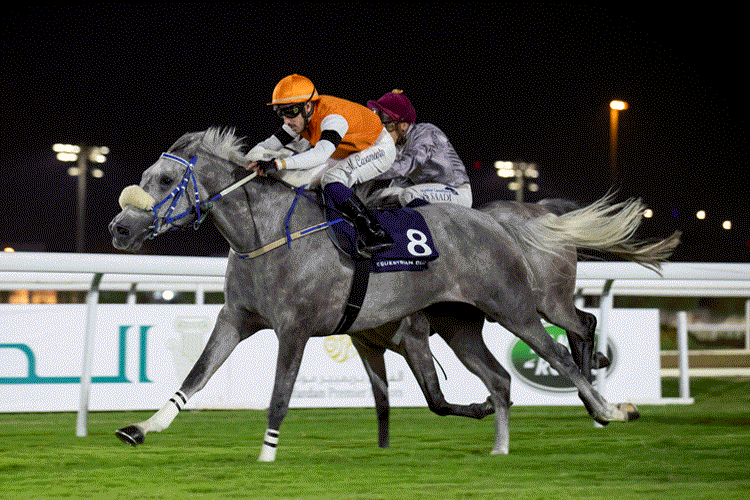 Arguya ridden by Marco Casamento. Photo: Juhaim/QREC
The Qatar Racing and Equestrian Club (QREC) organised the sixth race meeting in the 2021-22 season at the Al Rayyan Racecourse turf track on Thursday, 28 October. The Injaaz Stud-owned ARGUYA (FR) (Divamer x Agheilaya) won the feature and eighth race in the card when she landed the Umm Bab Cup for trainer Mohammed Ghazali with Marco Casamento in the saddle. It was the second straight win by the five-year-old mare, which in doing so remained unbeaten, so far this term.
The feature race was for three-year-old and older Purebred Arabians. There were eight runners in the mile race. Arguya broke from barrier one to head directly to the lead. However, Al Naama (FR) (Majd Al Arab) took over soon and led the field with a steady pace. Al Walid (FR) (Dahess) and Arguya tracked her throughout in this order, which remained unchanged throughout the home straight and until the final 200m.
Arguya, then, made a mighty sweep and showed a nice turn of foot to join Al Naama and go past her in the final 100m. Arguya stayed on gamely to win by a half-length.
Al Naama finished second in the colours of Al Shaqab Racing. The Alban de Mieulle-trained seven-year-old mare was ridden by Soufiane Saadi. The Abdulla Bin Mohammed Al Attiya-owned and Ahmed Kobeissi-trained Battash De Faust (FR) (AF AlBahar) finished further three lengths back in third under Tomas Lukasek.
"Arguya is a champion", said the winning trainer Mohammed Ghazali after the race, "She did well in her previous run at the start of the season. Today, I had the feeling that she could compete with Al Naama and win, especially as she was good in the mornings and looked on the right way to be fully ready. I believe she is only 80% ready and perhaps this could be true for Al Naama as well. I told Marco Casamento to chase and join Al Naama and either we win or know Arguya's performance level exactly at this stage. Everything went well according to the plan and Marco did what I told him exactly. Arguya gave an excellent performance and proved herself as a champion. The word champion cannot be given to any mare. Today Arguya beat a champion of the calibre of Al Naama, who has won big and feature races, and proved herself a group one champion."
Following the feature race, Eng. Osama Omer Al Dafea presented the trophies to the winners.
Source: Qatar Racing & Equestrian Club / Mohamed Saad. Photo: Juhain/QREC