Isa bin Abdullah Crowns Al Awadhi as
Champion of the Endurance Season Opener
Under the patronage and in the presence of HH Shaikh Nasser bin Hamad Al Khalifa, Representative of HM the King for Humanitarian Works and Youth Affairs and Honourary President of the Bahrain Royal Equestrian and Endurance Federation (BREEF) as well as HH Shaikh Faisal bin Rashid Al Khalifa, Vice President of the Supreme Council for the Environment (SCE) Vice President of the Coordination, Execution and Follow-up Committee (Estijabah) committee, HH Shaikh Isa bin Abdullah Al Khalifa, President of BREEF crowned Victorious team member Othman Al Awadhi riding Krack LC as the champion of the endurance season opener which covered a distance of 120 km, on November 7. Among the attendees was also Shaikh Duaij bin Salman Al Khalifa, Head of the Endurance Committee at BREEF.

On this occasion, HH Shaikh Nasser bin Hamad Al Khalifa expressed utmost delight to see the Victorious team achieving first place in the race, pointing out that the team's accomplishment confirms its high hopes and readiness for the new season despite the tough competition for top places. HH Shaikh Nasser also congratulated Al Ruood team on finishing second with Fahad Al Khateri on Star.

"We are happy with the level of excitement and competition featured in the season-opening races thanks to the presence of many top participants from Bahrain and Europe as well as other countries. To see 160 competitors in one race is a source of pride for us," HH Shaikh Nasser said.
Commenting further, HH Shaikh Nasser explained: "All the participants tried to take a strong lead from the beginning. This has triggered a stiff competition among all the participants as evidenced by the frequent change in positions until Al Awadhi secured a narrow victory. The wide participation contributed to creating an exciting competition. This confirms we will witness a great endurance season."
Great Organisation
Furthermore, HH Shaikh Nasser described the organisation of the event as "incredible", thanking BREEF and its President HH Shaikh Isa bin Abdullah for the outstanding efforts they put together to make it a tremendous success, especially that they conducted over 1000 swab tests for the participants and the members of the organising committees."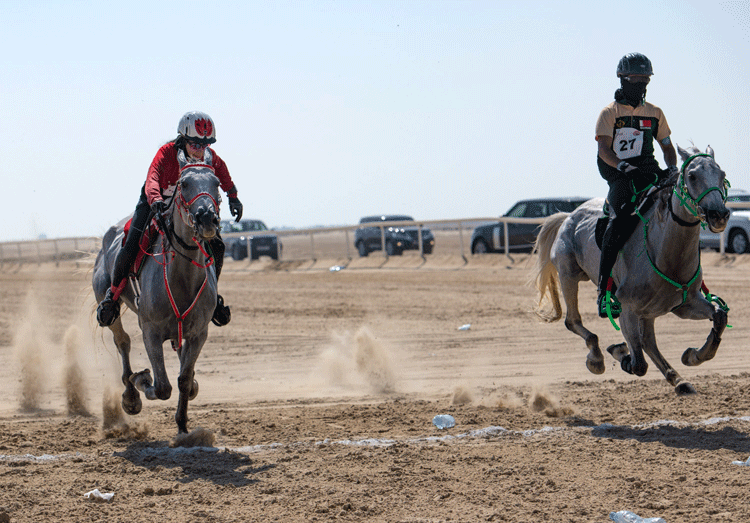 Masa Adnan on Baggio D'Armani (left) and Fahad Al Khateri on Star (right)
From his side, HH Shaikh Isa bin Abdullah thanked HH Shaikh Nasser for his support and follow-up to the race, pointing out that HH's backing and presence contributed to making the season opener a huge success.
Victorious Makes Bold Statement
It's worth noting that the Victorious team made a bold statement by winning first place thanks to Othman Al Awadhi Krack LC who clocked 4:33:50 hours with average speed of 26,3 km/h, followed by Fahad Al Khateri riding Star of Al Raood Team (4:36:10 and 26,1 km/h). Masa Adnan on Baggio D'Armani of the Victorious team finished third in 4:36:16 hours with average speed of 26,1 km/h.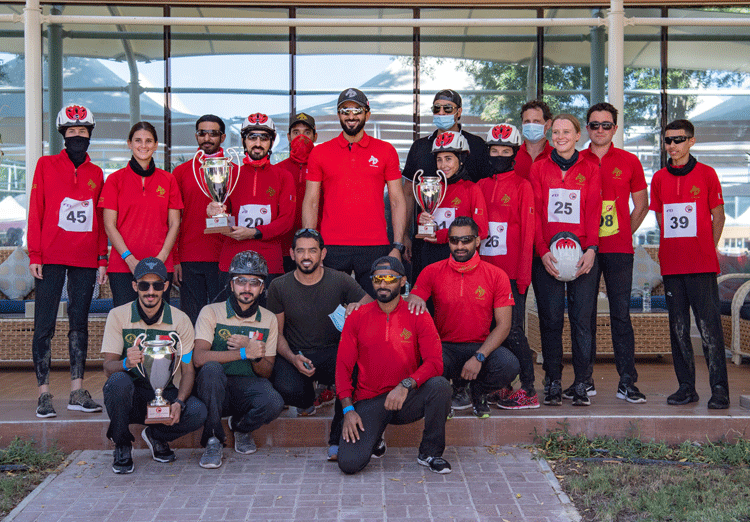 Source and photos: HH Shaikh Nasser Bin Hamad Al Khalifa Media Office & Information Center