Khalid Khalifa Al Nabooda
and AF Farms
House of Champions

"The wind of heaven is that which
blows between a horse's ears."
Arabian Proverb

"As always from the beginning my aim has been to breed a Winner despite such challenging conditions of the area like excessive heat, humidity, poor ground. Under these circumstances, it has taken me more than 20 years to reach my goal to which I was committed and AF Maher proved that he can compete at Group level."
For over thirty years Khalid Khalifa Al Nabooda has been racing Arabian horses, whilst he has been breeding them for almost as long. Passionate about the Arabian racehorse, he is just as passionate about his own bloodlines which represent his country, the United Arab Emirates.
"We would like to introduce you to AF Farms and the exciting journey we have taken over the last 30 years to establish ourselves as one of the World Leaders in the Breeding of Arabian Racehorses with over 400 winners worldwide", said Al Nabooda.
AF Farms was started in the early 1990's by Mr Khalid Khalifa Al Nabooda with the vision of breeding and preserving the local UAE Purebred Arabian Racehorses which in turn could compete against the very best in the World.
AF Farms is a tranquil and harmonious environment where we strive for perfection in upholding the breeding of the UAE Local Arabian Racehorse. Currently consists of Al Aweer, Al Bahayes, Al Hanouf and Al Madam House Farm.
Each Farm has a designated purpose to benefit and maximize the growth and development of our horses at their various stages of their path to becoming Champion Racehorses.
This vision began with Al Aweer Farm which is located in the beautiful green oasis of the same name just outside Dubai. As the studs increased he added Al Bahayes Farm, Al Hanouf Farm and Al Madam House Farm which are located 40km away from Al Aweer in Sharjah.
At Al Aweer, which covers 240,000 sq.m, the horses can graze contentedly in green pastures shaded by the magnificent old trees. By contrast in Al Bahayes Farm, Al Hanouf Farm and Al Madam House Farm which lie near the dramatic Hajjar Mountains, the horses enjoy freedom and pure air in an area that reflects all the beauty of the surrounding natural desert environment.
"We are a family success story, through our careful breeding practices and dedication to the understanding and preservation of the finest world class Purebred Arabian horses; we have become one of the largest and most successful stud farms in the UAE", commented Al Nabooda.
Al Farms (AF) operates on the principles of breeding the true Purebred Arabian horse by selecting and retaining the bloodlines that have made the Arabian horse famous. He seeks to develop and preserve all the characteristics and traits that are the essence of the Arabian horse.
Today, Khalid Khalifa Al Nabooda the owner of AF is proud to say that "Arabians bred at AF race successfully against the best in the UAE which are considered by some to be the best in the world. Thus the foundation towards the realization of dreams has been laid."
Al Aweer Farm
Since setting up Al Aweer Farm in the early 1990's, Khalid Khalifa Al Nabooda's aim has always been to breed purebred Arabian racehorses. Through careful research and selection he was able to purchase Arabian horses of some of the finest racing bloodlines and from these he has developed a successful breeding programme based on his remarkable collection of Arabian Mares and Stallions. The Studs now have over three hundred horses. Al Aweer houses the broodmares and foals in peaceful and shady surroundings, its trees nurtured by the natural water supply.
| | |
| --- | --- |
| AF Albahar (Amer x Al Hanouf by Sabaan) | AF Al Salaam (Madoua De Piboul x Al Hanouf by Sabaan) |
Al Bahayes, Al Hanouf Farms & Al Madam House Farm
Al Bahayes, Al Hanouf Farms and Al Madam House Farm are nestled in the plains of the Hajjar mountain range, about 40km from the Al Aweer Farm. The place and ground is more suitable for raising young stock as the weather is milder, less humid, has relatively good rainfall and wadis run around the farm. The three farms are located in the Emirate of Sharjah in the UAE and provide pre-training facilities as well as plenty of large paddocks as Al Nabooda is a firm believer in allowing his horses' free exercise in order to develop into strong, sound racehorses.
Over the years Mr Khalid Khalifa Al Nabooda embarked on a journey which through careful research of Purebred Arabian Bloodlines and wise selection of Stallions and Broodmares has developed his unique Bloodline which has resulted in AF Farms now having the UAE's Finest Local Purebred Arabians which are able to compete against the very best Purebred Racing Arabians in the World.
This was a feat which many thought would not be possible, but through perseverance, patience and self-belief Mr Khalid Khalifa Al Nabooda has now achieved this goal.
AF Farms has bred two individual Winners of the G1 Dubai Kahayla Classic on Dubai World Cup Night with AF Mathmoon, in 2016, which ran in the colours of H.H. Sheikh Hamdan Bin Rashid Al Maktoum and again in 2019 with AF Maher who carried the famous Black and Silver colours of Mr Khalid Khalifa Al Nabooda to victory.
AF Mathmoon owned by HH Sh Hamdan bin Rashid Al Maktoum and bred by Mr Khalid Khalifa Al Nabooda wins the 2016 Dubai Kahayla Classic
For the 2016/2017 Racing Season Mr Khalid Khalifa Al Nabooda realized one of his lifelong dreams of becoming the UAE's Champion Racehorse Owner, this feat was made even more special in the fact that it was achieved with Local UAE Bred Purebred Arabians.
The 2018/2019 Racing Season was another special season for Mr Khalid Khalifa Al Nabooda and AF Farms for a number of reasons:
- In February 2019 Mr Khalid Al Nabooda and AF Farms were responsible for breeding of 5 out of 5 winners at the Abu Dhabi Race meeting; four of the winners ran in Mr Khalid Al Nabooda's colours and the 5th winner ran in the colours of H.H. Sheikh Hamdan Bin Rashid Al Maktoum;
- Mr Khalid Al Nabooda also became the UAE's Champion Racehorse Owner for the second time with an amazing 50 Winners.
What added to making it a special achievement was the fact that it was done with only Purebred Arabian Racehorses.
Khalid Khalifa Al Nabooda bought his first Arabian racehorses in the late 1980's and though always having had an interest in the breed, it was ownership that really ignited his passion, fueling his desire to become a breeder too. As with all true racing enthusiasts, the more he studied, the more he realized he needed to learn.
| | |
| --- | --- |
| | Al Hanouf (Sabaan x Saihah by Rabdan) |
In 1990 he began to develop Al Aweer Farm, belonging to his family in the oasis village of the same name, which provides the 'AF' prefix of all his homebred horses.
"Many people they think I succeed because I have a lot of horses. Not necessarily, it is not always true that if you breed a lot of horses, that you will breed a winner. I learn from my mistakes, nobody taught me anything. You need to know your bloodlines, you need to know how to feed those horses, how to raise them, all this is a challenge, particularly in this country, and makes it tougher to win."
Since the 2009/10 season (with the exception of 2014/15) he has consistently finished in the top ten owners list, winning his first owner championship in 2016/17 and becoming the first private owner to do so. It can be argued that in racing, success is a numbers game and certainly in the last four years, where he has either finished first or third, his number of runners has significantly increased, this year his 53 winners have come from an impressive 367 runners.
Owing to UAE rulings on certain bloodlines at that time, in 2015 the Haras de Gastines at Issé in France was purchased, with a view to breeding the horses he already owned prior to that decision, outside of the UAE. Though this has been a worthwhile experiment, Al Nabooda's focus was always to promote UAE bred horses. He still has a number of broodmares shuttling to France to use AF Al Buraq, his homebred stallion now owned by HH Sheikh Hamdan bin Rashid Al Maktoum and standing at the Haras de Saint Faust under the Shadwell Arabians banner.
| | |
| --- | --- |
| | AF Maher G1 Al Maktoum Challenge R3 2019 |
Currently his bloodstock interests extend to around 400 horses, including 30 stallions. Most of the mares are based in the UAE, though this year he sent 15 to France to be covered by the UAE's leading sire AF Al Buraq, 11 have returned to the UAE, with three remaining in France.
"I always look to the dam line, downwards. The stallion is important to me, but more the dam line - what they produce and what they are related to. If you look at most of my broodmares, they are unraced or just placed, but they produce Group 1 horses. I believe more in the pedigree than performance."
His horses' bloodlines come from all over the world including France, England, Russia and Saudi Arabia. He credits Mary Bancroft and her book on pedigree analysis, which encouraged him to collect sales catalogues and study the pedigrees of successful horses. He says: "In the beginning I looked at the results to see what was winning, then looked at the pedigree of those winners and then I went to buy horses related to those winners."
This willingness has so far yielded two winners of the Dubai Kahayla Classic (Gr1PA), first with AF Mathmoon (AF Albahar) in the colours of HH Sheikh Hamdan and with AF Maher (AF Al Buraq), winning in his own colours.
Both winners are full brothers that he bred, out of Al Hanouf (Sabaan), although with AF Maher, it is an even greater achievement, as he also bred his mother AF Raad (Madour).
Following AF Maher's win Al Nabooda commented: "AF Maher proved that a local bred can compete and win world class prestigious races. Both AF Maher, and before him AF Mathmoon, made me proud, beyond my expectations and drew the attention of the world."
| | |
| --- | --- |
| AF Al Sajanjle wins the G2 Mazrat Al Ruwayah | AF Alwajel wins the G2 Liwa Oasis |
Though he does occasionally sell or gift his horses, it is always after great consideration. He feels that every one of his horses speaks to him with the desire to show him what they could do on the racetrack, if only allowed the time to do so.
Champion owner Khalid Khalifa Al Naboodah celebrates third title
| | |
| --- | --- |
| Khalid Khalifa Al Nabooda the TOP OWNER of UAE for the Racing Season 2018-2019 (Mr. Karl Oertel (R) receiving the trophy) | |
"For me, on the racing front, it was another good season. To win the owner's title for the third time in four years just goes to prove we can breed quality horses (Purebred Arabians) under challenging weather conditions. Obviously, the results and work that has gone into breeding horses gives me a lot of pleasure and happiness. It's even better when you are the champion owner with horses bred and raised in your own farms."
To win the owners' title for the third time in four years just goes to prove that we can breed quality horses despite the challenging weather conditions. Obviously, the results and work that have gone into breeding horses gives me a lot of pleasure and happiness. It's even better when you're the champion owner with horses that you bred and raised at your own studs."
One of Al Nabooda's salient attributes towards his accomplishment is that he doesn't interfere in the work of his trainers.
| | |
| --- | --- |
| AF Momtaz wins The GCC Cup | AF Mouthirah wins the Emirates Fillies Classic |
"I don't push those who prepare my horses for the races," he said. "I think many owners do, to run their horses even when they are not ready. This is a big mistake because they don't get the desired results. You have to be patient, especially with young Arabians. They need time, and every horse is different, like we humans. When you are dealing with horses, you need to know what you are doing to achieve success."
He is proud of his achievements so far and hopes to write a book for the next generation of breeders. Not to list those achievements, which is he rightly says can be 'seen straight away on the computer' but so that new breeders in the UAE facing the challenges he has faced may have a shorter journey to success than he has had.
Al Nabooda held his first private auctions in February, 2020. He had 30 horses on sale of which 25 sold.
On the way to the fourth title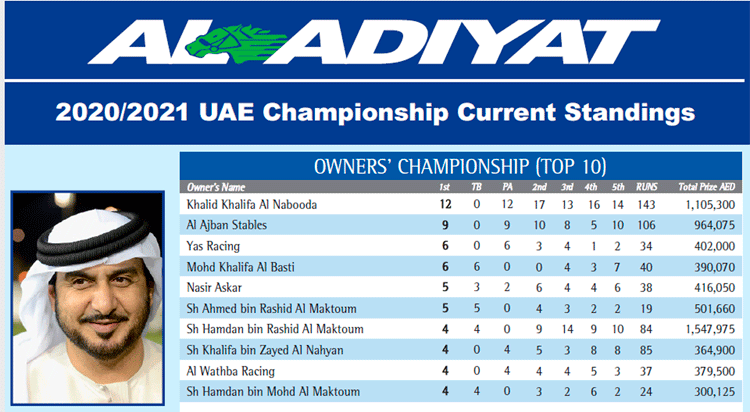 From the start of the 2020/21 season, with the first races at Al Ain Racecourse on 29 October to the last in Abu Dhabi on 20 December, Khalid Khalifa Al Nabooda leads the Statistics with his horses having finished first in 12 races , 17 in second place; 13 in third, 16 in fourth and 14 in fifth place.
In the five races in Sharjah Longines Racecourse, on November 28, Al Nabooda had a total of 19 horses competing, the only breeder with so many horses on a racing day so far: 11 as breeder and owner and 8 as breeder; being that he had three that won, three that finished in second place and two that finished third. Since the start of the season, this has been the day that most of Khalid Khalifa Al Nabooda's horses have competed. Are he, Ernst and Tadhg testing all the horses to choose which one will compete in the Dubai Kahayla Classic and try to win again?
"The big race - Dubai Kahayla Classic - is still far away and as you know depends to the horse rating and distance and the big race is by invitation. We do our best as breeder and owner to have something in the big race to present our country", said Al Nabooda
Of the major races held during this period, at Group 3 Sheikh Zayed bin Sultan Al Nahyan National Day Cup, at Abu Dhabi Equestrian Club, December 4, Khalid Khalifa Al Nabooda's AF Alwajel (AF Al Buraq x Samira De Carrere by Djouras Tu) confidently ridden by Tadhg O'Shea, won impressively the race.
Al Nabooda said: "As an Emirati owner and breeder this is one race I have always wanted to win. Now I have and I am so proud."
The duo Tadhg O'Shea and AF Taghzel (AF Al Buraq x Voici Kossack by Bengali D'Albert) finished in second place, with a neck difference from the first place, the HH Sheikh Mansoor bin Zayed Al Nahyan Cup, in Sharjah Longines Racecourse on December 12.
Khalid Khalifa Al Nabooda won the last Wathba Stallions Cup for Private Owners Only of the 2020, in Abu Dhabi, December 20, with AF Majalis (AF Albahar x Khute by Djouras Tu) ridden my Tadhg O'Shea.
In this race he had six horses of his breeding competing: four of which he owned and bred and two as a breeder: AF Majalis, the winner, AF Makerah, AF Hakeem and AF Ashras; AF Alareeq and AF Almajhaz as breeder.
| | |
| --- | --- |
| | AF Majalis - Wathba Stallions Cup Jan. 2021 |
"AF Majalis is a promising horse that I raised on my farm in France. I believe that as he is getting older he will be much stronger and much better. The second horse, which ran by another Owner, and the third I bred them in the UAE and thanks to Allah the breeding in the UAE is very good and promising and can compete with overseas horses", said Khalid Khalifa Al Nabooda.
In the Wathba Stallions Cup for Private Owners Only, on January 17, Tadhg O'Shea riding AF Majalis (AF Albahar x Khute by Djouras Tu) to lead in the final strides.
Tadhg O'Shea and AF Majalis finished 2020 and started 2021 by winning the Wathba Stallions Cup For Private Owners Only in Abu Dhabi.
Know more about AF FARMS: https://www.af-uae.com/alfarm/
Sources: The Arabian Racehorse, The National,, Khalid Khalifa Al Nabooda, Cidinha Franzão. Photos: Courtesy of Mr. Al Nabooda, Debbie Burt, Noëlle Derré/CCA and Emirates Racing Authority