King Monlau asserts absolute control in Bordeaux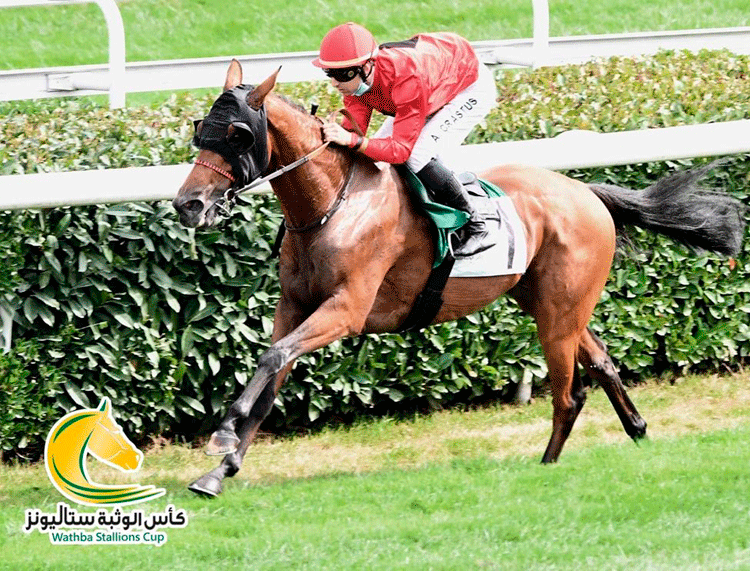 The horse King Monlau King Monlau (Jalnar Al Khalidiah x Ishraf by Ezil), for HH Sheikh Tahnoun bin Zayed Al Nahyan, National Security Adviser, under the supervision of Elizabeth Bernard and the leadership of Anthony Crastus, imposed absolute control, with a deserved and easy victory in the Prix Nedjari - Al Wathba Stallions Cup race, which was held on September 22 at the French Bordeaux le Bouscat Racecourse.
The Al Wathba Cup Stallions series of races is held under the directives of HH Sheikh Mansour bin Zayed Al Nahyan, Deputy Prime Minister and Minister of Presidential Affairs, to promote purebred Arabian horses and increase the interest of owners and breeders in them on the local and international arenas.
The 1900-meter race came with the participation of 11 fast competitors, and the challenged General Scoot led, followed by Ghaffar de Brugere while King Monlau was in fourth place, waiting for the appropriate opportunity to pounce on the lead.
And extended King Monlau absolute control over the course of the race from the depth of the straight line, despite the desperate attempts made by the horses competing, but the champion enjoyed the fastest pace ever to record his second victory in his racing history.
The 5-year-old champion won with a difference of 3 lengths for the Bahjar (Majd Al Arab x Forgehill Chantilly by Dormane),of the Omani Royal Cavalry, under the supervision of Charles Gourdain, and the leadership of Clemente Merille, recording a time of 2:19:91.
Text: Cidinha Franzão. Photos: Bordeaux le Bouscat Racecourse