Lady Princess conquers
Qatar Derby for Arabians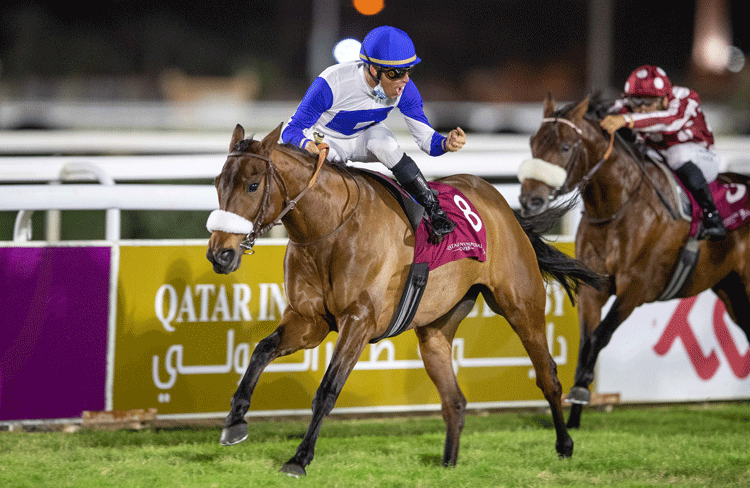 Lady Princess ridden by Julien Auge
The Minister of Culture and Sports HE Salah Bin Ghanem Bin Nasser Al Ali crowned the winners at the Qatar International Derby Festival at Al Rayyan Park on Sunday, December 20. The QREC Chairman HE Issa Bin Mohammed Al Mohannadi and the Chairman of the Qatar and Asian Equestrian Federations and QREC Vice Chairman Hamad Bin Abdulrahman Al Attiyah were present during the trophy presentation ceremony.
Khalifa Bin Sheail Al Kuwari's Lady Princess (General x Nacree Al Maury by Kesberoy), second in the Qatar Derby last season, landed the Purebred Arabian feature QATAR DERBY (Gr2 PA) (Far Bend) (Purebred Arabians 4 Year Olds ONLY) on Sunday comfortably. Runner up behind Umm Qarn's Jabalah (Al Mamun Monlau x Kouthar by Nizam) last year, Thomas Fourcy's ward, ridden by Julien Auge, reversed the order of the top two this time round as the HH The Amir Silver Sword topper bagged the 2000m run with two and three quarters of a length to spare at the post. H.H. Sheikh Mohammed Bin Khalifa Al Thani's Methgal (TM Fred Texas X Theeba By Amer), saddled by Julian Colin Smart, completed the top three under Alberto Sanna.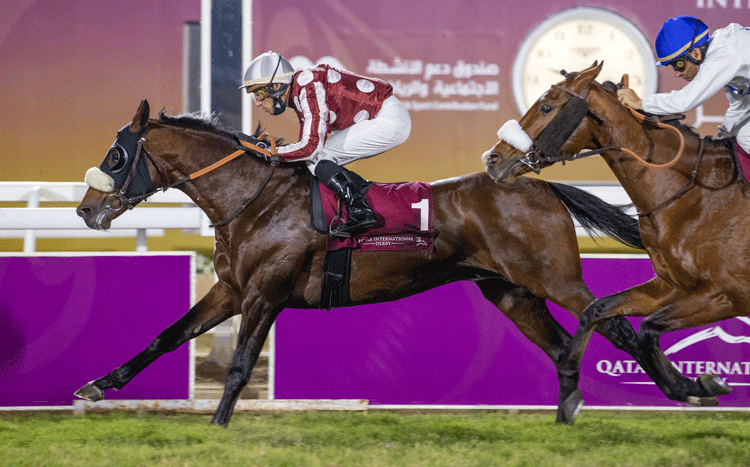 Antar ridden by Ronan Thomas
Umm Qarn's Antar (Al Mamun Monlau x Al Dahma by Amer) stayed unbeaten in Qatar, winning his second straight outing at Al Rayyan Park in the QATAR DERBY (Gr3 PA) (Far Bend) (Purebred Arabians 3 Year Olds Only) on Sunday. The mile long run saw Ronan Thomas giving a go-ahead to Alban Elie Marie De Mieulle's ward 200m from the finish and Antar was soon in the lead but being pursued by French raider HM Jalfane (Dahess x Al Musk by Azadi), ridden by Julien Auge in the colours of Abdullah Bin Fahad Al Attiyah for Thomas Fourcy. Antar was able to keep his lead as Auge and his partner could only manage second by half a length. Hassan Ali Alabdulmalik's Tarek Du Soleil (Dahess x Musique Du Soleil by Munjiz), ridden by Faleh Bughanaim for Deborah Amanda Clare Mountain, was third.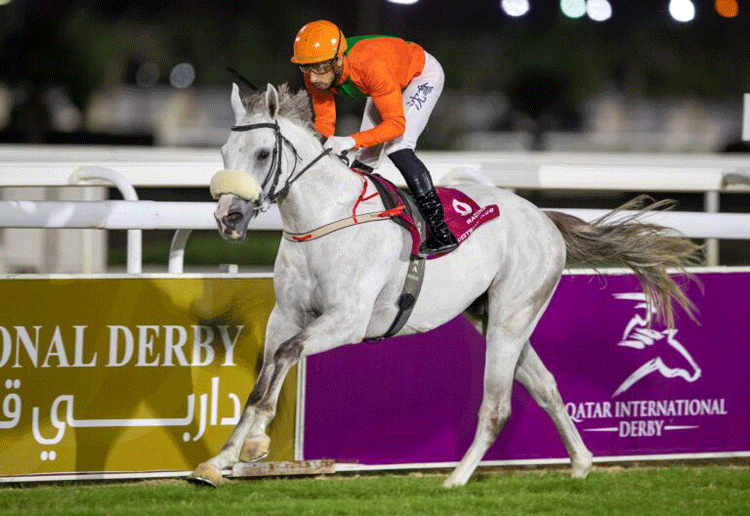 Wilyan ridden by Alberto Sanna
Saeed Bin Mubarak Saeed Aljafali Al Naimi's Wilyan (AF AlBahar x Ussania Du Pouy by Dormane) made light work of a step up in distance in the mile-long Local Purebred Arabian Plate (3 Year Olds) (Far Bend) on Sunday. Last month, the Majed Mahadi Seifeddine trained colt had impressed many with a runner up finish in a six furlong maiden sprint, and Alberto Sanna was astride the grey colt again. This time the colt went one better in breezy fashion taking the advantage on the straight and going past the post five lengths in front of the rivals.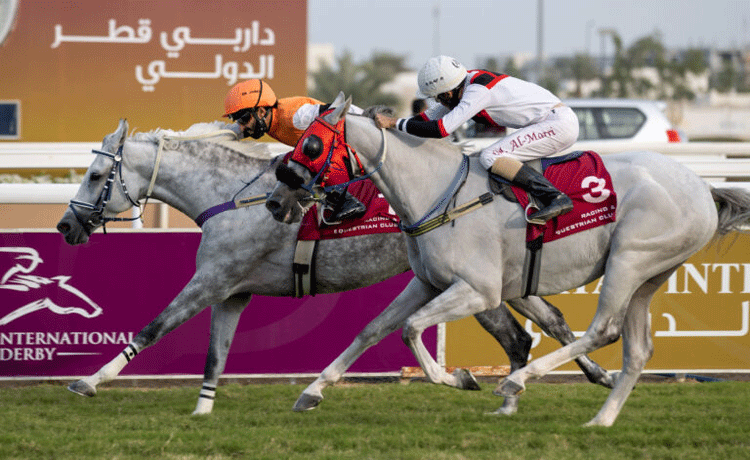 Rodina ridden by Saleh Salem Al Marri
Injaaz Stud's Rodina (Munjiz x Al Naamah by Amer) halted a string of fifth-place finishes to make a late run for victory in the Local Purebred Arabian Handicap (70 & below) on Sunday. Qatari rider Saleh Salem Al Marri continued what has been a big season for him so far as the apprentice jockey guided his 14th winner of the season in the 1850m run. As Meteb Ali Al Marri and his partner Rajab took the advantage coming on to the home straight, Rodina changed gears and the jockey guided her on to the inside, edging out her rival by a neck at the post.
Source: Qatar Racing & Equestrian Club. Photos: Juhaim/QREC