Lady Princess dazzles at ParisLongchamp winning Gr1 P/A Qatar Prix de
L'Arc de Triomphe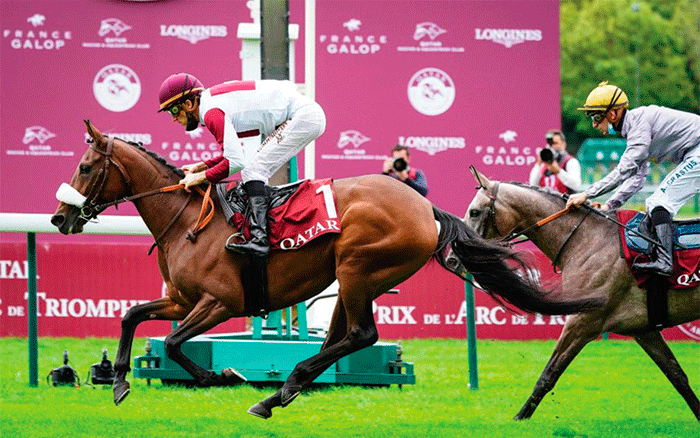 In presence of HE Sheikh Joaan Bin Hamad Al Thani, President of Qatar Olympic Committee, Qatari-owned horses continued to dazzle in the Qatar Prix de l'Arc de Triomphe weekend. Sheail Bin Khalifa Al Kuwari-owned Lady Princess was the impressive winner of the QREC-sponsored Gr1 P/A Qatar Arabian Trophie des Juments, for four-year-old fillies over 2,000m at ParisLongchamp on Saturday, 3 October.
Lady Princess's win was yet another demonstration of Qatar's leadership in Purebred Arabian racing, especially as it took place only 24 hours following two other Gr1 P/A victories landed by Al Shaqab Racing's Alawsj in the Qatar Arabian Trophy des Pouliches and Sheail Bin Khalifa Al Kuwari's Hadi de Carrere in the Qatar Arabian Trophy des Poulains at St. Cloud.
Lady Princess (General x Nacree Al Maury by Kesberoy) gave her owner Sheail Bin Khalifa Al Kuwari another prestigious title in less than 24 hours! These colours were also carried to success the day before in the Qatar Arabian Trophy des Poulains (Gr1 PA) by Hadi de Carrere (Nieshan). Lady Princess is trained by Thomas Fourcy, who in fact trained the first four homes in the Qatar Arabian Trophy des Juments (Group 1 PA)!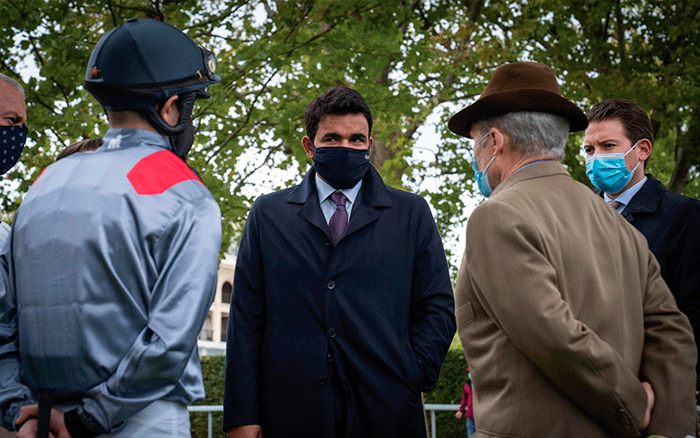 HE Sheikh Joaan Bin Hamad Al Thani, President of Qatar Olympic Committee
In second was Um Taj (Al Mamun Monlau x Dyala by Amer), third Meethag (Dahor de Brugère) and fourth Ryme Al Cham (Af Albahar) – all in the colours of Al Shaqab Racing! Lady Princess was ridden by Christophe Soumillon, who also won the first race of the day.
The filly sat quietly in second last through the race, which was run at a very steady pace in heavy ground. Once in the straight, she came immediately on the attack, flying down the center of the track past her opponents!
Naturally, Thomas Fourcy was delighted! "I am having an extraordinary weekend! Yesterday I won the two Group 1's for the Arabs at Saint-Cloud and now this. Last year i had a superb batch of three-year-olds and with them this year we have won some good prizes. They haven't ran that much due to the confinement and they have stayed nice and fresh.  To have four horses finish in the first four places is incredible. Lady Princess has a huge heart. She hasn't got a lot of flair but she knows how to get the job done… Christophe Soumillon, her jockey, was super patient. She is only small but she is much stronger than the others"
Christophe Soumillon added, "She sat down in the stalls and we didn't get a great break. Despite this I didn't want to force her early on, I knew beforehand that she is a lot faster than the rest of the field. I would have liked to have held her up in last place but Quitte lost a bit of ground. We got a little bump turning for home but once I asked her for an effort she accelerated with ease".
These victories further enhance the standing of Purebred Arabian races sponsored by Qatar, reflect the success of QREC's vision of promoting Purebred Arabian racing worldwide, and foster Qatar's pioneering image in this discipline.
Source: QREC/JDG. Photo credits: Scoopdyga