Mahatma Rach wins first race
of the year in São Paulo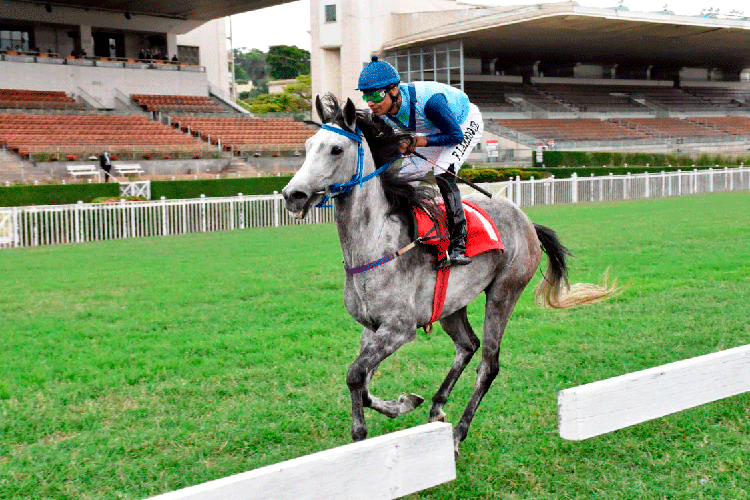 Purebred Arabian Races at Cidade Jardim Hippodrome returned on October 24, following all the protocols due the pandemic, with the holding of the Prix Arabian Returns, a 1000m conditions contest on turf for three years-old and upwards up to two wins and a purse of R$10,000 (ten thousands Reais) and won emphatically by Mahatma Rach, among the six runners.
Mahatma Rach (Sarmata X Magic All Rach by Ulysses Rach), conducted by Fernando Larroque, takes the lead at the start and in the last furlong opens nine lengths of advantage over Mentor Rach (Sarmata x Musa Rach by *Polonez) ridden by Apprentice 2 jockey: I. Silva.
Both are trained by Lucas Quintana, who had four of the six horses in the race, and are bred and owned by the brothers Paulo and Ricardo Saliba from Rach Stud Agropecuária Ltda.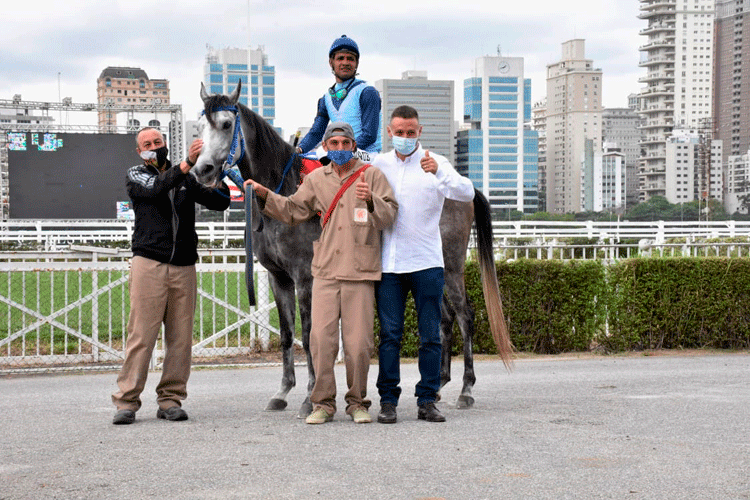 With this race, Mahatma Rach adds three victories in his career that started last year. In his debut last year on June 22, Mahatma Rach won with a new record for colts at the Desert's Heritage Prize and was the winner of RG Kreta Hall of Fame Prix, held on October 12, 2019.
Breeder and owner Paulo Saliba said: "More important than victory was the return to Purebred Arabian racing in São Paulo. We had stopped due to the Covid-19 pandemic and it is clear that uncertainty remained whether we would return. It was a resumption day and the race was very good, despite the short training time of the animals. Mahatma Rach is already more experienced and we thought the dispute would be between him and Egyto LA, also a great horse. Our other two horses that came in 2nd (Mentor Rach) and 3rd (Graccus Rach) places are also very future and with pedigrees aimed at racing and sport. Anyway, it was a great start!"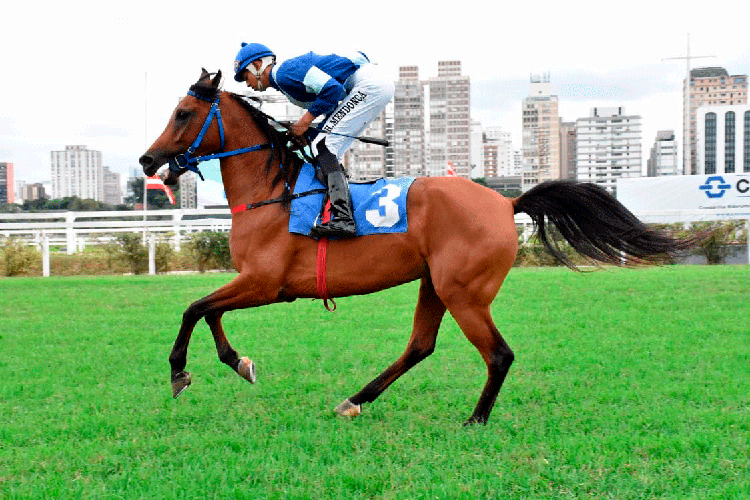 Mentor Rach ridden by Apprentice 2 jockey: I. Silva
Almir Ribeiro, Racing Director of the Brazilian Arabian Horse Breeders Association, points out that "during the 2020-2021 calendar, the total purse for all races will be R$ 390,000. Thus, the value exceeds the previous year's calendar, which had a purse of around R$ 210,000, in addition to the support of several sponsors, which shows that the Purebred Arabian races in Brazil will soon be part of the international calendar."
The next races will be on November 14: Grand Prix National 2020 for colts and geldings up to three wins and GP Arabian Ladies for Fillies up to two wins. Both with a purse of R $ 15,000 each one.
The 2020-2021 Calendar started on October 24, 2020 and will end on December 4, 2021, comprising 27 races.
The Prix Arabian Returns is organized by the Brazilian Arabian Horse Breeders Association in partnership with the Jockey Club de São Paulo.
Results: Mahatma Rach (first), Mentor Rach (second), Graccus Rach (third - Veracious Rach x Gracyara HCF by LD Halston, ridden by B. Queiroz), El Chall LA (fourth - Magnun Chall HVP x Arabesca LA by Ansata Shaamis, ridden by W. Ariel), Egyto LA (fifth - Magnun Chall HVP x *HLP Darkyna Fame by Legacy Of Fame ridden by A. Mesquita) and Revelation Rach (sixth - *Eksport x Rapunzel Rach by Voltaire Rach ridden by R. Mendonça).
Text: Cidinha Franzão. Photos: Porfírio Menezes