Mubasher Alkhalediah gets the better of stablemate Mutwakel Alkhalediah to take the Obaiya Arabian Classic
Local rider Adel Alfouraidi maintains golden run

Mubasher Al Khalediah ridden by Adel Alfouraidi - Photo: Cidinha Franzão
The second running of the Obaiya Arabian Classic as part of the Saudi Cup card saw the crowning of a new champion in Saudi Arabian racing in Mubasher Al Khalediah. Already the winner of two Prince Sultan World Cups (Gr1PA), the six-year-old took over the mantle of Al Khalediah's star runner from Tallaab Al Khalediah.
Mubasher Al khalediah (KSA) flashed home to grab victory from his stablemate Mutwakel Alkhalediah in the US $2 million Obaiya Arabian Classic, giving Saudi jockey Adel Alfouraidi a highly popular victory in the richest race in the world for Purebred Arabians.
The 6-year-old gave warning last time out that this upset could happen when beating Tallaab Alkhalediah - defending champion from this 2000m race in 2020 - in the Group 1 Prince Sultan World Cup. Both horses are trained locally by Mutlaq Mashref and owned by Alkhalediah Stables.
Drawn in stall five he was settled in the rear on the rail, though was soon brought wide by Adel Alfouradi and gradually made his way closer to the pace. Tallaab Al Khalediah had the advantage of stall one, which should have been ideal for this regular frontrunner, however by the home turn, it seemed that age had finally caught up with the 10-year-old. Deryan took over the lead, tracked by Mutawakel Al Khalediah, with Mubasher Al Khalediah steadily making ground behind.
This gave Al Khalediah Stables and trainer Mutlaq Mushref a one-two in the world's most valuable race for Arabians. Prince Fahad, representing winning owner said: "It means a lot to us; His Royal Highness Prince Khaled always wants to have the first in all races. We wish that the champ of last year won it this year; thank God we won this race with a Saudi jockey and got first and second places, which is a very good start to the year, and we hope to get better in the future.

It was between the grey Alkhalediah pair in the home straight and Alfouraidi, who had enjoyed a victory in Friday's stc International Jockeys Challenge, came with a powerful run wide of Mutwakel Alkhalediah approaching the final 200m and took the prize by a length and a quarter.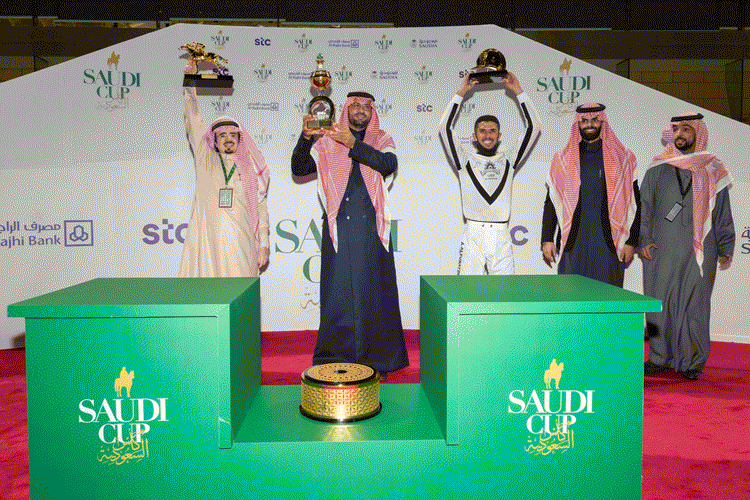 Photo: Neville-Hopwood
Prince Fahad, representing winning owner Alkhalediah Stables, said: "It means a lot to us; His Royal Highness Prince Khaled always wants to have the first in all races. We wish that the champ of last year won it this year; thank God we won this race with a Saudi jockey and got first and second places, which is a very good start to the year, and we hope to get better in the future.

"Our jockey won a Group 1 at the end of last month, so we were expecting a lot out of him. I think this horse is one of two future stars of Alkhalediah Stables. Hopefully we will see him in the Dubai Kahayla Classic, and hopefully he can win. We hope he repeats the love story of Tallaab Alkhalediah."
Source: The Saudi Cup Media Group and Cidinha Franzao