Mullen and De Vries win Fillies and Colts Classics in Abu Dhabi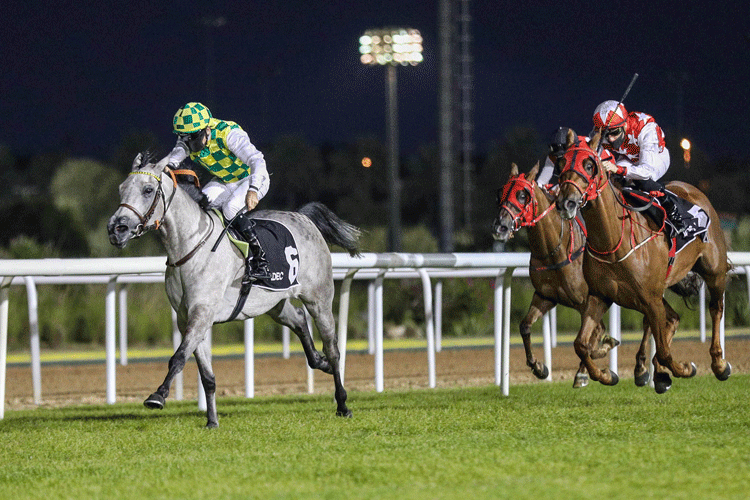 Heba Al Wathba ridden by Richard Mullen
Sunday evening's racing on the Abu Dhabi Equestrian Club turf featured joint highlights, the Abu Dhabi Fillies Classic and Abu Dhabi Colts Classic, both restricted to 3-year-olds, on December 13.
Each race carries Prestige status and it was 'ladies first' with the fillies' event preceding the colts' version, won impressively by debutante Heba Al Wathba (Rabbah De Carrere x Rudina by Burning Sand); a polished effort from Richard Mullen, riding for Al Wathba Racing and Frenchman Jean de Roualle. Settled in about fifth, in a race few of the 13 fillies were ever really competitive, Mullen challenged between rivals halfway up the straight, grabbing the initiative about 175m from home and staying on strongly.
Of the homebred filly, Mullen said: "She has a touch of class this filly and we hope she is one for the future because there is definitely plenty of ability there. We really like her and there should be a lot more to come, but I imagine she will probably only have one more run this season because she is going to grow and strengthen. She could be very smart and is in perfect hands with Jean de Roualle who will give her plenty of time, as will the owners. It is always special to win a feature race with a homebred."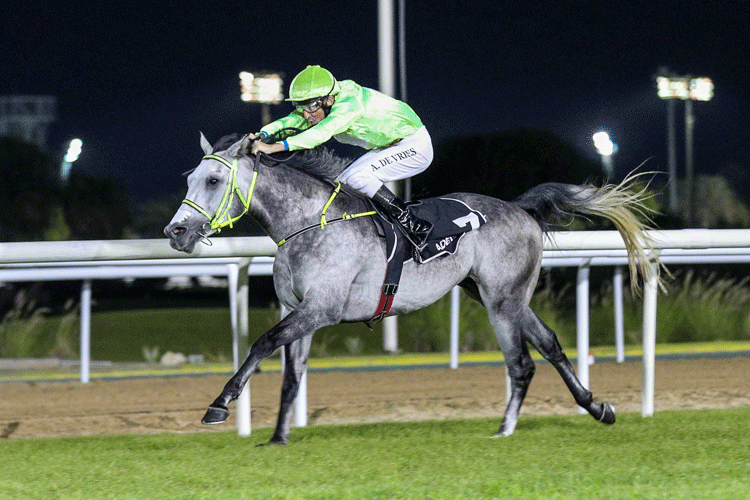 Hameem ridden by Adrie de Vries
Half an hour later over the same 1400m, a capacity field of 16 contested the Abu Dhabi Colts Classic which was run at a furious early gallop with AF Thayer (AF Alsalaam x Aberfeldy by Amer) and Sawt Assalam (Mahabb x Prime D'Or by Dormane) scorching the turf throughout the first 1100m. As those two duelled for the lead, Adrie de Vries and Hameem (Valiant Boy x RB Burn Baby Sun by TH Richie) led the remaining runners, closing on the leaders to challenge with about 250m remaining. AF Thayer was the first to crack, Sawt Assalam lasting a bit longer, but soon beaten off with Hameem shooting clear with the race in safekeeping. A 1600m winner on dirt at Al Ain, the colt, saddled by Abdallah Al Hammadi for Al Ajban Stables, remains unbeaten having also scored over the same trip just last Friday in a conditions race here in Abu Dhabi.
De Vries said: "He is a very nice horse who I won well on here just last week over 1600m. That was a concern; coming back so quickly and dropping in trip, but he learned a lot last week because he was always travelling much better today. The fast gallop has really suited him and he showed a really good turn of foot. In fact, I ended up in front sooner than I wanted, but he is a proper little horse and galloped on strongly."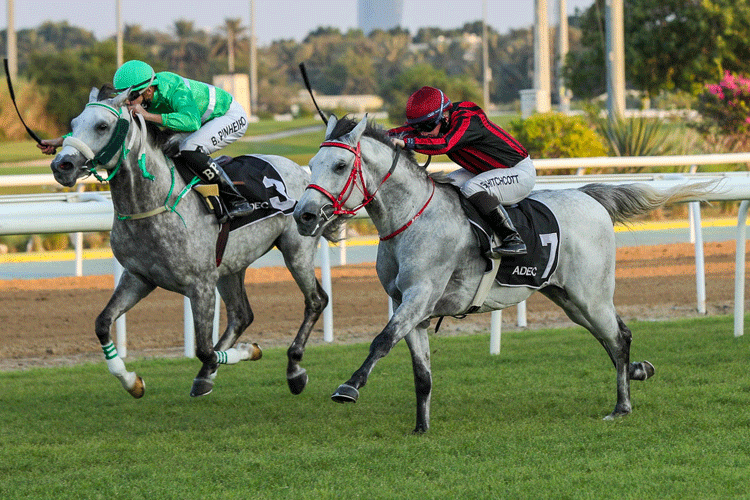 AF Yastafez ridden by Bernardo Pinheiro (L) and Majd Al Megirat ridden by San Hitchcott (R)
The meeting kicked off with a 1200m maiden for horses foaled in the UAE in which AF Yastafez (Ahmadani Musafer x RS Suhaylah by Burning Sand) made a bold attempt to make all under Bernardo Pinheiro, the pair having most of their 13 rivals beaten off early in the straight, only to be snared close home by Sam Hitchcott aboard Majd Al Megirat (Big Easy x Platine de Sinuhe by Amer).
Settled in behind the leaders throughout the first half of the race, Hitchcott sent his mount after the early leader leaving the home turn and found a willing partner, the pair finishing well to snatch the spoils in the final 30m, the 4-year-old making it third time lucky. Well beaten on debut in February, over 1400m on dirt at Al Ain, he was then second exactly a month later over the same 1200m course and distance as this victory. It was a first ever winner for trainer Ahmed Al Shehhi whose career highlight, prior to this, was the aforementioned runner-up finish by this horse in March. It was a second, but first for a long time, that the silks of owner Ahmed Aljneibi had been carried to victory.
Hitchcott said: "In fairness to the trainer he was pretty confident as the colt showed last season that these conditions suit him. The plan was always to sit just behind the speed, then challenge in the straight and everything went smoothly."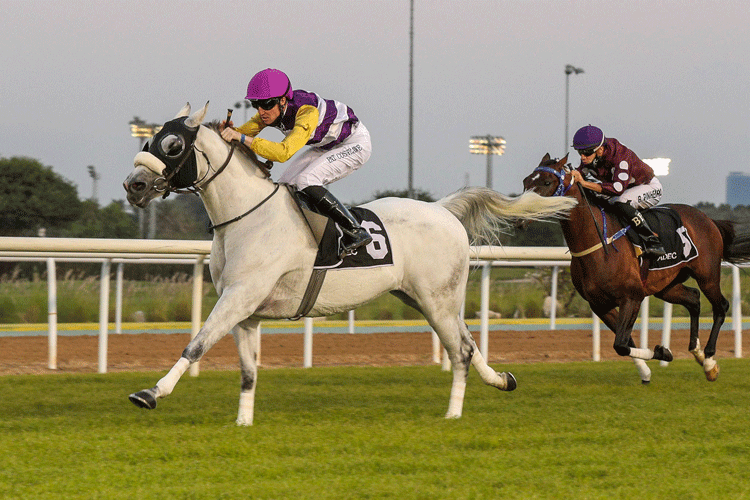 Dassan DA ridden by Pat Cosgrave
Drawn widest of all the 15 runners in a 1600m handicap, Pat Cosgrave decided to stay there aboard Dassan DA (Majd Al Arab x Froda DA by Altis Del Sol), initially settling about halfway down the field before making smooth progress approaching the home turn.
Still widest of all, they were soon in front before powering clear down the centre of the track to, ultimately, win relatively easily for Helal Alalawi. It was a fifth career success for the 8-year-old gelding, but first since February 2019. The only horse to have carried the colours of Mohd Ali Saif Ali Al Mezaini, he was registering the owner a maiden success at the fourth attempt, all this season and in the capital.
Alalawi said: "Pat has given him a great ride. We decided to keep him out of trouble, which Pat has done perfectly, and then to be positive because we know he stays further. That said, these are probably his ideal conditions."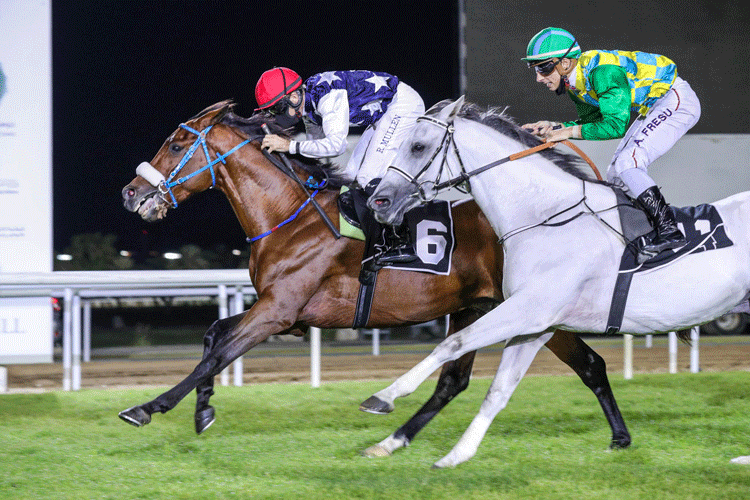 Jawal Al Reef ridden by Richard Mullen (L)
In the Wathba Stallions Cup for Private Owners Only, a 2200m handicap provided the perfect opportunity for Richard Mullen to complete a double, producing Jawal Al Reef (Bibi De Carrere x Darffa by Kesberoy) to lead early in the straight before staying on strongly for trainer Ahmed Al Mehairbi and owner Saif Asheer Ali Sulaiman Al Mazrouei, a second winner for each this season.
Settled nearer last than first after a tardy start; the 7-year-old entire made stealthy progress on the back straight before challenging as the leaders entered the home turn. It was a fourth win for the horse, third on turf, but over further than a 1400m and two 1600m victories.
Mullen said: "Stamina was perhaps a concern, but he settled very well and has actually seen the trip out very well indeed. It has been a good evening."
Source and Photos: Emirates Racing Authority