Mwarid and Watnah Al Sakab win Musheireb Cup and Qatari Breeders Trophy respectively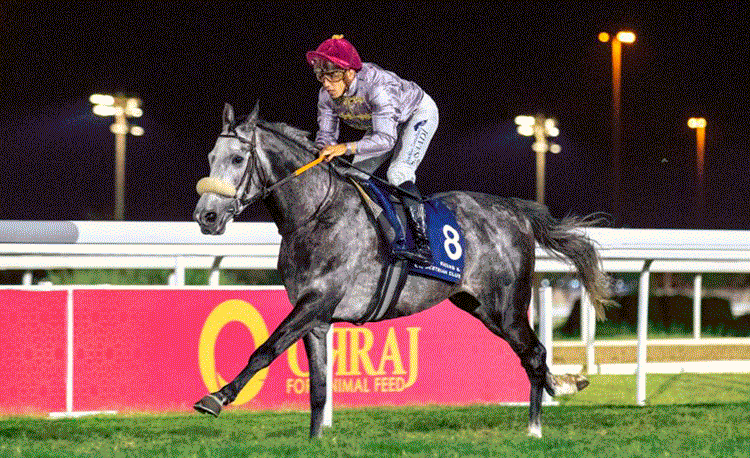 Mwarid ridden by Soufiane Saadi
Al Shaqab Racing's Mwarid (Amer x Al Nachmiya) has only gone from strength to strength since a ninth-place finish on debut and his progress up the grade went well for the 5yo as he bagged the Musheireb Cup (Purebred Arabians) in a breezy fashion at Al Rayyan Park turf. The Alban de Mieulle-trained grey horse had Soufiane Saadi for company who had helmed the 5yo to his two straight victories coming into the 2000m feature. Osama Omer Al Dafea's Ginkeau (Divamer x Eauvation Des Cedres) took the second spot three lengths and three quarters behind the winner under Marco Casamento. Another De Mieulle ward, Mohammed Bin Fahad Al Attiya's Goldamer (Amer x Nacree Al Maury) rounded out the top three under Faleh Bughanaim.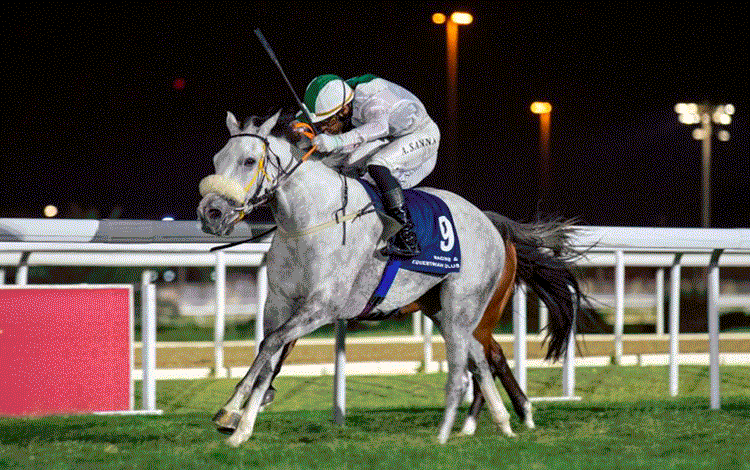 Watnah Al Sakab ridden by Alberto Sana
Al Sakab Stud's Watnah Al Sakab (TM Fred Texas x Al Zobara Al Sakab) stayed unbeaten when she raced to her second consecutive victory from as many starts at Al Rayyan Park. Ibrahim Saeed Al Malki's ward had Alberto Sanna for company in the Qatari Breeders Trophy and by the end of the seven furlongs, the grey filly was a length in front of runner up AJSSaaeq (AF AlBahar x SahabAlZaeem), trained by Rashid Al Ali and ridden by Soufiane Saadi in the colours of Al Jeryan Stud. Another Al Sakab Stud contender, Al Sij Al Sakab (TMFredTexas x Gaza), also schooled by Al Malki, made it to third place under Tomas Lukasek.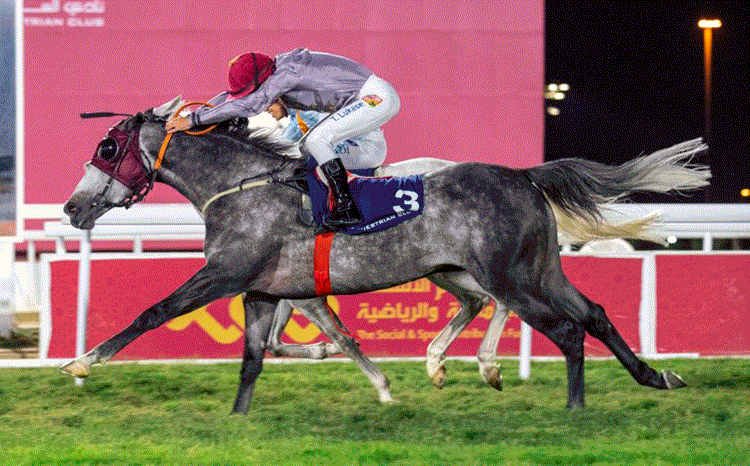 Latam ridden by Tomas Lukasek
Al Shaqab Racing's Latam (TM Fred Texas x Ajdabya) raced to a double following up his Al Uqda Complex victory in March with a win in the Purebred Arabian Handicap. The Ibrahim Saeed Al Malki-schooled 6yo showed versatility stepping down from 2100m last time round to seven furlongs around Al Rayyan Park and the Tomas Lukasek-ridden horse edged out the Soufiane Saadi-ridden Quepos by a head for a memorable win. It was the second victory for the colours and the trainer together on the day.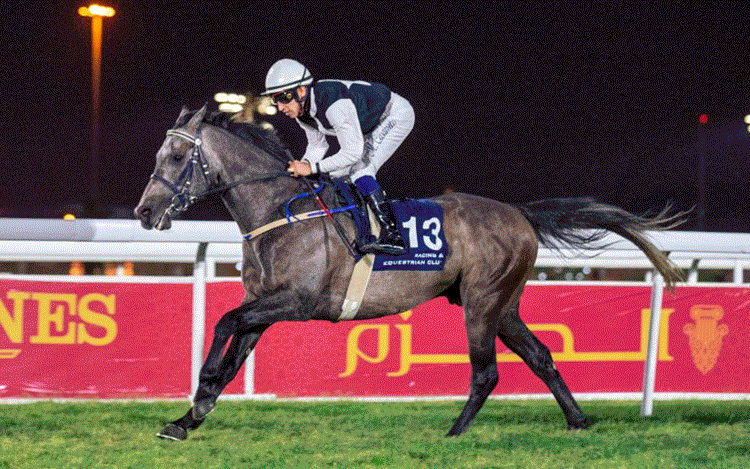 Djafar ridden by Marco Casamento
Al Ghazali Stud's Djafar (Dahess x Badira) followed up a couple of promising runs earlier this season, including a third place in Qatar Silver Sword earlier this month, to win for the first time in his career on Thursday. Helmed by Marco Casamento for the first time, the Gassim Ghazali-schooled colt was in spectacular form as the jockey guided his 4yo mount to a dominant victory with eight lengths and three quarters to spare with Faleh Bughanaim and Khattab De Faust finishing second in the 2350m race.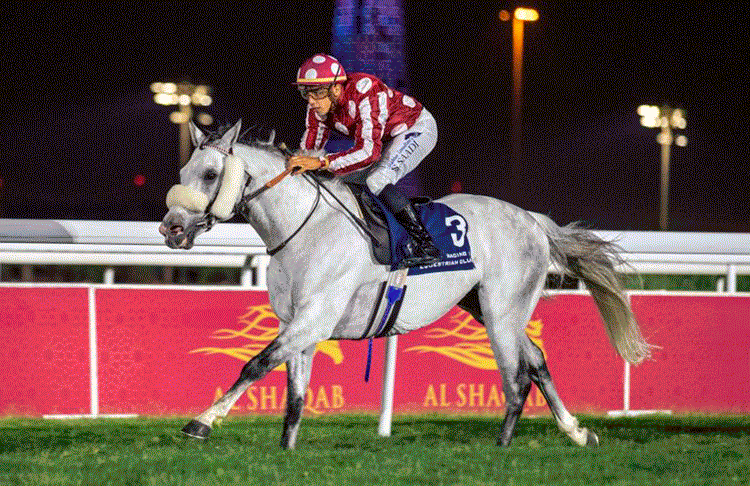 Sealine ridden by Soufiane Saadi
Umm Qarn's Sealine (Amer x Jaljalah) completed a double, following up his Qatar Silver Trophy victory with a fine win at Al Rayyan Park. The Alban de Mieulle-schooled horse landed the Local Purebred Arabian Conditions with two lengths to spare as Soufiane Saadi rode the 7yo to their first win together in front of the Faleh Bughanaim-helmed Ishfaq. The win was Sealine's third this campaign and eighth overall.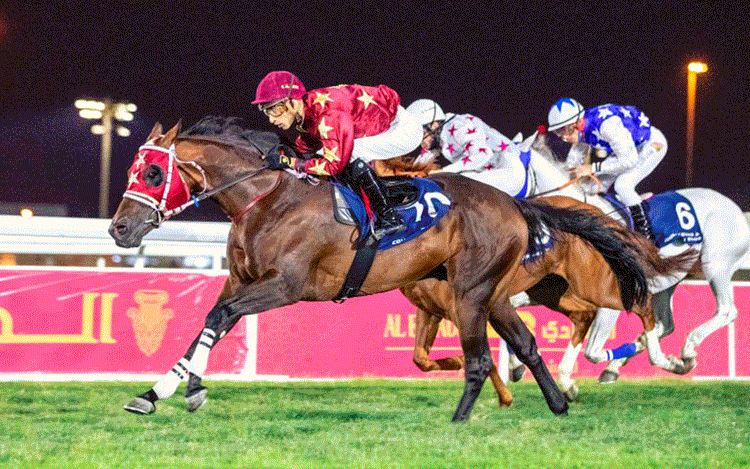 Chrome ridden by Carlos Henrique
Jassim Bin Ali Al Attiyah's Chrome (Pharfadet x Thekrayaat) registered his first career win after what has been a busy season. Wasim Al Sahn's ward was on his 11th start this season and had Carlos Henrique in the saddle for the first time in his career when they lined up in Gate 13 for the Local Purebred Arabian Novice Plate on. After 1850m of close racing action, the 4yo colt landed the event in fine fashion, beating the Adnan Hawa-ridden AJS Saddam by one and a half lengths.
Source: Qatar Racing & Equestrian Club. Photos: Juhaim/QREC