Nasser bin Hamad crowns Al Hashemi of Victorious Champion of National Day Endurance Championship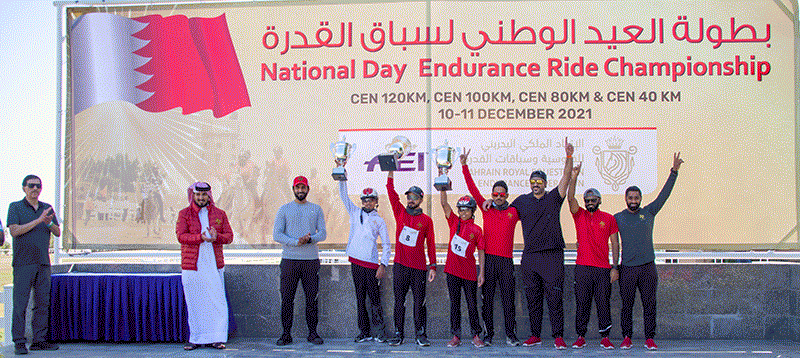 HH Shaikh Nasser bin Hamad Al Khalifa, Representative of HM the King for Humanitarian Works and Youth Affairs Honourary President of Bahrain Royal Equestrian and Endurance Federation (BREEF) has crowned, in the presence of HH Shaikh Isa bin Abdullah Al Khalifa, President of BREEF, jockey Mohammed Abdulhameed Al Hashemi of the Victorious team as the champion of the 120km race which was held as part of the National Day Endurance Championship which was organised by BREEF on the occasion of the Kingdom's celebrations to the National Day and HM the King's accession to the throne. The event featured wide participation.
Moreover, HH Shaikh Nasser crowned Abdullah Al Ruwaie of the Victorious team and his teammate Isa Al Anezi as the second-place and third-place winners respectively. Commenting on this, HH Shaikh Nasser praised the great performances featured in the event as well as the wide participation, hailing the fierce competitions witnessed throughout the race.
| | | |
| --- | --- | --- |
| Mohamed A. Al Hashemi riding Forever Font Noire | Abdulla Hasan Al Rowaie riding Villapruccio | Isa Hameed D. Al Anezi riding Safien |
He explained that the event delivered many goals, foremost of which confirming the great capabilities of the Kingdom's jockeys and stables to compete with the best as this is an essential requirement to ensure the development of the endurance sport in Bahrain.
"All the jockeys gave their all to win, and we are happy with their displays. We will continue exerting further efforts to grow our endurance sport and enable it to reach the desired horizons. We will continue implementing our development initiatives and support the jockeys as well as the stables," HH Shaikh Nasser said.
Meanwhile, HH Shaikh Nasser applauded the exceptional organisation of the event and the efforts made by BREEF under the presidency of HH Shaikh Isa bin Abdullah Al Khalifa to make it a great success, adding that the Kingdom possesses many qualified administrative and technical cadres who are able to contribute to making major functions a tremendous success.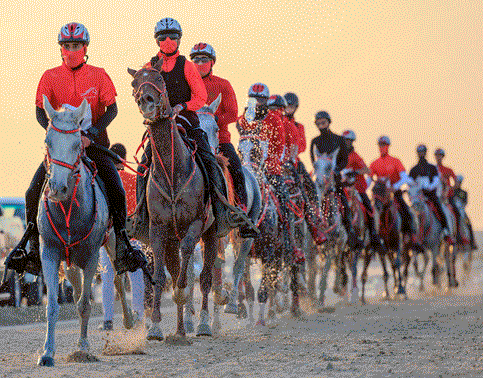 From his side, HH Shaikh Isa bin Abdullah Al Khalifa expressed utmost thanks and appreciation to HH Shaikh Nasser for his continued efforts to develop the endurance sport.
He explained that the performances witnessed in the event are a clear statement for the tangible elevation of this sport in the Kingdom thanks to the backing of HH Shaikh Nasser bin Hamad Al Khalifa.
It's worth noting that Mohamed A. Al Hashemi, riding Forever Font Noire, posted a time of 4 hours, 17 minutes and 15 seconds to win first, while Abdulla Hasan Al Rowaie, riding Villapruccio, came second in 4 hours, 17 minutes and 40 seconds. Isa Hameed D. Al Anezi, riding Safien, finished third in 4 hours, 19 minutes.
Source: HH Sheikh Nasser Media Office