Natalma Al Maury, the winning choice of Olivier Trigodet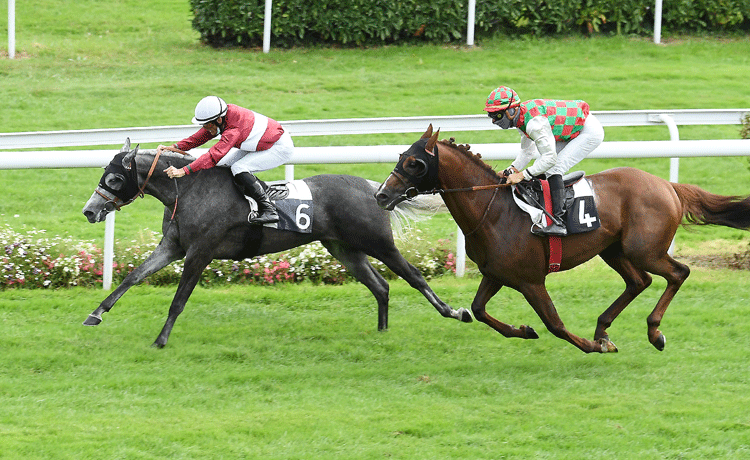 Still a maiden, Natalma Al Maury (Dahess x No Worry Al Maury by Dormane) could have run the Prix Nedjari - Wathba Stallions Cup later in the day, but Olivier Trigodet made a bet by presenting this student and representative of Renée-Laure Koch in the AFAC French Arabian Breeders 'Challenge Sprint (Gr2 PA), at Hippodrome Bordeaux-Le Bouscat, on September 22.
A winning bet, since at the end of a tailor-made course, the filly opened her prize list directly in a Group.
Offensively climbing, Natalma Al Maury galloped behind Kanaan (Sarrab x Shamayol by Kesberoy), well wedged to the rope. The opening was made at the entrance to the straight line and Alexandre Gavilan clocked his partner who took the advantage.
When the favorite, Deryan (Mahabb x Haboob by Akbar), announced himself, Natalma Al Maury got off to a good start. She won three-quarters in front of Deryan, while Kanaan retained third place. Moved, Olivier
Trigodet confided to the microphone of Equidia: "I am very happy because Renée-Laure Koch has placed her trust in me since my beginnings as a trainer. She also let me choose the race. I thought my filly was really beautiful. She is late and I think she is maturing now. She really does something after a golden course given by Alexandre Gavilan. It is very important for her career as a broodmare to win at Group level, and as it is for her mother. There aren't many races left over this distance and we might wait until next year."
Source: JDG. Photo: Robert Polin