Nine horses compete in the UAE President Cup in Poland

The Porównawcza Stakes held under the patronage of the UAE President Cup is additionally subsidized by UAE MINISTRY OF PRESIDENTIAL AFFAIRS IN ABU DHABI. This makes it one of the most highly subsidized races for purebred Arabian horses at the Służewiec Racecourse.
The race was introduced into the racing calendar a year later than the Derby and Oaks races for thoroughbreds, and thus a year after Arabian horses began racing at racecourses in Poland. As the name suggests, the objective for this race is to compare the strength of each yearling. The race features the best 4 year old and older mounts, as well as the best 3 year old horses, which benefit from the weight allowance. It is a very prestigious race, lower in status than the Derby and the European Championship only.
This year we will not be able to see the youngest representatives in the Porównawcza Stakes but the top nine Arabians currently demonstrate a fantastic form. A group of four-year-olds in the colors of Polska AKF Sp. z o.o, including Rasmy Al Khalediah, Mayar Al Khalediah and Wasmy Al Khalediah, will surely challenge the experienced Dragon and the mare Wasma Al Khalediah as well as Wielki Dakris, who is returning to form.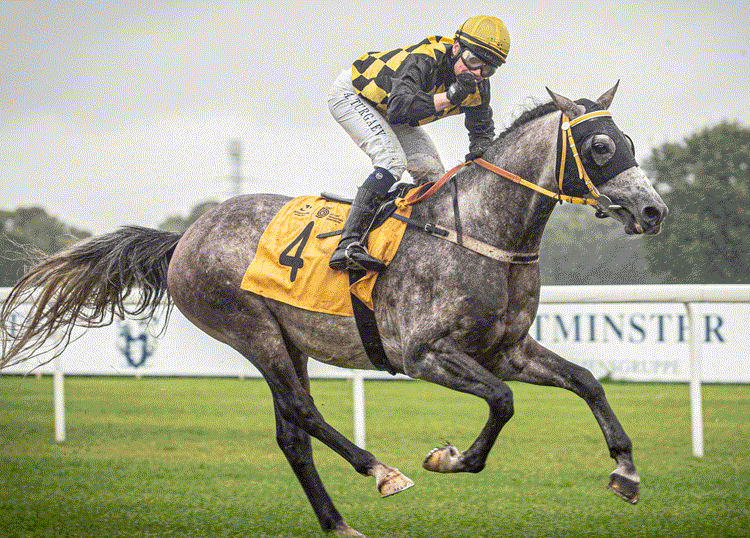 starting number: 1
WIELKI DAKRIS, 5-year-old stallion (Mared Al Sahra – Wielka Damira / Ontario HF)
breeder: K. Zakolski
owner: K. Zakolski
trainer: Adam Wyrzyk
jockey: Joanna Wyrzyk 62 kg
He is one of the best Arabian horses bred in Poland over the past years. A number of successful performances and one victory at the age of three were a positive prelude to his further career, which strongly developed in the following season. He reached for the Kabaret Stakes and won the Derby despite the fact that he had caused Szczepan Mazur a lot of trouble a few weeks earlier in the main pre-debut test, the Janów Race, where he finished third. The Blue Ribbon Race was a turning point for him because he has been running at an even, high level ever since that success. He finished third in the last year's Europa Stakes and then came in second twice in the highest category races, the Michałów and Porównawcza Stakes.
His performance this season was much weaker. He took a long time to come back to last year's successes and one could slowly lose hope that he would break through. However, he demonstrated a completely different face in the Grand Slam race and took an unexpected win ridden by jockey Anton Turgaev. This time the bar will be raised higher but if the stallion has awakened for good, he stands a good chance for a successful performance.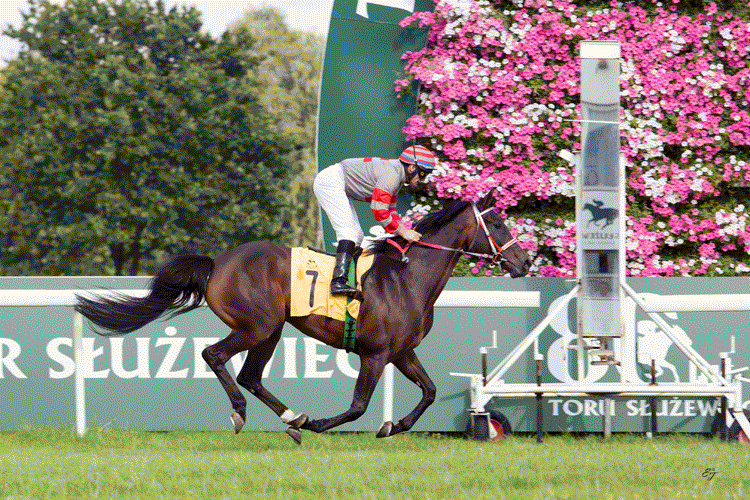 starting number: 2
GENERAL LADY (FR), 7-year-old mare (General – Rivale d'Enfer / Dormane)
breeder: E.A.R.L. Haras du Grand Courgeon
owner: WOW! Sp. z o.o.
trainer: Wojciech Olkowski
jockey: Esenthur Turganaaly Uulu 62 kg
A very fast mare of an excellent pedigree. In the past she belonged to the best of the Arabian horses at Służewiec. She also took the second place in Prix Dragon (G1) at Longchamp. She is still able to run at a very good level although she was more successful in Group I and B races this year. Among others she came in second in the Sabellina Stakes right behind Wasma Al Khalediah. Her last performance (the Michałów Stakes) shows, however, that she is a little behind the top horses at the moment, which is why this time she will compete as a lower rated horse.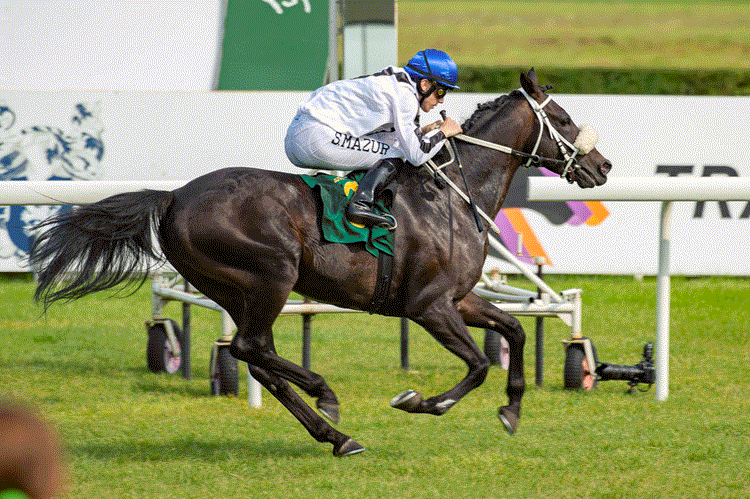 starting number: 3
RASMY AL KHALEDIAH (FR), 4-year-old stallion(Nayef Al Khalidiah – Rajwa Al Khalediah / Tiwaiq)
breeder: Al Khalediah Stables
owner: Polska AKF Sp. z o.o.
trainer: Janusz Kozłowski
jockey: Anton Turgaev 59 kg
This exceptionally handsome and talented stallion proved to be an excellent runner as early as at the age of three. His dynamically developing career was a bit hampered by injuries but thanks to being carefully looked after by Janusz and Katarzyna Kozłowski, he finished his first season undefeated - he won three times at Służewiec and once in Italy.
His preparations this year were again disrupted by injury. Nevertheless Rasmy finished third in the Tiwaiq Central European Arabian Derby (behind Dary Al Khalediah and Mayar Al Khalediah) and went to the Derby in France. He failed there but marked his return to top form in July by scoring an easy win in a Listed race in Sweden, where he proved far better than Mayar, whom he was to face again at Służewiec in the Al Khalediah Poland Cup (Listed). After a brilliant fight he outstripped his rival and set a new Warsaw course record over 1,600 m at 1'45.9". In September he went to Sweden to take an easy victory once more.
At the moment, thanks to his three victories in Listed races, he is one of the most successful horses in Poland and certainly has to be counted among the favorites for the UAE President Cup.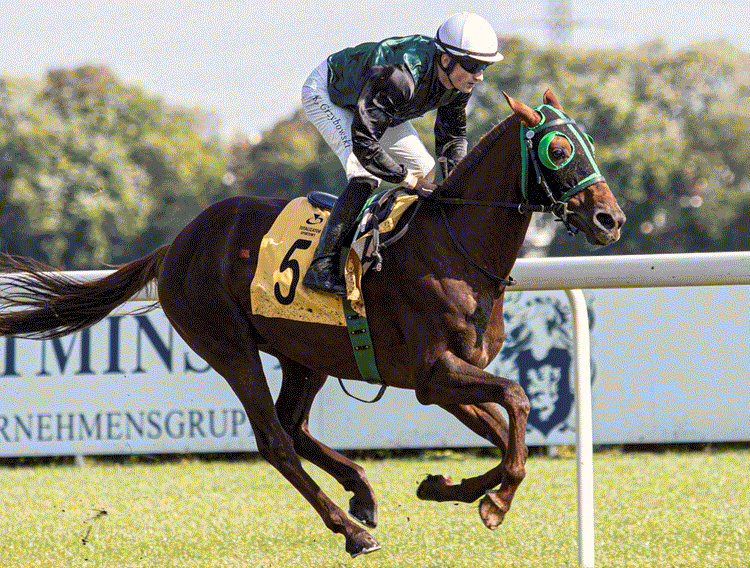 starting number: 4
GATSBY DE BOZOULS (FR), 5-year-old stallion (Muguet de Pascade – Bab Al Shams / Barour de Cardonne)
breeder: S.A.R.L. Mezagri
owner: S.A.R.L. Mezagri
trainer: Cornelia Fraisl
jockey: Dastan Sabatbekov 62 kg
He proved his talent when he was only three years old. He quickly caught up with the top of his class and took top places in the most important races for young Arabian horses. He also performed well in his next season, scoring three victories, including two at B category. However, he seemed to lack something when competing against the front runners. This spring he was unsuccessful in France and finally came back to Poland. He maintained his solid level but to shine in such good company he would have to show something more. A long distance and a dry track is definitely good for him.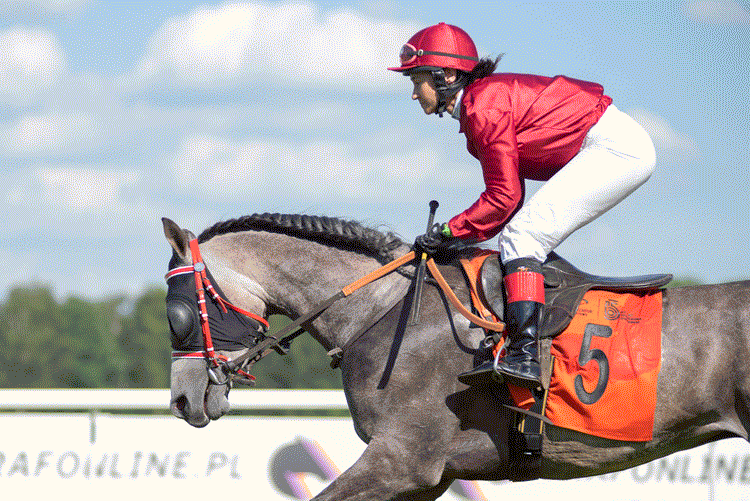 starting number: 5
ECHARON, 4-year-old stallion (Ontario HF – Echara / Wiliam)
breeder: SK Michałów
owner: SK Michałów
trainer: Małgorzata Kryszyłowicz
jockey: Małgorzata Kryszyłowicz 59 kg
There is something special about the fact that there are three horses, representing three vintages, bred in Poland at the starting line of such a prestigious race. Additionally, Echaron is bred by the world famous Michałów Stud. At the age of three the stallion showed fantastic racing skills although he needed some time to get going. He ran great in the autumn as evidenced by a victory in the prestigious Sambor Stakes and the fourth place in last year's edition of the Porównawczas Stakes. This year has not been so good though his fourth place in the Janów Race and third in the Derby are certainly meaningful. The stallion feels great over long distances and on a flexible track but it seems that it will be difficult for him to join the fight for top places this time even if the conditions are favorable.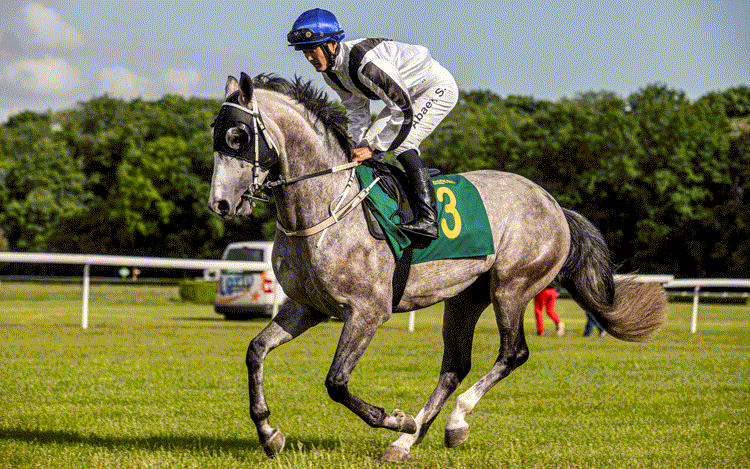 starting number: 6
MAYAR AL KHALEDIAH (FR), 4-year-old stallion (Nashwan Al Khalidiah – Assma Al Khalediah / Amer)
breeder: Al Khalediah Stables
owner: Polska AKF Sp. z o.o.
trainer: Michał Borkowski
jockey: Sanzhar Abaev 59 kg
There were high expectations for him because of his background (he is a half-brother of the excellent Fazza Al Khalediah) as well as his results at the age of three. In his first season he won three races, including the Białka Stakes, gaining an overwhelming lead over his main competitors. He also showed a decent performance in France, despite the fact that he did not manage to get a paid place.
He began this year's campaign with an impressive victory (by 8 lengths) in the Kabaret Stakes and entered the Tiwaiq Central European Arabian Derby as one of the strong favorites. He lost quite unexpectedly after a battle with Dary Al Khalediah. This hierarchy was later reinforced in the French Derby. Mayar was fifth, just behind Dary. It was a really good performance, especially because Mayar was offensively led in a very strong race.
This may have influenced his shape as the stallion disappointed in Sweden by finishing further behind. During the Arabian Day he fought for the victory in the Al Khalediah Poland Cup, contributing to breaking the course record by Rasmy. Two weeks later he did not appear in the race in Baden-Baden. He had a little more time to recover so it is possible that he will return to his best performances, in which case he will be very dangerous.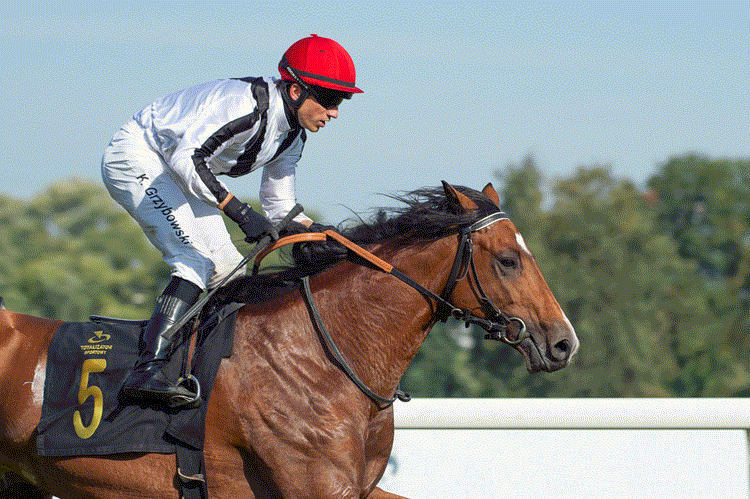 starting number: 7
WASMY AL KHALEDIAH (FR), 4-year-old stallion (Ghadanfar Al Khalediah – Shaza Al Khalediah / Khalid El Biwaibiya)
breeder: Al Khalediah Stables
owner: Polska AKF Sp. z o.o.
trainer: Bartosz Głowacki
jockey: Kamil Grzybowski 59 kg
He is the least experienced of the competitors in the race. His results look really reliable; suffice it to say that in his six appearances so far he finished first three times and took the second place three times. Nevertheless, it must be noted that he raced at a lower level although he often found himself competing against front runners. Over short distances he impressed with his acceleration at the end and achieved really reliable times. Recently he also came close to winning a 2,000 m race, but this race was held at a slow pace. What remains a big unknown is his performance over an even longer distance and against so many strong horses. It seems that his ratings will be the lowest among the four representatives of Polska AKF.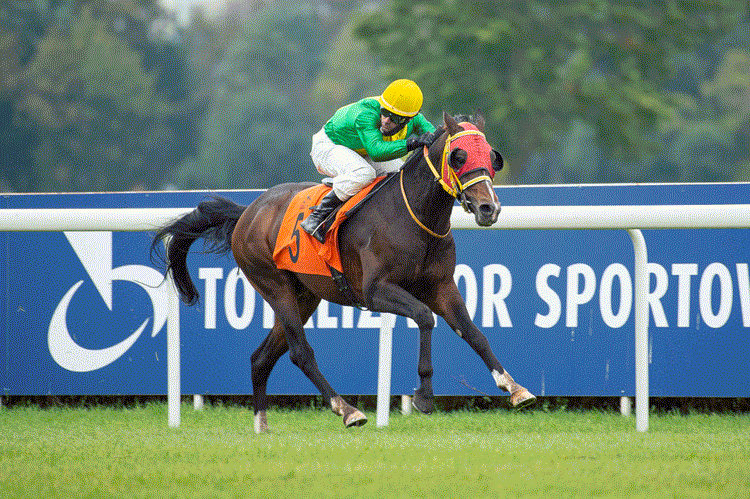 starting number: 8
DRAGON, 6-year-old (Dahess - Djalma / Nonius)
breeder: Z. Górski
owner: Z. Górski
trainer: Maciej Janikowski
jockey: Bolot Kalysbek Uulu 62 kg
He is the biggest star of the Arabian horses bred in Poland. He is extremely talented but has a specific character and requires a very careful handling by the jockey if he is to show his full potential.
At the age of three he was among the best, though it was a little disappointing that he lost in the most important races such as the Białka and Sambor Stakes. The following season belonged to him though. He won the races for the Kabaret Stakes, Janów and Derby. Then he came fourth in the Europe Stakes, third in the Michałów Stakes and second in the Porównawcza Stakes. He also demonstrated superb performance as a five-year-old although he was a bit unlucky racing. After coming in second five times, he won the Michałów and Porównawcza Stakes (UAE President Cup) in good style.
This season he was ridden by different jockeys and had various achievements. Ridden by Alexander Reznikov, who knows him well, he finished second in the Comet Stakes and won the Bandos Stakes. Then he had two weaker performances, especially in the Europe Stakes. The breakthrough came with Sanzhar Abaev, who led him to win the Michałów Stakes. This time he will be ridden by Bolot Kalysbek, who has performed very well in recent weeks. If they can find mutual understanding, Dragon will surely be able to join the fight for victory.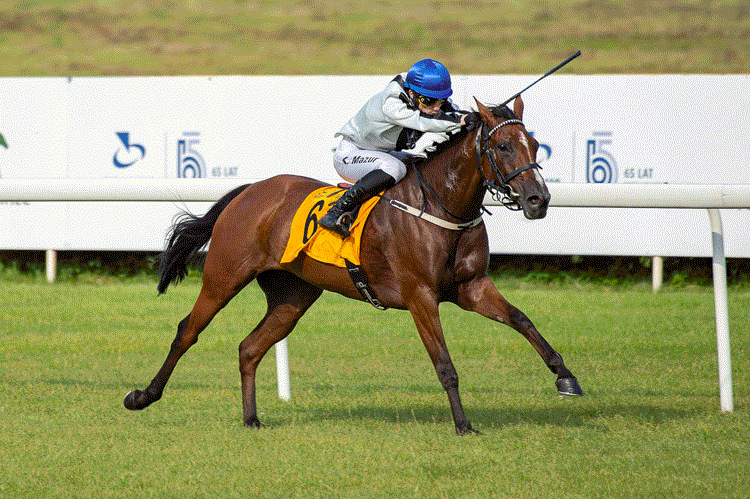 starting number: 9
WASMA AL KHALEDIAH (FR), 6-year-old mare (Jalnar Al Khalidiah – Chinook de Ghazal / Dormane)
breeder: Al Khalediah Stables
owner: Polska AKF Sp. z o.o.
trainer: Maciej Kacprzyk
jockey: Konrad Mazur 60 kg
Despite being six years old, the mare is one of the least experienced horses in the show. Nevertheless she has always been the subject of high expectations. She did not start until last year. However, due to health problems she performed twice only, gaining one Group III victory.
She started this year on a high note. She won the race for the Skowronek Stakes sensationally, beating Dary Al Khalediah in the final meters. She also did really well at non-group races. In the Kurozwęki race she yielded after a fight to Samonlau 'OA' and in the Ofir Stakes she yielded to the great Amwaj Al Khalediah only. In August she won the Sabellina Stakes in a good style and in September, after a fierce fight with Dragon, she took the second place in the Michałów Stakes.
It is possible that the talented mare will again join the battle for top places, especially if she gets a dry track.
Source: Hanna Zalewska