O'Shea shines in Abu Dhabi with
four consecutive wins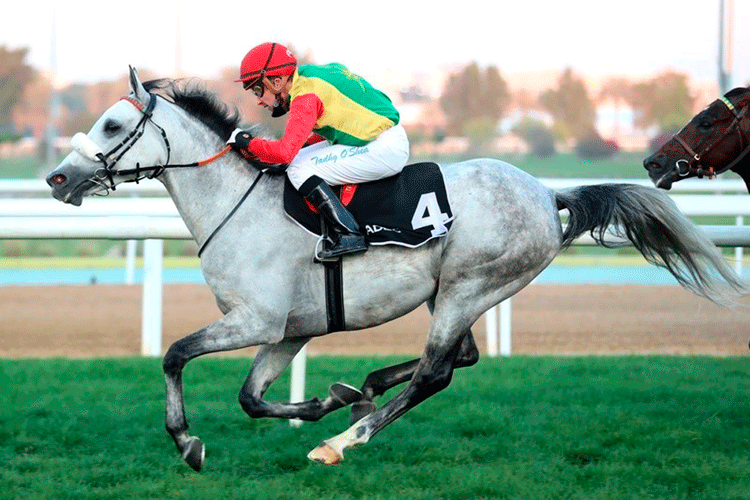 Jabalini ridden by Tadhg O'Shea
The Abu Dhabi turf played host to six races on Sunday, February 14, and UAE Champion Jockey Tadhg O'Shea landed four consecutive races for a memorable four-timer, including doubles for both Khalid Khalifa Al Nabooda and Ernst Oertel.
Owner Royal Cavalry of Oman and trainer Ibrahim Al Hadhrami were actually completing doubles when O'Shea opened his haul in a 2200m handicap aboard Jabalini (Nizam x Josika by Darike), half of a pair among the ten runners who ever really seemingly threatened to win. Ryan Curatolo was allowed to set what appeared a moderate tempo aboard Waadh, stalked by O'Shea and, until about 700m out, by Veron aboard Jeemi. Once the last named dropped away it was a duel, one O'Shea always looked likely to get the better of once his mount hit the front with about 350m remaining, despite Waadh rallying gamely for Curatolo. Another homebred, the 6-year-old entire has now won half of his six UAE outings, including three of his five on the Abu Dhabi turf.
O'Shea said: "I actually rode this horse and was third over 2600m on him in Oman, so was keen to get back on him over this longer trip and I was available for the spare ride.
"I was pretty confident throughout until, perhaps, soon after we hit the front when he almost thought he had done enough, but he soon picked up again. It was a good effort in a decent little race."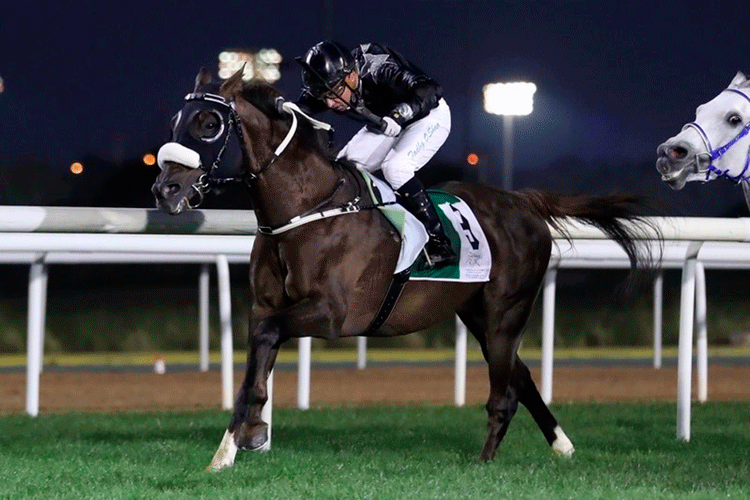 AF Abahe ridden by Tadhg O'Shea
O'Shea is best known for his association with owner Khalid Khalifa Al Nabooda by whom he is retained and they, as is so often the case, combined to snare the race for horses in Wathba Stallions Cup for Private Owners Only, a 2200m handicap, courtesy of AF Abahe (Al Kesbe x Kerouane by Tidjani).
Like the vast majority of the Al Nabooda string, the 8-year-old entire is homebred and trained by Ernst Oertel. They must have been pretty happy throughout the majority of the contest because, although nearer last than first throughout the majority of the race, O'Shea always looked confident. He edged his mount closer leaving the back straight and, though briefly denied a clear run leaving the home turn, soon found daylight and was always going to catch Fertile Du Croate, denying Ibrahim Aseel a double in the process. Al Nabooda's horse was registering a fourth career success, but first on turf and over such a long distance. He had previously won thrice on dirt, in consecutive races, between November 2017 and January 2018. 
O'Shea said: "They went a nice even gallop and, from my wide draw, I had to ride for a bit of luck. I had a lovely trip for the vast majority of the race before it became a little bit tight on the bend, but we soon found room and I had a very willing partner who deserved to win again."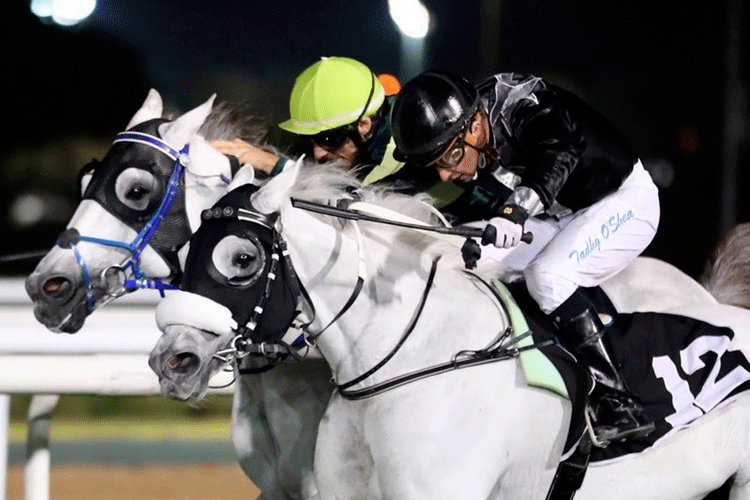 AF Makerah ridden by Tadhg O'Shea
The same connections then combined with AF Makerah (Af Al Buraq x Aicha Croixnoire by Dahman El Arami) in the following 1600m handicap, O'Shea riding a virtual carbon copy of the previous race, settling his mount in rear, making stealthy progress entering the home turn and leading in the final 150m or so. The main difference was though that this time runner-up Hazeem Al Raed was clearly not in the mood to be denied, fighting back gamely under Antonio Fresu, seeking a double on the night. They battled back in determined fashion, but the head of AF Makerah was in front, narrowly, where it mattered.
Another Al Nabooda homebred, the 8-year-old mare was winning for a sixth time, all in Abu Dhabi and now has four course and distance victories to his name.
O'Shea said: "This time we had a great draw and a nice low weight, so we knew a lot was in our favour. She has shown a great attitude and, to be fair to the trainer, he has been telling me to ride her all season, but I have ignored him until now and always picked something else!"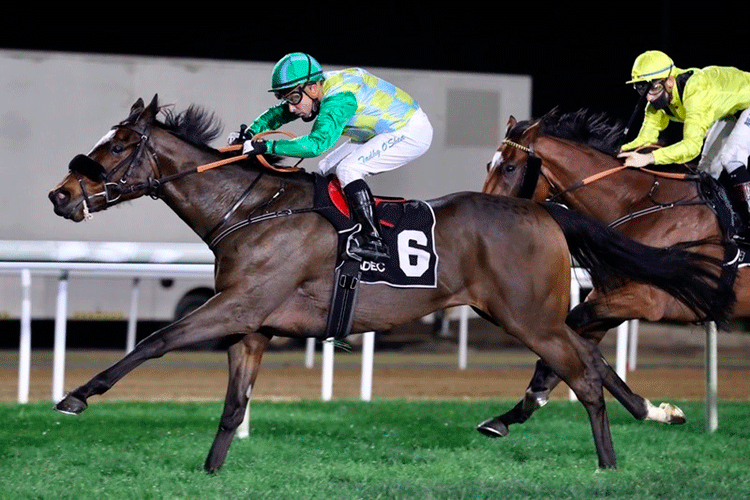 Law Of Peace ridden by Tadhg O'Shea
O'Shea clearly believes in the 'if it ain't broke don't fix it' mantra because he used virtually identical tactics to add the finale and only Thoroughbred contest on the card, a 1600m maiden, to his burgeoning haul aboard Law Of Peace(Shamardal x Certify by Elusive Quality).
Not the quickest away on local debutant, the 4-year-old Shamardal gelding having his first start in the colours of Nasir Askar and since joining Satish Seemar, found himself in last. However, O'Shea never appeared unfazed, pulling outside rivals to make steady progress before unleashing his winning effort in the final 250m, denying racecourse debutant Waathig.
Raced four times in Britain by Charlie Appleby for Godolphin, he was thrice second, but has now opened his account and should be open to improvement considering his previous appearance, after which he was gelded, was 376 days ago.
Sporting a massive grin, albeit behind a mask, O'Shea said: "Plan A went straight out the window because we missed the break somewhat, but they went a good gallop, so it probably helped me in the end. He took a big breather, having his first start for a long time, on the home turn and then finished his race off strongly. I actually rode four here about ten years ago when the late Pat Buckley told me 'to go home and think how I could have ridden five, come back and do it sometime'. I did not quite manage that but will dedicate these four to Pat!"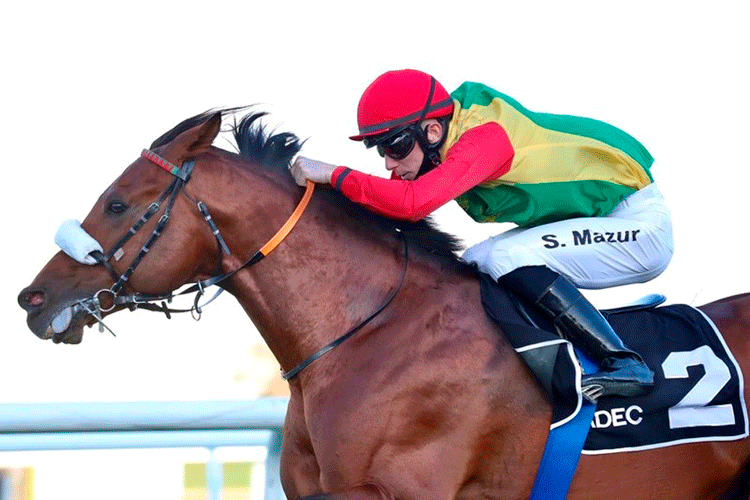 Al Mobher ridden by Szczepan Mazur
A 1200m handicap looked set to be dominated by Ernst Oertel duo AF Taghzel and AF Majalis with the pair locked in battle throughout the short straight, but just as the latter, seeking to remain unbeaten this season after four starts, fought passed his stable companion, Al Mobher (Big Easy x Radwa De Faust by Al Sakbe) dashed past them both in the final 100m to win going away. Homebred by The Royal Cavalry of Oman, the 8-year-old entire, confidently ridden by Szczepan Mazur for Ibrahim Al Hadhrami, was winning for the third time, second on the Abu Dhabi turf. However, his previous victory was over 1000m on the dirt at Al Ain, under Mazur, in January 2019.
Mazur said: "This horse likes these sprint races and is versatile between 1000m and 1400m, so we were pretty hopeful though it was a strong field, especially with AF Majalis in such good form. However, my horse was always going well and then really quickened when I asked, so it was a good performance."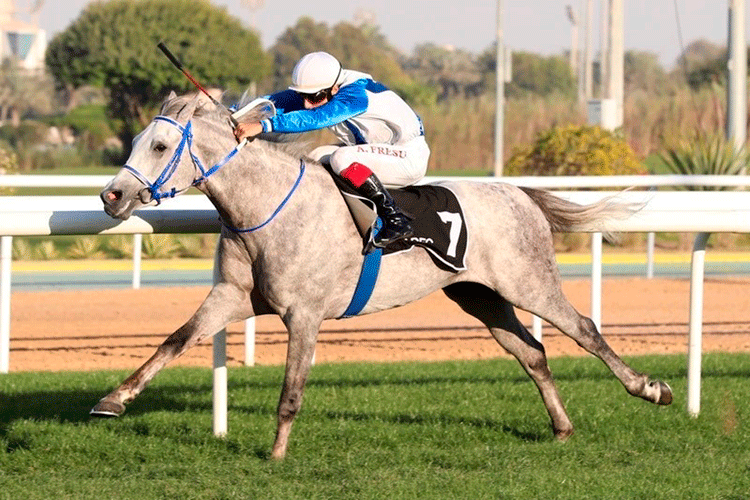 ES Rubban ridden by Antonio Fresu
The curtain raising 1200m maiden, for horses foaled locally, was won comfortably by ES Rubban (Azzam Al Zobair x Jolie Du Cassou by Baco Du Cassou), continuing a good weekend for his trainer, Ibrahim Aseel, who had saddled his second winner of the season at Al Ain on Friday.  Opening his handler's turf account for the campaign, on just his second racecourse appearance after a 1000m debut second on the Sharjah dirt track where he is trained, the 4-year-old clearly relished both the extra 200m and change of surface. Homebred by Sheikh Abdulla bin Majid Al Qassemi, chairman of the Sharjah Equestrian and Racing Club, he was settled in about fifth behind Antonio Fresu before easing closer as the leaders stayed to enter the straight. They quickened to the front with about 250m remaining and it was soon apparent nothing was going to emerge to throw down a serious challenge.
Fresu said: "He seems a nice young horse who was a bit green when making his debut, but running well. This 1200m has really suited him and he clearly handles the grass as well as dirt."
Aseel said: "It has been a good few days and the horses are, in general, running well, so we hope we can add to these winners."
Source: Emirates Racing Authority