Octave stars in Al Hammadi & Al Ajban Stables trebles with thrilling feature
race success in Al Ain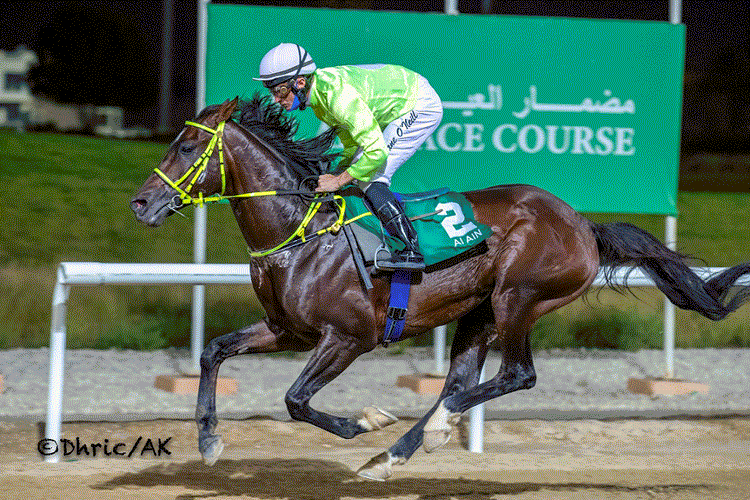 Octave ridden by Dane O'Neill
Seven races in Al Ain on Saturday, February 5, were highlighted by the Second Leg Of The Al Ain Marathon Series, a 4100m handicap, won by Octave (Najd x Theatre by TC Tomtyr), but only just having looked to have the race in safekeeping a long way out.
Soon in front under Dane O'Neill, he was sent clear just after halfway and was still on the bridle with 600m remaining. O'Neill started to ask him to go about his business and everything was seemingly going smoothly until the final 125m when the jockey was sending out distress signals as his mount, understandably, tired dramatically.
Almost from nowhere, Dream De Montjoi (Burning Sand x Arogance Safinat by Kesberoy) suddenly loomed as a genuine danger but the line appeared just in time for O'Neill, the pair clinging on gallantly to complete doubles on the card for both Al Ajban Stables and Abdallah Al Hammadi.
O'Neill said: "Full credit to the horse because he found a lovely rhythm and then just kept galloping for me and he is a real tough, genuine, little horse but he was getting tired as he was entitled to."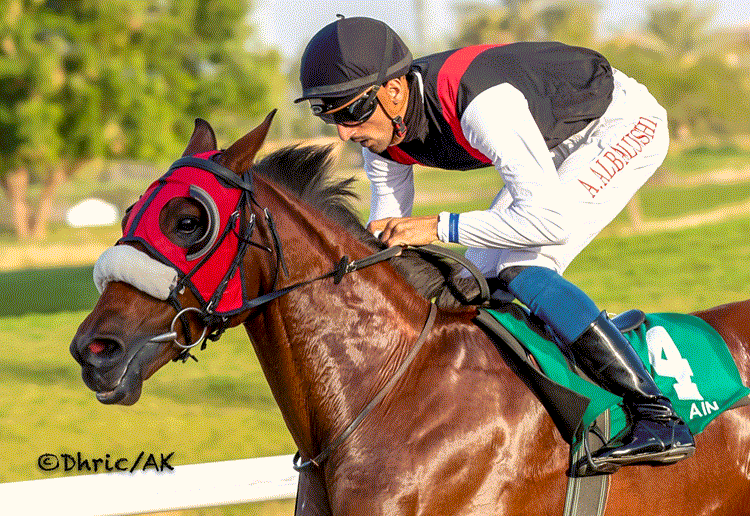 SS Jalmod ridden by Abdul Aziz Al Balushi
The meeting kicked off with a 1400m handicap for horses in the Wathba Stallions Cup for Private Owners Only which attracted a capacity field of 15 but only one ever really mattered, SS Jalmod (Jinad x YA Salam by Djel Bom) and Abdul Aziz Al Balushi soon in front and clear halfway up the long straight in the colours of Ahmed Mubarak Khamis Mohammed Al Breiki for Ibrahim Al Hadhrami.
A 7yo gelding, SS Jalmod was registering a fourth career success and second over course and distance as well as a second this season having won over 1200m at Sharjah in early December.
Al Hadhrami said: "This horse has won on turf but seems prefer dirt now. He was actually Abdul's first ever UAE winner in 2019 so it is nice to see them win together again."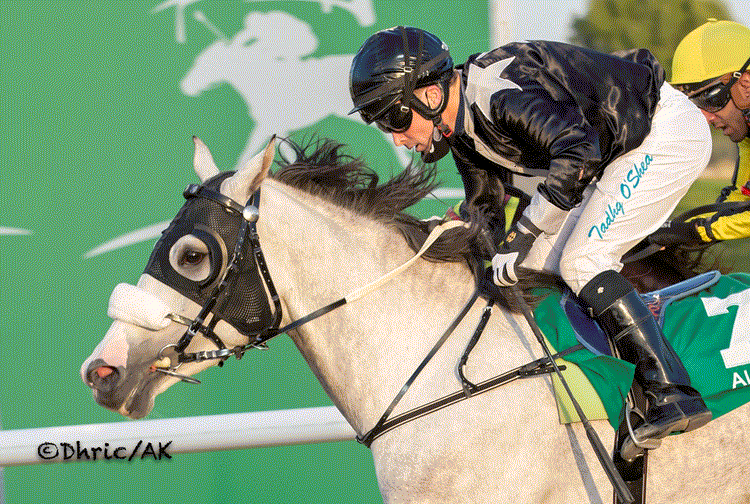 AF Ghanayem ridden by Tadhg O'Shea
Tadhg O'Shea then employed similar tactics in a 1600m maiden for horses foaled locally, always in the first pair aboard homebred 4yo colt AF Ghanayem (AF Sanadek x AF Atma by AF Al Buraq) who was making it third time lucky for Khalid Khalifa Al Nabooda and Ernst Oertel.
Having probably disputed the early running, O'Shea sent his mount into a definite lead fully 900m from home and found a very willing partner who saw off numerous challenges in the final 300m in a race five of the 15 runners still held live chances entering the closing stages.
Oertel said: "He was a lot fitter today which has certainly helped and, although I was a bit worried a furlong out, he has really battled hard and I knew he was not going be lacking for fitness."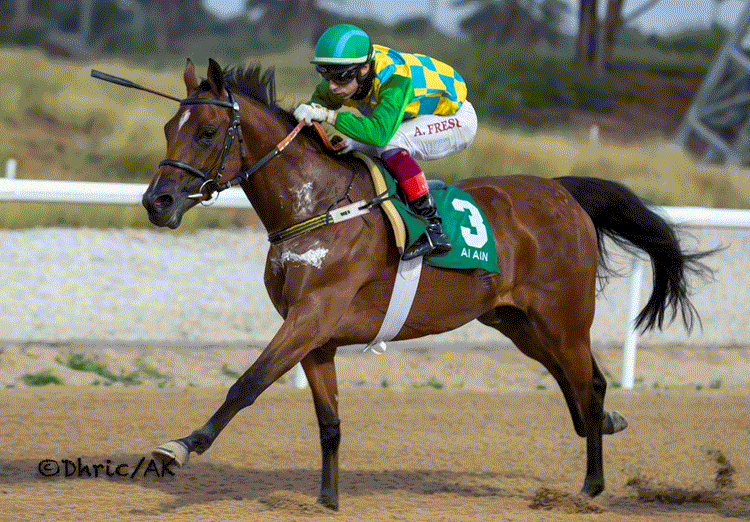 Farasah ridden by Antonio Fresu
There was more of the same in the following 1600m conditions race, this time Antonio Fresu, in the Naser Askar silks, making every post a winning one aboard dirt debutante Farasah (Mahabb x Ranya Du Croate by Dormane) for Musabbeh Al Mheiri.
Bred by Shadwell Estates, the 5yo mare has now won both her UAE outings having landed a 1600m conditions contest on the Abu Dhabi turf three weeks ago. She also made a winning start to her career in Britain so is now the winner of half her six racecourse appearances.
Then it looked for a long way as though AF Arrab (Vicyor Adam x AF Alriaahby Tidjari Des Forges) was going to lead from the outset in a 1600m handicap, only to be passed entering the final 175m by Oss (Valiant Boy x RB Burn Baby Burn by TH Richie), partnered for Al Ajban Stables and Abdallah Al Hammadi by Ray Dawson.
Seemingly outpaced in the first half of the race, Dawson's mount started to creep closer as the runners turned for home before staying on relentlessly over the final 300m to record a third career success, all at Al Ain where he shed his maiden tag over this 1600m and has also won a 2000m handicap. Those victories were achieved in November 2020 and 2021 respectively.
Dawson said: "We were drawn wide and slowly away so I was forced to ride him for a bit of luck. When I asked him he responded very well and is a gutsy little horse."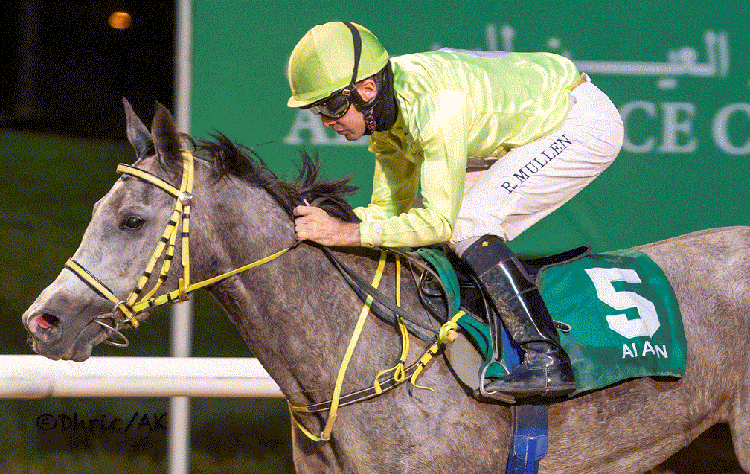 On Cue ridden by Richard Mullem
A 2000m maiden also to the Al Hammadi and Al Ajban Stables combination, this time teaming up with Richard Mullen who delivered 5yo mare On Cue (Valiant Boy x Theatre by TC Tomtyr) to lead 400m and found a willing partner who galloped on resolutely to shed her maiden tag at the eighth attempt.
Mullen said: "She deserved that after some good efforts in defeat and when you have a willing partner like that it makes my job so much easier."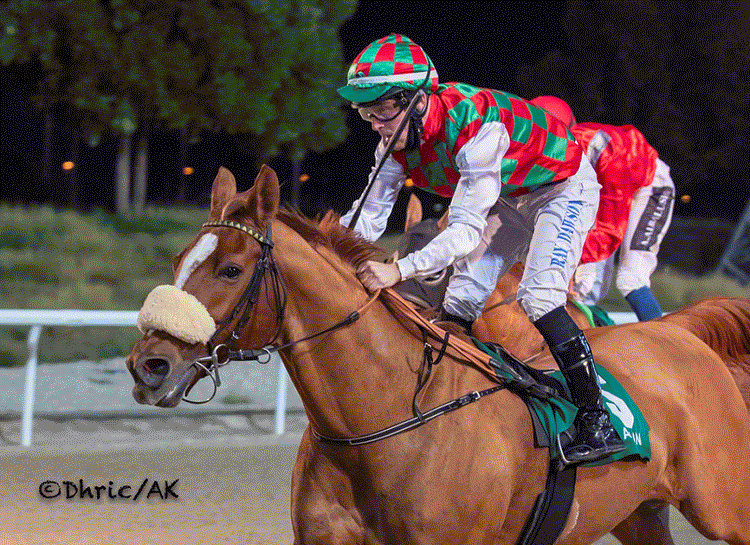 Rawaa ridden by Ray Dawson
Only six went to post for the concluding 1000m conditions contest and only one was ever in front, Yas Racing's Rawaa (Munjiz x Rudina by Burning Sand), saddled by Majed Al Jahoori probably never seeing another rival and completing a double on the card for jockey Ray Dawson.
Source: Emirates Racing Authority