One-two-three for Umm Qarn in Al Zubara Trophy and MEHDI lands the title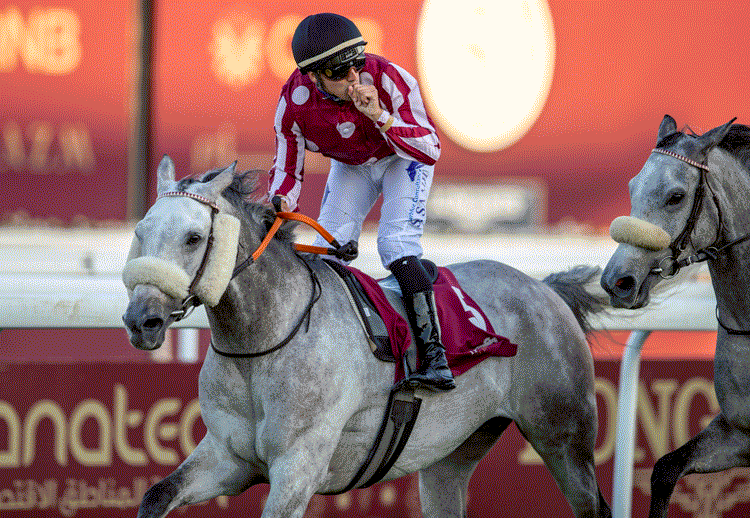 Mehdi ridden by Soufiane Saadi. Photo: Juhaim/QREC
Under the patronage of H.H. the Amir Sheikh Tamim Bin Hamad Al Thani and in presence of H.H. Sheikh Mohammed Bin Khalifa Al Thani and H.E. Sheikh Joaan Bin Hamad Al Thani, the H.H. The Amir Sword Festival kicked off. The start of the three-day Festival was with the day one, Al Zubara Trophy Race Day, at Al Rayyan Racecourse on Thursday, 17 February. The day had eight races and all of them were cup races.
The eighth and feature race in the card had a maroon finish with three stablemates in the colours of Umm Qarn occupying the top three places in the 2000m for 4YO+ Local Purebred Arabians. Alban de Mieulle saddled the winner, MEHDI (QA, Majd Al Arab x Jaljalah) under Soufiane Saadi, the runner-up AL BALAGH (QA, General) under Olivier Peslier and the third-placed SEALINE (QA, Amer). As the 11 runners broke from the barriers, Alberto Sanna took MUALE'M (QA, Mared Al Sahra) to the lead and was accompanied by GHALI AL ATHMAN (QA, Harran ASF) under JP Guillambert.
The performance of Umm Qarn's trio varied in the early and middle stages of the race. MEHDI tracked the leaders, AL BALAGH settled in a mid-position while SEALINE remained at the back of the field. MUALE'M and GHALI AL ATHMAN accelerated at the 500m pole and it looked as if one of them would be the eventual winner.
However, things took a new turn at the 300m with both MEHDI and AL BALAGH showing an electrifying turn of foot. Both stables took the lead and battled in front to the line and it was MEHDI who found extra energy to cross the line first, beating AL BALAGH by neck. SEALINE improved nicely in the last stages, finishing the race strongly from outside, and took the third place a further length behind the runner-up.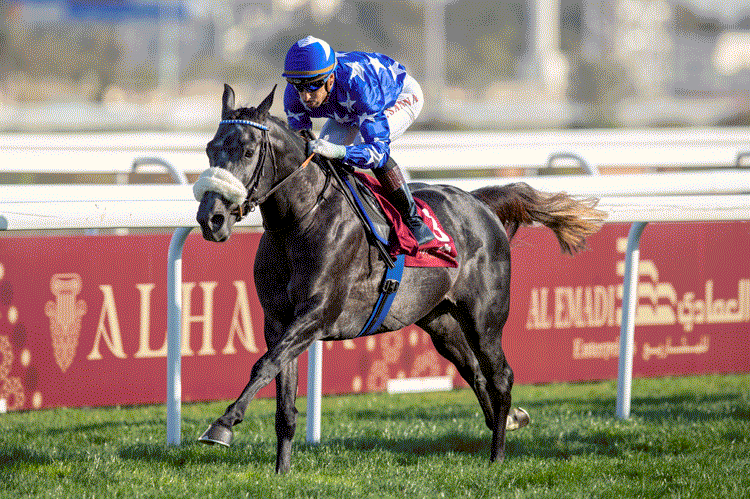 Hameed ridden by Alberto Sanna. Photo: Juhaim/QREC
H.H. Sheikh Mohammed Bin Khalifa Al Thani's homebred HAMEED (FR) (Amer x Arc De Ciel) remained unbeaten on his second career start, winning the 1600m Purebred Arabian Cup for 4YOs. The Rudy Nerbonne-trained 4YO colt was ridden by Alberto Sanna to a one and half-length win in the sixth race in the card.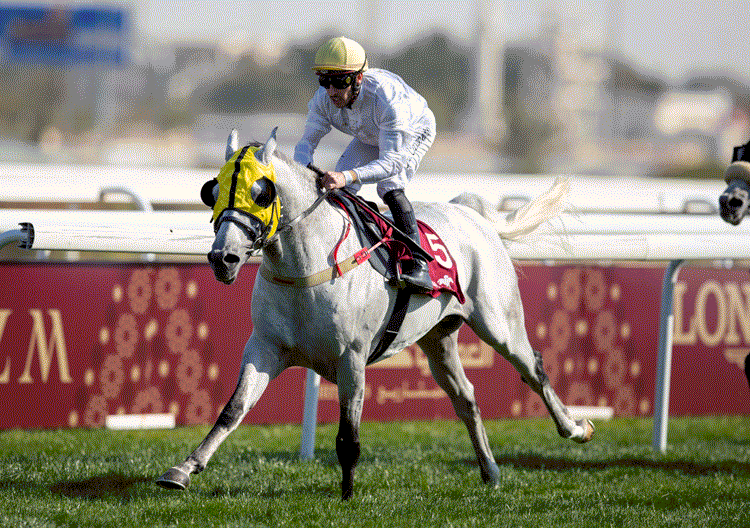 Saoud Al Sulaimi ridden by Marco Casamento. Photo: Juhaim/QREC
Jassim Ghazali was quickly back to the winners' enclosure as he saddled the Sheikh Abdullah Bin Khalid Bin Nasser Al Thani-bred and owned Saoud Al Sulaimi (QA) (T M Fred Texas x Hasna) to win the Purebred Arabian Handicap Cup (0-85) for 4YO+. Marco Casamento rode the 6YO horse to a two and a quarter-length victory in the 1600m run. Sami Jassim Al Boenain, Adviser to QREC Chairman, crowned the winners.
Source: Qatar Racing & Equestrian Club