Osama Al Dafea's Al Mahyoub wins Umm Swayya Cup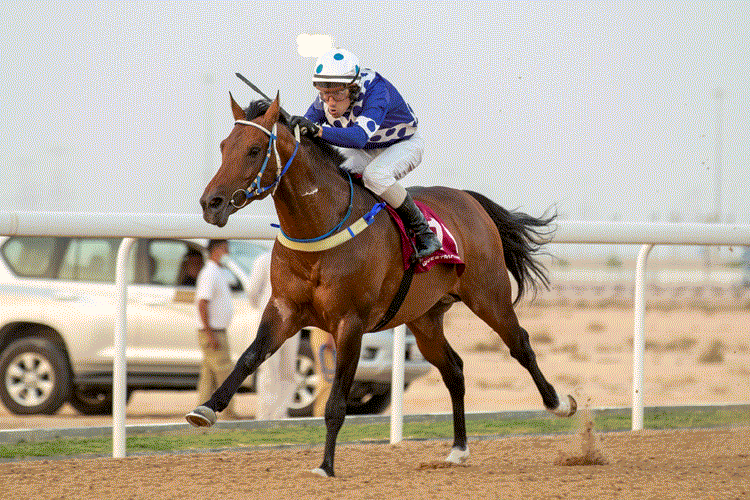 Al Mahyoub ridden by Ronan Thomas. Photo: Juhaim/QREC
The Qatar Racing and Equestrian Club (QREC) organised the second race meeting of the 2021-22 Al Uqda season on Saturday, 20 November. The six races of the day were run on the dirt track and the sixth and feature race was the Swayya Cup, a Local Purebred Arabian Handicap (0-80), for 3YO+ over 1300m and was won in brilliant style by AL MAHYOUB (QA) (Dahess x Mafakher). It may have taken 19 attempts, but when the Eng. Osama Omer Al Dafea-owned and trained 5YO horse entered the winners' enclosure, he did it big landing a cup and feature race. Jockey Ronan Thomas did not allow any challenger to pass, eventually going almost 5 lengths clear at the line.
Al Mahyoub broke from barrier 1 and quickly went to the front leading his 12 rivals with a steady pace. He led throughout the race and while he allowed his rivals to come near him in the early and middle stages, once in the home straight he showed a fierce attitude. At the 200m pole, Al Mahyoub looked as if he had a spare tank of energy. He simply accelerated and kicked clear to score a 4¾-length post-to-post victory. The Abdulaziz Saleh Al Jaber-owned and Hadi Al Ramzani-trained Rahaf HA (AF AlBahar) finished second under Marco Casamento and was further 3½ lengths in front of the Mansoor Mesfer Al Hajri-owned and trained Al Addaaj (Zaeem Al Shajaa), who was ridden by Alberto Sanna.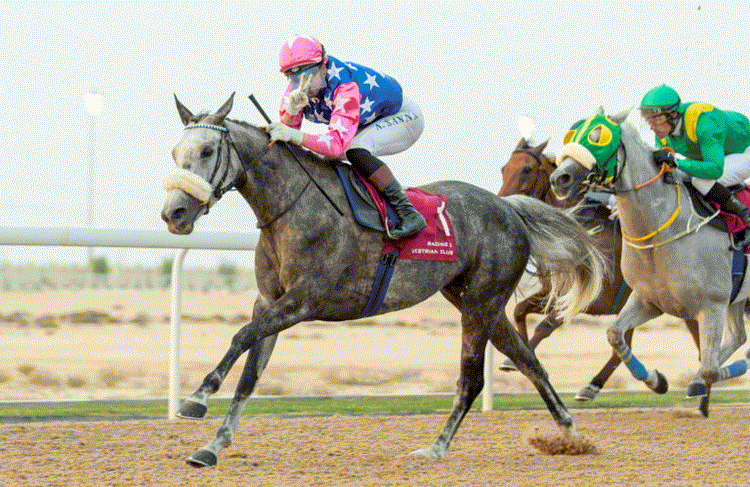 Fedwah ridden by Alberto Sanna. Photo: Juhaim/QREC
In the penultimate race, the 2200m Purebred Arabian Handicap (0-80) for 4YO+, H.E. Sheikha Reem Bint Mohammed Bin Khalifa Al Thani's FEDWAH (FR) (Amer x Arc De Ciel) stretched away nicely in the closing stages to win by 1¾ lengths. The trainer-jockey duo Rudy Nerbonne and Alberto Sanna teamed up with the 4YO filly to chalk up a double on the day. Khattab De Faust (FR) (Mared Al Sahra) was the runner-up and Aziz'nafs (FR) (Munjiz) finished third.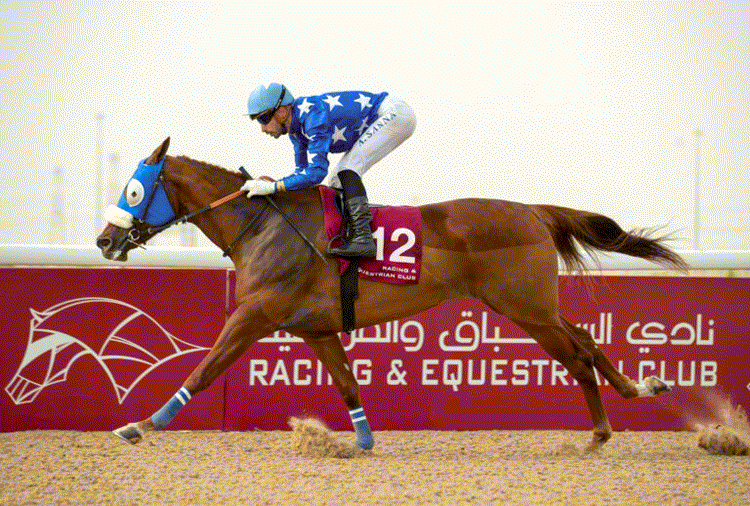 Salsabeel ridden by Alberto Sanna
H.H. Sheikh Mohammed Bin Khalifa Al Thani's SALSABEEL (FR) (Burning Sand x Hamiya), ridden by Alberto Sanna, showed a great attitude to hold on in the final stages of the 1300m Purebred Arabian Maiden Plate for 3-6YOs. The Rudy Nerbonne-trained 4YO filly prevailed by 1¼-legnths. With this victory under her belt, SALSABEEL has confirmed her excellent form this season with two runner-up finishes and a win in the third. Hispahan (FR) (Ameretto) and Cocktail Du Loup (FR) (Divamer) completed the frame.
Source: Qatar Racing & Equestrian Club